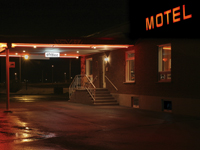 Determining the tenure of ownership that suits best is a good place to get started when considering what type of motel to invest in.
The main two types of ownership tenures available for motel acquisitions are freehold and leasehold. Both offer different benefits and burdens to the owner and one must determine which suits them personally before making any firm decisions.
Consideration of all the facts and comparisons between the two will help determine what is suitable for each person and what is going to satisfy the needs of each in buying a motel. Another of the main decisions that is required to be made early on is whether one is going to operate the business themselves or not. This may affect the type of tenure that should be considered.
If the new owner is not going to operate the business themselves then someone else will need to on their behalf. The business can be operated by a manager or can be sold to an operator whilst the freehold property (land and buildings only) is retained.
General motel matters to consider
1. Number of Units
How many units will suit the requirements? There are very different schools of thought within the motel industry as to what the minimum number of units should be to make a motel successful. I have seen extremely profitable motels with as little as eight units, however I have also seen less than successful large motel complexes also. Each individual should determine how many units they wish to operate and then work towards that. The budget that is available will also affect this decision.
2. Dining
Some motel operators love restaurants and others do not. This is the more social side of the business where operators can get to know and build relationships with their customers thereby making the decision for the guest as to where they will stay next time they travel to the locality. This side of the business can also be a problem area if not operated efficiently. It can end up very labour intensive for the operator if it is not set up correctly with the right processes and suitable employees in place.
3. Standard/Presentation
Immaculate presentation or a renovators delight? The standard of the presentation of a motel will affect the return on investment expected by the market. If hundreds of thousands of dollars are required to rectify poor standards or years of neglect, it will affect the price that is willing to be paid for the property in its current state. Room air conditioners that are not split systems are not well received by the market. It is well known that this will be an expensive upgrade that someone will need to pay for in the not too distant future. Motels that are not presented in the best manner can offer excellent opportunities to add value to the business/property by rectifying areas in need of work.
4. Location
The main positions motels tend to be focused are major highways, main roads, beach fronts and city centres. These areas tend to be places where demand for accommodation is at its highest, such as business centres, tourist attractions or industry hubs. It makes sense that motels and other accommodation businesses be located in high traffic areas such as those mentioned in order to take advantage of the travelling market. Location does play a role in determining the value of a motel as the demand for a coastal motel has historically been higher therefore pushing the value of the motel higher and the return on investment lower. Location is an important factor to consider when buying a motel, decisions on where to buy a motel can be based on lifestyle or return. It must be considered that motels in desirable locations such as coastal areas will not show returns to the level that an inland motel will. Inland locations may not seem as desirable from a lifestyle point of view as coastal locations, however there can be substantially higher returns by buying a motel in an inland location.
5. Onsite residence
Motels more often than not offer an onsite residence. One must be aware however that although they are comfortable and large enough, they are not the size of a stand-alone house in suburbia. There are substantial benefits of living onsite that include the lifestyle of a family living and working together and the tax benefits that are available. The costs of living in a home in the suburbs are largely absorbed by the business in the case of a motel, such as food, electricity, council rates, water, insurance, telephone, and much more.
6. Lifestyle
Again the benefits of a family working together and the opportunities to grow with the business can be very rewarding for the whole family.
Every operator runs their motel differently and delegating certain areas of the business to key staff members where one is comfortable to, allows more time to get out of the property and take time out for family, schooling or other social activities.
7. Potential
There is generally potential in every motel business of some kind. A new broom always sweeps clean and a new perspective, vision and enthusiasm offers the opportunity to take a motel business to the next level. See what areas of the motel are underperforming? What new initiatives can be implemented to gain more market share? What areas of expenditure are too high and can be brought under control? An injection of funds to do a refurbishment that the previous operator did not want to do is a proven method of adding value to a motel. This is an area where one can take a position of advantage over competitors who never reinvest back into their motel.
8. Finance
Historically motels are known as solid and secure investments and therefore financial institutions (in the main) are eager to lend against them. They will generally lend 50 per cent against the value of a leasehold motel and 65 per cent against the value of a freehold motel. Some higher some lower. In general terms these percentages offer a good base to start searching from. The balance percentage plus purchasing costs will need to be made up of preferably cash, however if not, then part thereof and part equity against another property or other form of security will suffice depending on the individual financial institution's requirements.
9. Purchasing costs
These costs can be substantial, however are a fact of life. Government stamp duty accounts for the largest portion of purchasing costs. Other costs then include legal fees for advice throughout the purchase process, search fees for the property and business such as council searches, liquor licence, vendor entity, etc. Further costs can then include settlement adjustments for prepaid advertising, council rates and also the purchase of stock at value in order to continue to operate the business.
10. Return on investment
This depends on many of the items included within such as location, standard of presentation, number of units, lease document, land area, etc, etc. Outside the business/property itself, the strength of the market and demand at that time plays a major role. Motels do offer very strong returns when compared to many other business opportunities.
11. Cashflow
In most cases and depending on the time of year the first day of taking over a motel generally results in a good cash flow. Most guests today pay by credit card or Eftpos. Guests on accounts are more limited to large companies only (of whom many are tending towards credit cards now).
12. Resale
When it is time to sell there is generally a ready market for both leasehold and freehold motels. Most if priced accurately will sell within a reasonable time frame in normal market conditions if marketed correctly.
Leasehold matters to consider
1. Who is in Charge
Many lessee's are unsure about their rights and the rights of the Lessor in a motel lease. The lessee is entitled to "quiet enjoyment" of the property. In other words they are entitled to operate their own business from the premises without any disruption from the lessor, as long as they are not in breach of the lease.
2. Rent
The annual rental of a motel should never be more than the net operating profit after rent. A new lease should have a commencing rental of approximately 40 per cent – 45 per cent of the entire net profit for the complex. There are other methods for determining motel rentals and a dollar figure per unit site is often utilised as a check method.
3. Lease period
Motel leases mainly commence as a 25 or 30 year lease (inclusive of option periods). These are very long leases especially when compared to retail and commercial tenancies which are often 3 year + 3 year leases. Even a lease that has been in place for 10 years that has 15 years remaining is a long term lease. It is rare that motel leases ever run down too low as it is in both lessee and lessor's best interests to have a long term lease in place for the security of each party's investment. The opposite may occur if the site is ripe for redevelopment, however there are many if's and but's in this situation.
4. Lease terms
Who is responsible for what? The terms of the lease and responsibilities of both lessee and lessor should be considered and advice sought from an experienced motel solicitor in regards to whether the lease is reasonable or too onerous on either party. Most motel leases are drafted with standard terms however may not necessarily end up that way in a final copy. Therefore it pays to make sure one is happy with the lease document prior to entering the agreement. As long as both parties act reasonably regarding extending leases then both benefit in the long run.
5. What am I buying
The right to lease the land and buildings for a certain period of time on specific terms and the tangible and intangible assets of the business. This can include goodwill such as the reputation the business has built up, the telephone numbers, email addresses, website, social media addresses and sites, the business name, the plant and equipment, the right to the liquor licence being transferred, etc.
Freehold Matters to Consider
1. Finance
The cost to purchase a freehold motel is substantially higher than a lease simply because the land and buildings are also being acquired. Therefore the cost to purchase and the ingoing costs will be far more substantial than the cost to purchase the business only. The interest repayments will be much higher so one must ensure that the business' cashflow can cover the required loan repayments. There are many benefits to owning and operating a freehold motel and many people purchase a lease motel in the first instant to build up funds and experience with the ultimate goal of acquiring a freehold motel at some point in the future.
2. Land area and spare land for expansion
Generally motels on a large parcel of land are sought after by the market and any with spare land offer the opportunity to expand and increase the number of units, income and profits and value of the business and property. Being able to add value to a motel is a big incentive for those who wish to build up the value of their investment.
3. Passive investments
The ownership of the freehold and business of a motel often leads to the owner selling the business to another operator and retaining the freehold property as a passive investment. The comfort and confidence in the strength of the motel industry often results in motel owners wanting to keep an investment in the industry whilst moving on to operate another motel acquired or taking life a bit more easily whilst receiving a high return on their investment.
When considering a motel as an investment or lifestyle opportunity it is best to decide what will suit one's requirements and needs. Speak with experienced specialist professionals with a long association in the motel industry such as accountants, solicitors, specialist motel brokers and financiers. Once a suitable motel has been found always complete a financial and legal due diligence of the business and property to make sure what you think you are buying is the in fact the case.
Click here to download the full copy of Tips for Buying Motels