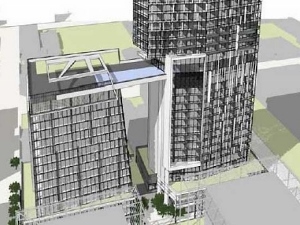 A massive sky-high pool connecting two towering buildings in Perth is part of an ambitious $145 million development planned for the CBD. The twin buildings, which will be built at 220-224 Pier St, will feature a 29-storey, 150-room hotel and a 16-storey office building to be built by Yuanlong (Aust) Investment Group.
The City of Perth Design Advisory Committee will make a decision on the project today [25 February].
It is just one of a plethora of new hotel and apartment projects planned or underway in the Western Australian capital.
Also before the DAPs this week, is the $550 million, 350-room, five-star Westin Hotel at the old FESA headquarters in Perth. The project is due for completion in 2017.
Other complexes on the drawing board include the Ritz-Carlton – a $350 million, 204-room hotel at Elizabeth Quay, a $208 million five-star hotel planned for the Old Treasury Building while Hilton wants to build a $30 million, 16-storey hotel in James St. Also, Singapore developer Roxy-Pacific has purchased a hotel development site in Perth's CBD for $17 million, with plans to construct a 332-room hotel.
In North Perth a development application expected soon for a 93-unit complex at 318-324 Charles Street. Westbridge Property Group, a joint-venture between private equity firm Sirona Capital and developer Luke Saraceni's Saracen Properties lodged a proposal for the six-storey project with the City of Vincent last month.
The first multi-storey project to start in South Perth will also begin this month with WA builder Jaxon awarded the contract to design and construct Zone Q Investments' first project in Australia – the $63.2 million, 20-storey Pinnacle South Perth with 102 apartments.
Pinnacle South Perth will be the first high-rise project to start in South Perth since the local council amended its zoning laws to encourage development and reinvigorate the area. Construction is expected to take 22 months, with the project scheduled for completion in November 2016.
And at Burswood, a luxurious, six-star, $568 million hotel to be called Crown Towers is scheduled to open in 2016. It will connect to the existing Burswood Entertainment Complex and include conference facilities, retail and restaurants. Upon completion, the hotel would boast the largest rooms in Perth and would take Burswood's hotel room capacity to almost 1200 rooms.
Burswood chief executive officer Barry Felstead said the 25-storey tower would contain suites and about 400 "standard" rooms with an average room size of 50m², compared to Crown Metropol's 38².
However, not everything is flowing sweetly for a host of multi-million-dollar projects that have been sent back to the drawing board by a City of Perth-appointed Design Advisory Committee which insists a new strategy is needed to address the "architectural quality" of plans. Applications, the DAC says, have been "lacking architectural quality".
Among the schemes recently criticised is the $500 million Westin Hotel redevelopment of the former FESA House site by BGC. The proposal includes an infinity pool, public plaza and large ballroom over Hibernian Hall, formerly the Perth Chest Clinic, which will become a separate restaurant.
But the DAC said the proposal "has flawed outcomes in architectural terms" and the ballroom would have a "negative impact" on the heritage-listed hall, suggesting a "significantly different and spectacular design" is needed.
Other designs to be criticised include the $130 million, 31-storey residential tower and 27-storey hotel, with seven restaurants on the corner of Murray St and Shafto Lane. And the $55 million Pindan development in East Perth where the developer wants to demolish the Officeworks and Kmart Tyres to build two 10-storey apartment buildings was deemed by the DAC as taking a "hostile approach" to residential design. While plans by a Singapore-based property group to turn a Wellington St site into a 23-storey, $47 million hotel also failed to gain DAC support.