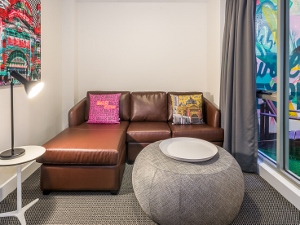 Mantra now boasts a prime location in Melbourne's retail heart with the opening of Mantra City Central on Little Bourke Street. Formerly the BreakFree Heritage on Little Bourke, the apartment hotel has undergone a $1.3 million upgrade to offer both style and convenience for shopaholics.
With its ideal location between a trio of retail developments which completed construction last year – including the $20 million Strand Arcade development to the right, the Emporium Melbourne to the left, and the first Australian H&M store directly opposite – Mantra City Central offers the most conveniently located fully self-contained apartments for lovers of retail therapy.
Located within a heritage façade, Mantra City Central is a 60-room boutique apartment hotel offering an exceptional stay for both business and leisure travellers. All one and two bedroom apartments – some with urban loft style design and others with access to rooftop terrace – have refurbished living and dining areas and bedroom spaces with new furniture added throughout. Design elements have incorporated some of Melbourne's celebrated street art to provide a modern inner city feel ensuring a welcome haven for guests after pounding the pavement in search of a bargain.
With the precinct considered one of Australia's most impressive retail destinations, Mantra City Central is also just one minute from Melbourne's famous Bourke Street Mall. Aside from the myriad of Australian and international fashion designs on offer just a stroll away, guests also have the convenience of a short walk to the theatre district, delicious dining options and trams passing nearby to explore the city.