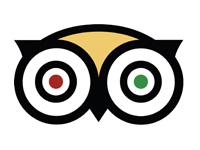 Today, TripAdvisor will celebrate its 15-year anniversary around the world, helping travellers plan and book the perfect trip and be a thorn in the side of many accommodation providers.
Not only did the year 2000 welcome a new millennium but it's also the year TripAdvisor was founded. It's likely that TripAdvisor founder Stephen Kaufer was unaware that his small office above a pizza shop in Needham, Massachusetts, would be the beginning of the world's largest online travel site.
Since then, the number of traveller reviews and opinions has accelerated dramatically around the world and the is now available in more than 45 countries and in 2014, amassed 2.5 billion unique visits – that's over a third of the world's population!
Interestingly, one of TripAdvisor's top world contributors is based here in Australia. Ron Scott has been a member since November 2007 and travelled nearly 3 million kilometres around the globe so far. He has made 3,249 contributions (across 518 cities and 46 countries) – including 1528 restaurant reviews, 218 hotel reviews, 938 attraction reviews with 313 first-to-reviews. In seven years this equates to 464 contributions on average each year!
"It's been an incredible journey so far, and I am just as excited about what our future holds," said Stephen Kaufer, president and CEO of TripAdvisor. "TripAdvisor has evolved from being the site for hotel reviews to becoming the 'destination site' where you go to research and book nearly every aspect of your trip."
The first-ever TripAdvisor traveller review was of Captain's House Inn in Chatham, Massachusetts, which earned a rating of 4 bubbles. Since then, the number of traveller reviews and opinions on TripAdvisor has accelerated dramatically around the world, up 2000 per cent in the last 10 years, and up 60 per cent since last year.
In its continued effort to help travellers have a perfect trip, in recent years TripAdvisor has evolved its mission to allow users to easily compare prices, find great deals and book not only hotels, but also restaurants and attractions. First, in 2013 TripAdvisor rolled out its hotel price comparison search and became the first to match real-time pricing and availability with more than 100 million reviews and opinions of TripAdvisor travellers.
Consumers are able to check hundreds of websites to find the best hotel prices and click through to the booking partners' sites to complete the transaction.
Then, in May 2014, TripAdvisor launched its instant booking platform that allows users to not only compare prices, but book hotels through the company's hotel and online travel agency partners without leaving the TripAdvisor site. Instant booking is currently available to all Australian travellers with a gradual rollout in the works to global markets.
And, most recently, TripAdvisor acquired a number of restaurant and attraction booking sites, including lafourchette and Viator, to broaden the booking options for consumers on the site.
Not only has TripAdvisor helped travellers plan and book better vacations, but it has also had a positive impact on the travel industry. Over the years, the site has elevated businesses that offer exceptional service and are highly regarded in reviews by their guests. With more than 315 million unique monthly visitors, the site serves as an incredible marketing tool for many properties, especially smaller and independent establishments with little or no marketing budget.
Over the years the company launched a dedicated TripAdvisor for Business division and several innovative features to support the industry. These include tools such as a Management Center, offering free resources and content to help hospitality businesses engage with the TripAdvisor community and respond to traveller reviews, and Review Express, an automated platform for hoteliers to encourage their guests to share candid feedback on TripAdvisor.