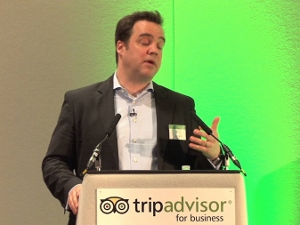 Speaking at ITB Berlin, TripAdvisor territory manager Tom Breckwoldt insisted, "We are not becoming an OTA"
"You can book on TripAdvisor, but we are not managing the booking.
"TripConnect is designed for hoteliers. Bookings are transferred to the hotel system. The hotels own the traveller and are able to communicate with the traveller. The payment is done on the hotel side as well."
He explained, "We have three models [for accommodation providers]. One is business listings, one is TripConnect which gives live availability and transfers a consumer to the [accommodation] site, and one is TripConnect instant booking, where the consumer stays on TripAdvisor to complete the booking.
But we give the booking to the hotel.
"We receive a commission but we believe there is a clear line between who is the merchant and who isn't. As a hotel, if you get a booking you pay TripAdvisor. If the OTA gets a booking, it's an OTA booking."
Such subtle technicalities may fail to make accommodation providers believe TripAdvisor has not become an OTA.