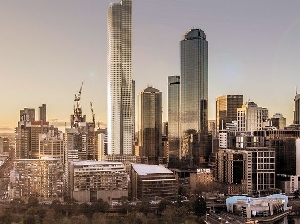 Singapore-based developer Fragrance Group has modified its plans for its Bates Smart-designed high rise in Melbourne's CBD West End.
Presently named 555 Collins Street, the project has had a variety of uses listed following its first public appearance close enough to two years ago. Originally envisaged as a purely commercial tower of 404m, the plan is now for a 91 level (302m) mixed-use tower with 6 commercial levels, a 15 level hotel, 60 residential levels consisting of 11,280m² office space, 300 hotel rooms and 1020 apartments.
Fragrance Group, controlled by property magnate Koh Wee Meng, purchased the site from Melbourne investor Harry Stamoulis in May for $78 million.
Meanwhile, a legal challenge is being mounted against a plan by developer David Marriner to build a 32-storey hotel and apartment tower behind the heritage-listed Forum Theatre in Melbourne.
Prior to the state elections, Matthew Guy, the then planning minister, approved the plan that was opposed by Melbourne City Council. The council's legal action challenging Mr Guy's ability to make a planning decision on the project has been joined by business and philanthropy figures Alan and Carol Schwartz, whose property is next door and by CBUS Property and Charter Hall that own 171 Collins Street.
Mr Guy felt empowered to make the decision in favour of Mr Marriner despite council arguing the tower was too small to fall into the "major project" category the minister oversaw. The project approved by Mr Guy is 107m – 67m higher than a preferred 40m limit for the area. The council argues it is only 19,600m² – well short of the 25,000m² threshold at which the planning minister had authority.
Mr Marriner's legal team has advised the planning tribunal to throw out the challenge.