The $100 million Art Series Hotel The Fantauzzo will open its doors on Tuesday at Howard Smith Wharves on the  Brisbane River.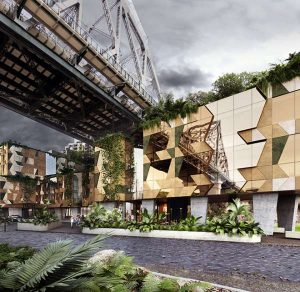 The spectacular property, carved into the cliff under the city's Story Bridge, will feature 166 guest rooms with custom-designed furnishings, original artworks and fine digital prints.
Named after contemporary Australian artist Vincent Fantauzzo, it is one of eight properties in a portfolio inspired by, and dedicated to, local contemporary artists.
The six-storey hotel will offer four food and drink outlets, a rooftop pool boasting views of the Brisbane River and CBD, a gym and three conference rooms with state-of-the-art audio-visual technology.
37-year-old South African-born Shaun Fields has been named general manager for the new hotel.
He has more than 20 years' experience in the hotel industry worldwide and boasts a number of high-profile guests among his clientele, including Lady Gaga, Oprah Winfrey, Michael Bublé, Pink, and most memorably, Queen Elizabeth II.
"I worked with her representatives from Buckingham Palace. It took 12 months to meticulously plan and I had the pleasure of being her personal escort," Fields said.
"It ended with a dinner for all the Commonwealth heads of government and I received a personal gift from the Queen at the end of it which I still wear to this day – a pair of cufflinks."
Growing up in Durban, Fields started his career in a hotel kitchen as a teenager before working his way through housekeeping and reservations to the front office and then taking his skills international with stints on the QE2, at the Beverly Hills Hotel, Starwood Hotels in London and the Sheraton Perth.
Relocating to Melbourne to join Accor as a general manager in mid-2016, Fields says he is now relishing the chance to bring something unique to Brisbane. 
"I learnt a lot during my tenure in Perth about providing quality service and attention to detail," he said. "I'm really looking forward to sharing this with our guests at The Fantauzzo.
"We will be at the cutting edge of what is happening in the industry right now when it comes to in-room technology, but we need to keep the core values of what makes a good hotel experience at the forefront.
"Guests are becoming savvier, with more and more searching for an experience they just cannot get at home.
"We will deliver on this by creating a guest experience you simply cannot get anywhere else, in a location that is fast becoming an icon of the Brisbane landscape."