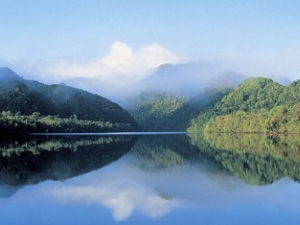 The RACT, is considering resubmitting its proposal for a River floating hotel on the Gordon River in Tasmania after the plan failed to make it through to the second stage of assessment.
The 12-room boutique hotel to be moored near Sir John Falls, was the second floating hotel proposal under the Tasmanian Government's move to open national parks for development.
But despite, the plan not making it through to the second assessment stage, RACT's Harvey Lennon said the organisation was willing to make changes and resubmitting the plans in an effort to gain approval.
"We would expect that it would be possible for people to fly on a light plane into the Gordon River and to meet the vessel there, but we may well utilise the opportunity to take the vessel a little bit further up river and down river," he said. "So that it's not just a permanently fixed house boat.
The other floating hotel proposal from World Heritage Cruises plans a 45m vessel to operate on the Lower Gordon River was at the second assessment stage awaiting a verdict.