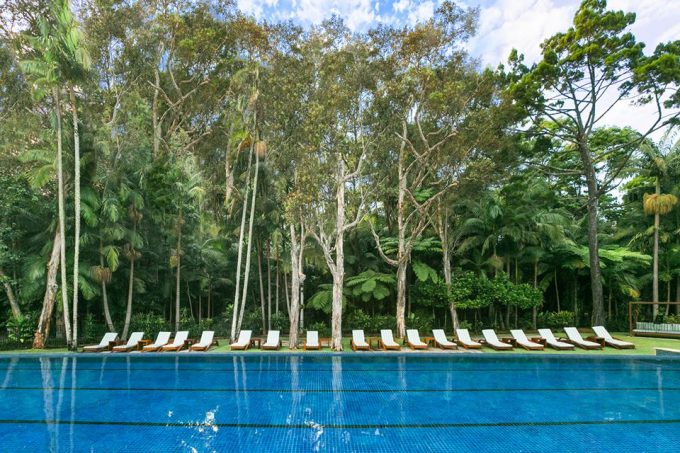 Billionaire retailer Gerry Harvey is selling the landmark Byron Bay accommodation property he fought to establish 14 years ago.
Harvey, whose financial worth is valued at more than $2 billion, pushed through development of the Byron at Byron Resort & Spa in 2005 against some of the most restrictive planning laws in the country.
The luxury property, situated within 45 acres of sub-tropical rainforest close to the northern NSW town, now hits the market for the first time since its opening with predictions of a sale price ranging between $40 – 50 million.
The eco-resort encompasses 92 suites, a one-hatted restaurant, conference centre, infinity swimming pool, tennis court, gym and day spa and boast beachfront access.
Development approvals for large-scale accommodation are notoriously difficult to achieve in the Byron Shire due to stringent local environmental protections.
Harvey fought a bitter battle to win approval for the hotel, using a radio advert to brand Byron Shire Council "the most difficult council in Australia" in a move described by the then shire mayor as "childish".
Now considered one of the top ten luxury resorts in the country, CBRE Hotels' Wayne Bunz and Andrew Jackson are predicting strong interest in the property as they seek expressions of interest.
"The luxury resort is owner-operated, and with no international branded resort existing in Byron Bay to date, we expect there will be a number of world-renowned leisure brands eager to enter this tightly held market," Jackson said.
"Acquiring a land parcel and gaining the necessary approvals to build this type of asset in Byron Bay is notoriously difficult, and approvals of this nature may never again be repeated in the area," Bunz added.
Byron Bay was recently named ahead of Sydney as Australia's most expensive region in which to buy property, experiencing an average median house price rise of more than ten percent over the past 20 years.
Harvey, best known as executive chairman of the Harvey Norman retail chain he founded with Ian Norman in 1982, told The Weekend Australian that he believes his hotel will fetch between $40 million and $50 million.
The expression of interest campaign for Byron at Byron ends on July 10.