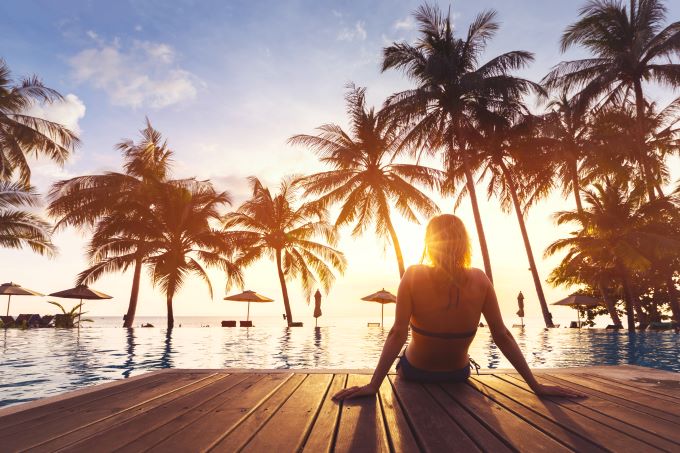 High-profile buyers are circling as online travel business Luxury Escapes tests the waters for a sale.
Qantas is looking to snap up the high-end holiday package e-tailer, according to The Australian Financial Review, and homegrown private equity firm Adamantem Capital is also preparing an offer.
A handful of other prospective national and international buyers is said to include Webjet and Expedia.
Luxury Escapes lists more than three million subscribers globally and is forecast to turnover some $500 million in the 2020 financial year.
Disproving the argument that wealthy clients don't buy off-the-shelf holidays online, it was named Australia's fastest-growing company under five years old by the Financial Review in 2017.
The company has offices in Sydney, Melbourne, Bangalore, Singapore and San Francisco and served more than 500,000 travellers this year, generating more than two million room nights for hotel partners. International visitors comprise 40 percent of clients, with Australians making up the remaining 60 percent.
The interest follows Luxury Escapes' owners, led by co-founders Jeremy Same and Adam Schwab, looking to test the market for interest in the business. It is reported Same and Schwab may be keen to retain a stake and have a hand in further developing the businesses post-sale.
Besides the pair, Luxury Escapes shareholders include media company HT&E and Catch Group founders the Leibovich brothers.
Qantas seems the best aligned of the contenders as the two companies are already sharing through a Qantas frequent flyer partnership.
But Luxury Escapes CEO Cameron Holland has so far refused to comment on potential buyers, telling Skift: "We're a rapidly growing business, and we recognise that as a privately-held company we are subject to a lot of interest and speculation in the market from time to time.
"We do regularly assess the market and consider strategic options but we are focused on growing our leadership position and on doing right by our shareholders and customers."
Luxury Escapes is looking to continue expanding into international markets and has just launched a joint venture with Chinese travel agency Zanadu, targeting upmarket Chinese travellers by presenting the Luxury Escapes website in Mandarin under the name Yidu.
Unlike OTAs, its focus is around curating stays of up to ten nights at top hotels and advertising those packages online for a set period, usually two weeks, but then not featuring them again for six to 12 months.
Packages are tailored around VIP offerings such as gourmet dining, unlimited drinks, lounge access, spa weekends and cooking classes.
"Because these short and sharp campaigns generate a high volume of room nights for the hotels, we are able to get fantastic deals with inclusions from hotels. So everybody wins," Holland told Skift.
"We are usually 40 to 45 percent cheaper, with more inclusions."
The site also lists luxury homes and bespoke small group tours and experiences.