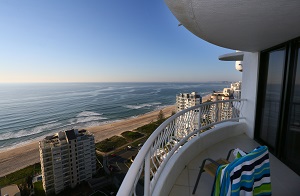 Profiles
32yo icon gets passionate new managers
Supremely located midway between Surfers Paradise and Broadbeach, just metres from the ocean, is Biarritz Gold Coast. Its impressive one, two and three-bedroom apartments offer the perfect base for an idyllic Queensland holiday.
Biarritz is a 27-level residential tower consisting of 98 apartments and was constructed in 1982 by the Raptis Group, who built some of the more significant and memorable early architectural Gold Coast residential landmarks such as the Aegean and the Acapulco. Biarritz took 54 weeks to complete and "demonstrated creative architectural design and a successful approach to site selection, construction and marketing".
Site selection quickly became a stroke of genius as this property has the nation's playground, Surfers Paradise, at its feet but is also situated at a relaxing distance from the main hullabaloo. The dazzling beach is little more than 50m away and the cosmopolitan cafés, restaurants, eclectic shops and bars of Broadbeach are just a short walk. Venture a little further away and there is Jupiter's Casino, the new Gold Coast Convention Centre and Pacific Fair Shopping Centre.
These are very sizeable apartments at Biarritz with large balconies to help guests take in the resplendent views, ideally suited for family holidays. The property is set in flourishing tropical landscaped gardens with lavish resort-style facilities that include an outdoor pool, wading pool, large indoor heated pool, big indoor heated spa, male and female saunas, a well equipped gymnasium, a games room and a full-size tennis court.
Bruce and Dianne Hamlet are the managers of Biarritz and they have resided in Broadbeach Waters for 20 years with their sons Jack, 13, and Ben, 15. About one year ago they purchased the management rights for Biarritz after deciding to change their career path. They explored different business opportunities but decided that they "would like to gain entry into management rights" believing emphatically that they "have the skills and strong work ethic required". Bruce said, "After we inspected Biarritz Apartments, we were immediately impressed by the complex and facilities and after a lot of processes to go through, the rest is now history!"
Bruce had an extensive career in a number of operational senior management roles within the rail industry. These roles required strong strategic planning skills and the ability to work with senior executives and board members. Bruce stated, "During my time in senior management roles, I developed and implemented strategies to improve the culture, safety and performance of the workforce, while significantly improving levels of customer service and satisfaction."
The skills Bruce acquired throughout his illustrious career ensure that Biarritz customer expectations are met. Bruce is incredibly enthusiastic and he is able to put all his people management, consultation and customer service skills into practice to provide "an efficient provision of services" to all guests, residents, owners, body corporate committee members and management.
Dianne has an accounting/clerical background and Bruce described her as: "Brilliant in the areas of written and verbal communication skills." He also compliments Dianne on her friendly and effective people skills that are essential to this industry. Dianne's last employment position was as the finance officer at Surfers Paradise Primary School, where she also spent time acting in the role of business services manager.
Here she gained skills through formal studies, customer service and working with children, parents and the school community. Dianne has prior experience in the accommodation industry as she worked with her parents in their management rights business in Surfers Paradise. You could say customer service is Dianne's biggest strength.
On the recent career change Bruce commented, "We are enjoying the challenge immensely! It is the best thing we have ever done. It's extremely rewarding when you see your hard work come to fruition. It makes the effort worthwhile."
"Hard work" is a huge understatement, since taking over the management rights, this couple have made an incredible number of changes. They describe their new website as being "by far our biggest achievement", in this marketing and digital age it is extremely important to get this aspect of the business right. They are absolutely delighted with it and have experienced the direct benefits of a new photo shoot and virtual apartment tours on their website.
They have also coordinated a total renovation of one of their three bedroom apartments that had the original 80s style "peeling wallpaper and shag pile carpets". Bruce said, "The open studio was converted into a third bedroom. The results are amazing."
With a guest on TripAdvisor agreeing as they describe their stay: "You can tell that the owners and management have spent a lot of money, time and care in renovating the superior units and they are incredible and well worth spending the extra money to stay in one."
They are currently working on a foyer prototype which will be completed in a matter of weeks, this will include new signage, painting, tiling, feature wall designs, lighting and carpeting with an absolute "wow" factor. Bruce and Dianne are just waiting for the owners to vote on the concept. Other planned and approved improvements to take place in 2015 include an electrical upgrade, a PABX upgrade, a window replacement program, lift modernisation and a repaint of the property.
Bruce and Dianne are also very proud to have been able to establish excellent relationships with their owners so early on. This has resulted in many owners deciding to update their apartments with new bed packages, new soft furnishings, in many cases new appliances, and other items that needed replacing. To get the support and enthusiasm of owners, open communication is essential. Bruce said, "We encourage our owners to offer feedback that is important to them and in turn helps us."
A measure of their outstanding achievements has been the fact that their repeat guest numbers are up by 20 per cent from 12 months ago and this is a figure they are continuing to work hard to increase. However this is a family who are not just all about hard work, they also like to play. They spend their downtime together and enjoy "an outdoor lifestyle" and in this enviable location who can blame them.
Having at least one good yearly family break is essential to effective resort management according to Bruce, so this family ensures they always have a break to recharge the batteries. Bruce also offers more, very wise management advice: "Always keep an open mind." He said, "Be open to new ideas and customer service is the most important aspect of our industry, everything else can be learnt no matter what your skill set is."
Biarritz simply offers some of the best mid-range apartment accommodation on the Gold Coast and has ignited a passion for this industry in Bruce and Dianne. The resort undeniably has wonderful facilities and an enviable location but it is the delightful, skilled, dedicated and hardworking managers, Bruce and Dianne that make Biarritz a truly marvellous destination.
Their return guests have many exciting reveals to look forward to in 2015 as Bruce and Dianne continue to work their magic on the resort so that new guests become dedicated return guests.