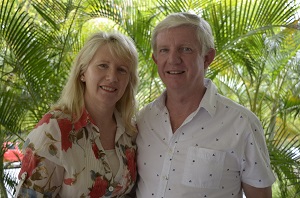 When searching for a comfortable stay in the city of Brisbane, you need look no further than Founda Gardens Serviced Apartments. With apartments on the Brisbane River and close to the city, guests have the best of both worlds for a quick getaway.
Founda Gardens is located in Auchenflower, just a quick drive to Brisbane city's central business district and easy to get to attractions such as the Suncorp Stadium, Brisbane Convention and Exhibition Centre and multiple art galleries and museums.
Whether walking minutes to Brisbane's Restaurant Rue in Park Rd or to local Rosalie and Paddington villages a suburb away, or a short business trip to city and South Bank via City-Cat, guests are only a ride away from getting to a desired destination. A new City-Cat stop will soon be constructed beside the apartments, Founda Gardens has revealed, making it even easier to get into the city. Otherwise, most stops and destinations are just a pleasant walk along the river away.
Managed by a team of friendly and accommodating staff, Founda Gardens is the perfect spot for a comfortable and enjoyable stay. The team consistently upgrades its apartments and common areas to maintain high standards, while keeping guests and owners satisfied.
On-site managers Jos and Steve Woollett came from New Zealand 23 years ago. Jos was previously a registered nurse and a part of cabin crew for Air New Zealand while Steve owned a telecommunications outlet in Milton. They believe that their varied experience gives them insight into the accommodation industry and helps them to provide excellent customer service and care.
Resident manager, Sharon Sheppard previously managed multi-site service stations and convenience stores before she began to purchase apartments on the site. In an interesting twist of fate, Sharon and on-site managers Jos and Steve are all friends of the previous owners of the apartment complex. They now work together to provide an enjoyable stay for all of their visitors.
Founda Gardens' apartments are near the CBD, making them perfect accommodation for a business trip. Being centrally located is also ideal for relocations and Founda Gardens is perfect for families in transition.
Many shops, cafés and restaurants are also within a walking distance from Founda Gardens so there is no need for a car although free and secure on-site car parking is available for guests.
The self-contained apartments are fully serviced and Founda Gardens offers free Internet in the foyer and a small charge in the apartment. There is also a provision of various facilities such as a BBQ, pool and sauna. The apartment kitchens are fully equipped with an oven, range hood, microwave, dishwasher, fridge and all essential kitchenware. Guests have commented, "you could bake a cake here!"
The apartments are frequented by a lot of corporate companies and also have a long standing relationship with Wesley Hospital and other local hospital patients/families needing adjacent accommodation. The managers have been known to create a good relationship with guests who have to stay for longer periods, something that they find to be 'a very rewarding part of the job!'
The majority of traveller reviews for the resort receive an 'excellent' rating on TripAdvisor and its location in particular is heavily praised. One reviewer highlighted Founda Gardens as a 'great place to stay', emphasising the ease with which he was able to entertain his family.
A bridal party recently visited the apartments from Queensland and wanted to stay just outside the city with little traffic but with easy access to shops and services. The bride-to-be commented: "The managers were so friendly and accommodating, making it a real pleasure to stay there. The rooms were very spacious and great value, particularly the three-bedroom sub penthouse, they are huge and have great views of the city and river, better than staying in the city! They are all self-contained, air-conditioned and have large balconies. This will be our number one choice of accommodation when staying in Brisbane."
Founda Gardens also hosted the Australia Awards Pakistan last month, a joint initiative of the Queensland government and UQ International Development as part of the Australia Awards' Fourth Short Course. Founda Gardens invited the party and the UQ International Development coordinator to experience a true Aussie BBQ in their final week, which was enjoyed at the resort's poolside area.
Repeat guests are often found at Founda Gardens as the managers are a dedicated team who are always willing to go out of their way when something urgent comes up. In regard to these situations, Sharon said, "Being proactive and being ahead of the urgent things makes life much easier."
The team excels in organising and looking after their visitors, but when approached for amusing stories Sharon quips, "What happens in Founda Gardens stays at Founda Gardens."