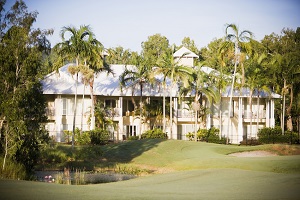 Profiles
Management rights got off to a whirlwind start
The one-hour drive north of Cairns along one of the world's most spectacular coastal roads, surrounded by verdant rainforest and pure Coral Sea, takes you to Port Douglas.
Here, two world heritage listed jewels blissfully exist: the Great Barrier Reef and the rain-forest of Daintree and Cape Tribulation.
Tourists visit Port Douglas to relax and refresh in the beau-ty of its unique geology, nature, its feast for the senses and its climate of balmy days that dis-solve into tropical evenings. Families also enjoy peaceful Port Douglas not only for its calm but also for its array of fun activities.
The serene connection with nature attracts many golfers to its gorgeous golf courses. Para-dise Links Resort Port Douglas is perfectly situated in 4.4ha of lush tropical grounds, with spec-tacular golf course views of the outstanding Palmer Sea Reef golf course. It offers a range of stylish boutique accommodation from studio rooms to four-bedroom villas in a tropical oasis that makes guests feel integral to the rainforest.
The managers, Liz and Ro-land Schibig, bravely took over the management rights of Para-dise Links Resort on April Fool's Day in 2014 and couldn't help but wonder if that was an omen because a week later, Cyclone Ita hit! They prepared to be hit and had to bunker down in what was a potentially terrifying experience but Port Douglas got very lucky, the storm passed and they were relatively unscathed. Liz said, "We survived and we got to know many of the owners who all pitched in to help secure the property."
Roland and Liz met in Port Douglas 23 years ago when they started work on the same day at the Sheraton Mirage Port Doug-las. Both have extensive back-grounds in tourism and hospital-ity across Switzerland, New Zealand, Japan and Australia. Roland is an award winning chef and has been general man-ager of many five-star resorts and tourist attractions. Liz worked in hotel management in Japan, New Zealand and Aus-tralia, as well as international development in the South Pacif-ic, regional tourism specialising in destination management and marketing in Victoria and with Tourism Tasmania.
Liz and Roland purchased the management rights of Para-dise Links Resort as their first management rights venture together and they are the man-aging partners of Le Reve Man-agement partnership. They care-fully chose this resort as it had many wonderful qualities. Qual-ities that their many years of experience lead them to believe were exactly the right platform to support their unique mix of abilities and put their skills into practice.
Their time so far, as manag-ers, has been eventful but they have settled into their roles well. Roland is the licence holder, so looks after the proper-ty and manages the finances. Liz manages all accommodation operations and they work to-gether effectively to manage the staff and build good relations with the owners. Liz explained, "Our roles are not completely defined but we manage to work very well together."
Time-off has been sparse but Roland manages to get a few rounds of golf in, on the fabulous course next door and the couple are having their first proper weekend away very soon! Being an accommodation manager is hard work, there is no denying that, but the benefits are incredible.
Liz enjoys the face-to-face exchange. "It is definitely the people," she noted. "Paradise Links Resort has a wonderful vibe and we love it when our guests arrive and sense the spe-cial nature of the resort. It offers so much potential and with the great team we have we can share some special tropical hol-idays with all our guests and owners."
Paradise Links Resort pro-motes, "A friendly personalised service that ensures every guests' stay is a memorable one."
It is a 2014 TripAdvisor travellers' top hotel choice win-ner and boasts many great TripAdvisor reviews. One read: "Loved our stay and would re-turn in a heartbeat. Missing it already."
Liz and Roland still work tirelessly to improve their ser-vice. "Paradise Links Resort is already a special place," Liz admitted. "But Roland and I are working to make it even more special by offering a level of service that makes every guest feel extraordinary. It's the little things and the attention to detail with personalised service and always a little surprise that de-lights and puts a smile on your face, guests, owners or partners and suppliers."
The property has been very well maintained; this is one of the qualities that attracted the attention of Liz and Roland but recent improvements have taken place to the grounds. They have put in lights and distinctively landscaped some garden beds to really improve the externals. Liz confirmed that the guest reac-tion to the changes have been exceptional. She said, "The guests love it, we have one cou-ple who have been staying at the resort every year for nearly 15 years saying that it has never looked better."
The future here looks very promising. After only three months as the management team of Paradise Links Resort, Liz and Roland are over the moon to report that they just experienced their best month ever! This is something they are very proud of after their whirl-wind start.
They are also very pleased with the excellent team they built from two very valuable housekeeping staff. Liz said, "In such a short time Roland and I have made some great friends in the owners who, we are pleased to say, have commented many times on what we are doing and achieving. We think we are definitely on the right track."