News In Brief
Marriott asks millennials to book direct with new ad campaign starring celeb youtuber Grace Helbig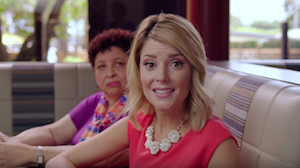 Marriott International has launched a new digital campaign featuring Grace Helbig dubbed "#itpaystobookdirect" in a marked effort to encourage millennial consumers to book their hotel stays directly on marriott.com.
Clearly targeting the millennial generation who will recognise Grace Helbig as a youtuber, famous for her online videos, the firm has posted the spots featuring her on their youtube channel www.youtube.com/marriott.
Each of the 30 and 60 second "#itpaystobookdirect" spots try to inject humour into communicating the benefits of booking hotel stays directly on Marriott.com. The campaign features Grace Helbig jumping into different scenarios to teach people the why it makes more sense to be direct.
In the "Proposal," Grace rescues a stammering boyfriend who is equating his love for his girlfriend to cheese inside a baked potato.
In the "Interview," Grace comes to the aid of a boss asking a recruit ridiculous questions like, "If you could be one aquatic mammal, what would it be?"
In "Scenic Route," an exasperated Grace helps a lost young couple learn the quickest route to their destination from a gas station attendant who insists they take the scenic route past the house of his best friend Greg who makes scarves out of leaves.
The creative spots will appear as digital video and via digital display ads. Shorter out-takes will appear on Facebook through November.
Marriott's Content Studio led the overall creative development for the campaign partnering with Above Average, an online destination for original comedic videos and written content featuring the industry's top creators, celebrities, and rising talent.
It is the company's first collaboration with Above Average as part of a recently signed development deal. Above Average is the digital arm of Broadway Video, the production company behind Saturday Night Live and The Tonight Show.
"With this campaign, we want to make sure every consumer knows why it pays to book their stays with us directly, either on Marriott.com, through our Global Reservation Centers, or by contacting the hotel directly," said Drew Pinto, vice president, distribution strategy for Marriott.
"Our guests who book direct get access to our best rates, every room we have available and the most accurate and trustworthy information about our hotels. Booking direct is also best way for customers to personalise their stay with us."