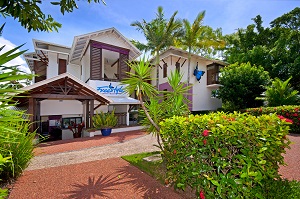 Profiles
The classic and distinctive tropical resort
Freestyle Resort Port Douglas is the quintessential Queensland destination: a classic North Queensland property with cedar timber shutters, verandahs, and overhanging roofs surrounded by lush tropical gardens.
The apartments overlook a tropical reserve on one side and rich gardens with a stunning new saltwater pool and spa on the other side.
Jason and Anne Moore are the warm and welcoming hosts who have managed Freestyle for over 13 years. Jason and Anne have travelled extensively to many tourist hot spots around the world, bringing that experience and special level of warm service and attention to detail, to their management of Freestyle Resort Port Douglas. They purchased the management rights off-the-plan in 1998 and were the lead developers in the off-the-plan sales and construction period, before welcoming their first guests in November 2000. They continue to delight their guests to this day!
Freestyle Resort Port Douglas is a top rated accommodation option for Port Douglas and indeed Australia. ripAdvisor placed Freestyle Resort within their Travellers Choice Top 25 Hotels in Australia, 2013 and 2014. In addition, TripAdvisor ranked Freestyle Resort within its top 25 for the Pacific region and also gave them a Service and Family Friendly Award in 2013. Jason fully appreciates the importance of their popularity on TripAdvisor: "Word of mouth recommendations on this website are our top marketing aide."
Boasting a slew of fantastic reviews such as, "We have just had a perfect place to stay in Port Douglas. Location is great but still a quiet resort feel, beautiful airy rooms and well equipped, lovely pool and poolside barbecue, tropical resort style gardens and a very friendly stick insect for the kids." It is obvious why this is such an important marketing tool for them and it is obvious that Jason and Anne truly care about their guests, wanting to provide them with the best service and experience they can facilitate.
With their guests in mind, Jason and Anne have continuously worked on the resort to ensure that it maintains its tropical charm. In 2009 their first major refurbishment began, driven by a desire to refresh the rooms it resulted in a contemporary update featuring fresh new soft furnishings. "The entire process took place over 18 months and encompassed a complete makeover. We installed widescreen high definition LCD flat screens linked to the latest Austar cable channels and stylish contemporary soft furnishings with matching bed linens and covers."
Jason also added that the "new sun lounge and hammock covers completed the look so that guests can relax around the stunning Freestyle swimming pool".
In 2010 the stunning refurbishment of Freestyle Resort's swimming pool won them the SPASA QLD award for best commercial pool renovation under $250,000. The pool precinct makeover continued and, in 2013, TNQ Services re-decked the pool surrounds with a timber sundeck, this design is an incredible standout feature that needs to be seen to be fully appreciated.
By 2012 it was felt that the apartment interiors needed a comprehensive refurbishment and so they embarked on a period of discussion with the 31 owners. This resulted in plans for an upgrade to be undertaken in February 2014, while occupancy was at its lowest. Jason said, "Our motivation for the current refurbishment came from some of our owners who realised that their apartments were not matching the latest trends." Although the apartments had cane furnishings that were still of great quality, "cane was on the wane!"
The challenge was to communicate with their owners, many of whom did not consider how the dated condition of their apartments could drastically lower returns. Considering the highly competitive market of Port Douglas, with its many spectacular accommodation complexes, an update was indeed necessary.
By September 2013, Jason and Anne had received the support of the owners and committed to a refurbishment contract with Noble House Design. They opted to engage with Noble House Design, due to their immediate attention to detail on every aspect of the pre-contractual relationship and their willingness to extend their design expertise. This expertise was offered without a financial commitment in terms of a binding contract prior to the refurbishment, giving Jason the space and confidence that, if the owners individually contracted for the furniture packages that Jason had designed with Noble House Design, they would be given a fair product supported by good robust warranties.
Jason confirms, "I am pleased to note that on all these points, I have been vindicated in placing my choice and trust in Noble House Design."
Noble House Design gave Jason the option to use locally trusted tradesmen to do the electrical and plumbing upgrades and all parties worked co-operatively to achieve the tight start and finish dates as required. Due to the value of the refurbishment project, a Noble House Design master builder supervised the local tradesmen – Rod Anderson of Redline Building and Construction, visited from the Gold Coast during the four-week installation process. This enabled a well-coordinated collaboration that contributed to the project's success. As Jason explains, "I am still in wonderment at how Noble House Design accomplished this refurbishment in such a timely way, ensuring that we experienced a stress free result that was on time and on budget."
At Freestyle Resort Port Douglas, Noble House Design reinvigorated 29 of their 31 apartments. They are now fully furnished with a cool, elegant flavour, a smart kitchen with microwave and hotplates, full air conditioning and ceiling fans, a private shaded balcony or patio, a flat screen HD TV, a stereo/DVD unit with iPhone deck, a free Foxtel cable TV and free wifi broadband Internet.
"The refurbishment involved replacing all the furniture with new, replacing all the tap ware, bathroom accessories, all down lights and fans with new ones," Rachel Micjan, interior designer and commercial sales manager of Noble House Design outlines. "We completed the project in two stages, 15 units in the first stage and 14 apartments in the second stage. Each stage was completed within two weeks including the removal of existing furniture.
Jason also explains that in 11 of the one bedroom apartments the beds have been upgraded to Sealy Metro King/Zips to allow greater flexibility. "The new beds are getting positive comments from guests and by having the ability to supply king or single configurations in our one bedroom apartments, it allows us to service a greater number of guests," he says.
The overall design idea was to complement the lush tropical surrounds with a fresh, modern colour scheme and modern white goods, suitable for the Far North Queensland tropical humidity. This design brief was certainly achieved and guests certainly appreciate the style and comfort of these apartments. One TripAdvisor reviewer SairN says, "The resort has been upgraded to a very high standard." And Stephb88 states, "The room was large, extremely clean, well maintained and modern. It has a nice lounge area with flat screen TV with some Foxtel channels."
For the last 13 years, Jason and Anne have been providing their guests with an exceptional, service. By constantly refurbishing their offerings they have ensured that their distinctive resort can compete with the best that the stunning destination can offer. They do this day after day. The comfort of their guests is their priority and they know that by offering them such warm service and providing the lovely, clean, tropical and quintessential environment that is Freestyle Resort Port Douglas they will ensure that guests keep returning.