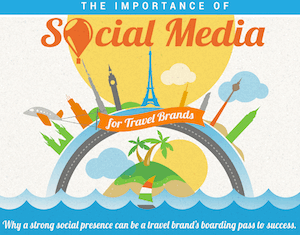 Online firm Internet Marketing Inc has created an infographic to illustrate the major importance of social media for travel brands.
The company said in a statement: "Since we have become a social/sharing society, it should come as no surprise that social media has a major impact and influence on how we travel and interact with travel brands."
Social media influences consumer travel plans
"Studies are showing that your friends' and family's social posts (Facebook photos, Tweets, and Pins, etc) are actually subconsciously inspiring you to travel. You might begin to research vacation destinations by scrolling through Pinterest boards to see which Caribbean island fits your vacation desires. Or you may search Instagram locations and hashtags of hotels or resorts you're interested in visiting. Maybe even an errant Tweet reading, "CANCUN 4EVER #SUMMERTOREMEMBER" caught your passive eye, and now a tropical getaway is all you can think about. But it's these social actions and engagements that are prompting more and more people to take that well-earned vacation."
"When you finally do take that vacation, it's your turn to pay it forward and inspire your friends and family to travel. Check-in to your luxurious hotel or boutique AirBNB on Facebook. Share the cliché but classic feet-in-the-sand photos to make your friends jealous. Tweet to your hotel and airline with questions or customer service requests."
Travel brands need to participate in, not just monitor, relevant social media
"Social media provides travel brands with tools to place your business in front of travellers from all walks of life, from all over the world. Building a social strong presence around your brand will allow you to influence consumers as they research and plan their vacations.
"And during those vacations, the proper strategies can allow you to provide better service and encourage social sharing to help influence their friends' and families' future vacation plans."