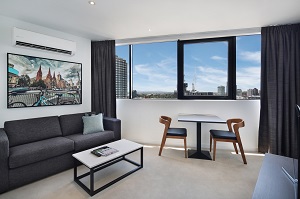 Profiles
Brand new Bella Apartment Hotel adds luxury to Melbourne Crown Precinct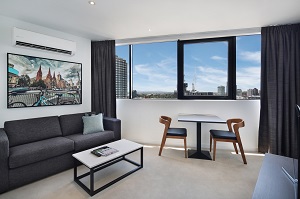 Salvo Property Group is a Melbourne based developer committed to creating affordable luxury apartments.
In January this year, they entered the serviced apartment industry with the launch of the Bella Apartment Hotel. Situated in City Road in the heart of Melbourne's Crown precinct, the property sold well to investors and in a crowded residential market, it made sense to provide additional yield underwritten by a serviced apartment operation. Understanding that the economic value of a serviced apartment operation as being the guest experience, the project engaged veteran hotel designer and FF&E contractor Peter Carmody of Hotel World Design to provide a robust user-friendly design all within a nine-week lead time over the Christmas break.
Conscious of operational wear and tear, it was established up-front to work with Laminex to provide a durable joinery package. Espresso Linga with the Nuaunce Finish on vertiboard and MDF substrates were specified. Angie Lewis from Laminex guided the project through specification and stock availability. Looking for a bankable manufacturing source Australia's largest furniture manufacturing plant Schiavello were engaged to value engineer the design for budget and ease of installation. Ray Gusman said they had "70,000sqm of plant", so once the samples were signed off, it only took two weeks to manufacture the full 120-room joinery collection.
Knowing all too well the damage caused by chairs with their interaction to tables, a solid ash wood chair was selected for both the dining chair and desk chair. These were miraculously made in China and shipped to site by Hotel World Design in just five weeks from day of order.
When it comes to fabric, it's hard to go past the one-stop shop of Warwick Fabrics with Laminex and carpet samples in hand, commercial sales manager Kristy Cool set up a morning showroom workshop for the Bella design team to explore a multitude of fabric options to suit performance requirement, budget and timeframe.
"Too often the market talks about the commercial need for high abrasive fabrics." says Peter. "But in fact they should be looking more at the tensile strength of the fabric, its elasticity and composition for ease-of-cleaning and long-life".
Built for residential purpose, the Bella Apartment Hotel came with white sheer roller blinds to all windows. To meet the market, lined triple weave drapes were installed by Turner Bros. "We had to face fix the tracks to existing pelmets," says Matt Mulder from Turner Bros, as the drapes were an afterthought. Never-the-less, they came up well and certainly did the job.
On the Bella Apartment Hotel website, you will see that TripAdvisor continues to reward Bella for its choice of bed: "Too often the market doesn't see the value in a good bed but we were happy to convince Salvo that the business of Bella was sleep, so they supported the AH Beard Supreme Platinum ensemble with upholstered base and hidden legs. Thankfully, they are now enjoying the market response," says Peter Deveny of AH Beard.
One can never underestimate the quality of a pillow to guarantee a quality sleep. Looking to build a sustained business with repeat customers, Bella looked to complement its high-end bed selection with a comparable luxury bedding package. Gary Coman from HotelHome was contracted to supply the elasticised mattress protectors, microfiber duvet insert, topper and microfiber pillows. "A hotel struggles to gain customers when all he has to offer is a $9 pillow that is as light as fairy floss," says Gary.
There's an accommodation industry saying: "When you close the curtains, the décor should tell you where you are and give you a sense of place." At Bella, the project chose to meet this requirement by using its vast library of local Melbourne photos. To add a twist, they were enhanced with colour to suit the pallet of the room. Paul Sestito from Wall Art Prints printed the photos onto stretched canvas and then framed in black MDF.
Knowing all too well that the guest will use their coffee table as a foot stool, the science in selecting this table was to make it as robust as possible with an imported product of quartz stone on a steel frame.
Too often, the industry fails to recognise the need for commercial foams when it comes to sofas and sofa beds. Bella followed trend and chose not to use sofa beds but to offer the guest a comfortable seating experience.
Hotel World Design specified a sandwich of foams to give a blend of hardness and comfort. "We wanted a product that would stand the test of time and not look like a rag doll in two years' time," says Peter. Charlie Chork of Icon Furniture custom-made the design.
Contrary to popular belief, many residential developments don't need ambient bedside lamps in 10sqm bed rooms. What they do need are functional reading lights… Industry lighting specialist Ian McIver from ZeroUNO Lighting provided self-switched, soft wired 6V LED lamps that fit straight to the bedhead. Ian also supplied a functional task-light to support the desk experience. No serviced apartment is fit for purpose without a commercial kitchen pack. Bella engaged industry experts, Bunzl to provide a full package. The trick here is to have the package arrive on site vacuum packed says Guy Churcher, "it might cost a little more, but it saves time and waste on site many times over".
Too often, the industry concerns itself about placement and installation of furniture, as it can be disruptive on site and costly if not managed well. Bella chose to engage industry experts, The Relocation Company, lead by Stephen McIlroy. "It's about the planning," says Stephen. "To ensure we can set up our teams with specific jobs and deadlines. Being a condensed fit-out program over the Christmas period and a mixed development with residents also moving in at the same time and no goods lift, Bella had a myriad of site issues that The Relocation Company had to address on a daily basis but with their jigs, purpose-built trollies and on-site radio controlled management, the job was executed on time. As the company owned and operated a bin hire and recycling business they were able to recycle up to 96.8 percent of all packaging materials.
Bella Apartment Hotel sits well now in the market offering the guest a superior sleep, high quality entertainment (55inch Samsung) with a user friendly comfortable design.