A new chair and new director have been appointed to the board of Visit Sunshine Coast (VSC), it was announced following the Annual General Meeting of the Queensland RTO.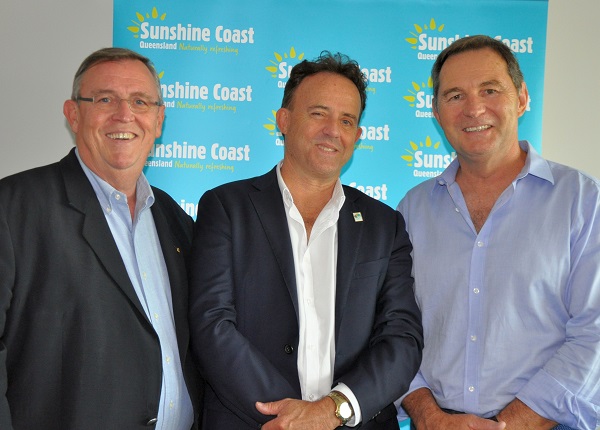 David Ryan had been elected as the new chair, replacing Grant Hunt, who stepped down following the completion of his three-year term.
Mr Ryan is a Sunshine Coast resident who brings to the board an extensive history of executive and board positions in major financial organisations and tourism groups. He was a non-executive director of Virgin Blue and fulfilled a number of roles over a 15-year period with the Virgin Group, culminating in his appointment to the Global Advisory Board of the Virgin Group. Since joining the VSC Board in 2015, Mr Ryan has been chairman of the VSC Risk Management and Audit Committee.
In other board changes, long-serving board member Ian McNicol stood down after six years, and will be replaced by Ashley Howden, a specialist in the digital transformation of organisations. Fraser Green was reappointed unopposed in the member-elected director's position.
The new appointments were announced as Sunshine Coast Airport revealed that it had attracted over one million passenger movements for the first time in a 12-month period on the back of the return of Qantas to the Sunshine Coast, investment in capacity by Jetstar and Virgin Australia on Sydney and Melbourne routes, the continued growth in popularity of Air New Zealand services from Auckland, and the start of Jetstar flights from Adelaide.
New VSC Chair, David Ryan, said the Airport's stellar performance had contributed significantly to the region's 2015/2016 tourism success. With the drive market complementing the growth in air traffic, the Sunshine Coast grew its domestic visitor numbers by 7.8% to 3.1 million for the year, and expenditure grew by 6.2% to $1.9 billion, the region's best domestic figures in over a decade. The international market recorded 3.5% growth to 366,000 visitors and expenditure increased by 26.7% to $245.3 million for 2015/16.
"It has been an outstanding year of achievement for Visit Sunshine Coast," said Mr Ryan.
"We owe a debt of gratitude to former chair Grant Hunt for guiding the organisation to this position of strength in what is still a fairly turbulent global tourism landscape.
"Grant brought his wealth of knowledge and experience to the VSC Board and during his tenure, the organisation was reshaped and relaunched with a new vision, direction and consumer-focused name. His efforts have contributed to VSC developing into one of the most innovative and successful regional tourism organisations in the country.
"I'd also like to recognise the significant contribution and tireless work of Ian McNicol during his six years on the Board, during which time he also served as deputy chair for two years.
"On behalf of the board, I'd like to welcome Ashley Howden, CEO of KJR, a leading Australian IT and digital consultancy business working predominantly with ASX 200 and Fortune 500 companies. Ashley will be a great addition to the Board and we look forward to his expertise in the digital marketing space.