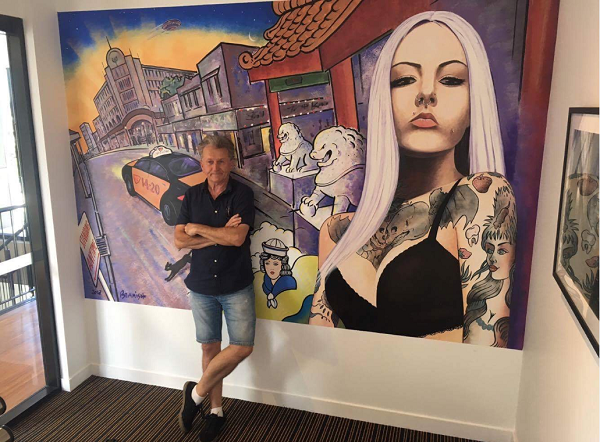 Since commissioning acclaimed Australian street artists Rone, Fintan Magee, Numskull and Beastman during its development in 2014, TRYP Fortitude Valley Hotel, Brisbane has become a well-known supporter of the arts.
Its striking murals can be seen blocks away from its location on Constance Street. Now, in an interesting twist, the hotel's management has discovered that its own maintenance manager is an underground artist.
Continuing its strong support for local artists and their works, TRYP Fortitude Valley has given John Beamish the opportunity to start a mural project in the hotel's gym.
"John has enjoyed painting for decades and we are thrilled to have such an amazing talent within our own team," said Kim Moon, the hotel's executive assistant manager.
"At TRYP Fortitude Valley, we understand how creative people use art to express themselves and we are pleased to give one of our valued staff the opportunity to do that."
John, who is in his fifties, has honed his artistic talent previously working as a sign writer and graphic designer. He has always enjoyed painting cityscapes and has developed a large catalogue of work, with some of his paintings on display in Sydney, Perth, Mumbai and London.
His mural inside the hotel will be a cityscape of Fortitude Valley, featuring McWhirters and Chinatown, a taxi driving down the street and a tattooed woman.
"Fortitude Valley is a unique part of Brisbane with a strong personality and a diversity of different characters that make it easy to draw creative inspiration," John said.
"I would like to thank TRYP Fortitude Valley for the opportunity to bring my passion into my workplace and share it with guests."
John will begin work on his mural today and is expected to finish tomorrow. The project is part of the hotel's desire to continually refresh and renew itself for its guests.
"Art is constantly evolving and so are the experiences our hotel offers," said Ms Moon.
"Each floor of our property has been designed by a different artist – which means guests can enjoy a different experience every time. Art helps create the experience we offer and, by adding new artwork, we give guests something fresh to enjoy each time they return."