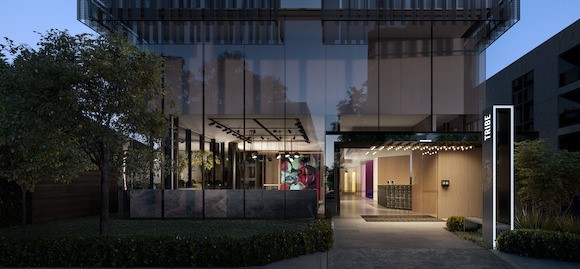 New Australian hotel brand TRIBE Hotel Group (TRIBE) has been created for tech savvy design lovers and urban explorers, "who are meticulous when it comes to where they stay and prudent about what they pay".
Its first location, TRIBE Perth is a nine-storey 126-room hotel in West Perth – next to Kings Park – that will launch on Tuesday, 16 May 2017, with interiors by award-winning architect and interior designer Travis Walton and brand campaigns shot by Nicole Bentley.
TRIBE Perth has highly functional rooms and shared spaces that are luxurious and contemporary, with cutting edge technology, entertainment and office facilities as standard. The group said: "Gone are out-dated and unwanted services, inefficient check-in and checkouts, overpriced mini bars and restaurants and room service."
As Australia's first integrated modular design hotel, TRIBE sets itself apart from traditional accommodation by using a contemporary modular design and construction method comprising pre-fabricated guest rooms with sophisticated essentials for the modern traveller.
TRIBE founder Mark Peters' vision was to create an entirely new category of design hotels in Australia, with the view to expand globally. "The contemporary traveller no longer checks into a hotel, they check in to a destination, that's why when we created TRIBE we re-evaluated the hotel model to prioritise the benefits they would want.
"We've focused on what matters so that we don't pass on costs to our guests for the things that don't, by paring back and refining our offering and using cost effective and smart modular construction we're able to share significant savings with our guests, making TRIBE an aspirational space at an accessible price," says Peters.
Expansion plans are already well underway with new TRIBE hotel sites acquired in Adelaide, Hobart and Melbourne, and intentions to expand internationally over the next 10 years.