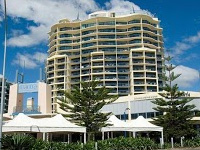 Hotel and resort operator Mantra Group has signed a new 'Gold' level partnership with peak export tourism body, the Australian Tourism Export Council (ATEC), further cementing its commitment to supporting the success of Australia's tourism industry.
"Our industry is growing at exponential rates and our partnerships with major industry leaders like the Mantra Group, are vital to it's ongoing success," ATEC Managing Director, Peter Shelley said.

"Mantra Group's commitment to our industry, and its involvement with ATEC to date, has helped our members to access our B2B events which, in turn, builds the overall capacity of our industry to meet the growing demand for Australian export tourism product."
Mantra Group Executive Director of Sales, Revenue and Distribution Luke Moran said the Group is highly supportive of ATEC's industry leadership role.
"We recognise the value of supporting Australia's export tourism businesses, and our support for ATEC and its members is just one way Mantra Group is assisting in the long term sustainability of Australia's tourism export industry," said Mr Moran.

"We're thrilled our advancement to ATEC's gold level will provide Mantra Group with unique business opportunities and a voice to participate in policy debate forums."