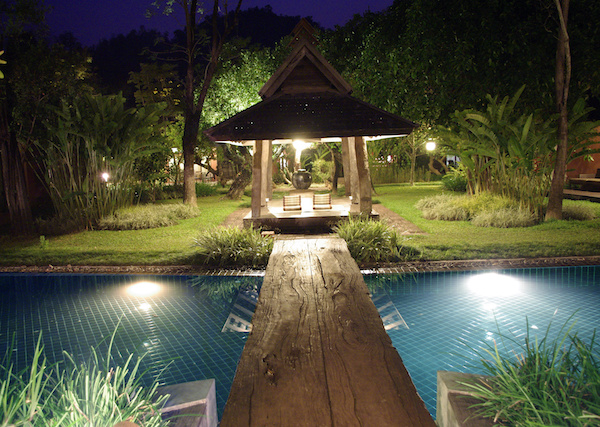 Objectives achieved by outdoor lighting can range from effective backlighting for tennis enthusiasts or a sure-footed approach for night swimmers, to creating ambience for outdoor piazza-style dining.
Guest safety is another consideration: how well-lit are your outdoor areas? Think about your stair wells, carparks, rubbish disposal areas, and externally located laundries.
Academic journal, Urban Studies published research in 2015 indicating that lighting "normalised a site by deterring potential wrongdoers". The report, titled 'Fear of crime and affective ambiguities in the night-time economy', argued that a person's ability to decipher the appearance of "moving bodies" in their proximity created a greater sense of safety.
A recent study in inner city Melbourne, Australia echoed the importance of lighting, especially for women. If you want to avoid comments like "creepy at night", ensure your facility is well-lit. Women rated public areas across the Melbourne CBD according to perceived levels of personal security at night.  The resulting map was analysed and showed a positive correlation between lighting and a sense of safety. Women, understandably, feel better when areas with adequate lighting, and your guests will be no exception.
Outdoor lighting objectives cover guest safety, effective lighting for alfresco summer eves, or adequately illuminated tennis courts, to explore the best way to achieve these bright ambitions, we took to the field for some expert advice.
Industry views
Mahmoud Kebbi of Legrand says the use of appropriately muted lighting for outdoor dining maintains ambience while ensuring guests don't trip over chair legs, or struggle to locate their food.
Colour temperature is vital, and Mr Kebbi recommends warm white colours: "Choosing warmer lamp colour temperatures of around 3000K will add to the comfort in this application, and to avoid glare, indirect lighting is recommended."
For outdoor sports
Whether it's for tennis courts, swimming pools, or pathways for night-running, lighting should adhere to Australia and New Zealand standards. According to Tennis Australia, court lighting must "control the brightness of the ball, and the background against which it is viewed, so that the ball is visible, regardless of its location and speed, while simultaneously minimising any potential adverse effects of obtrusive and spill lighting". As hotels are generally catering for social tennis, the Tennis Australia recommendation of 250 Lux for social tennis is appropriate.
Mr Kebbi says regulations regarding control of obtrusive effects of outdoor lighting (AS/NZ 4282) must also be noted: "We don't want light to spill into neighbouring areas, or even worse, into guestrooms."
For those installations that have in-ground recessed lights around the pool area, Mr Kebbi says that "frosted covers will minimise the light penetrating the eye as people look down". He added that high chemical use and dampness in pool areas mean products with high ingress protection in high-grade stainless steel will minimise ongoing maintenance issues.
He says that as a safety precaution the surface contact temperature generated by fixtures should comply with international national standards for ground recessed luminaires: "This is a critical occupational health and safety practice, as guests will be walking bare foot on these fixtures."
Carpark access
Mr Kebbi said, "the Australian/New Zealand standard (AS/NZS1158), which regulates to lighting for roads and public spaces, provides recommendations for the lighting levels for carparks and pathways".  He explained that lighting should "provide enough light to guide guests to their vehicles, but also enough illumination to perform basic tasks, such as locating keys and unlocking cars".
In the Urban Studies article mentioned previously, researchers made a case for continuous light distribution: "A person who moves from the dark into a circle of light created by a lamp-post experiences anxiety, as what happens beyond that circle is rendered extra dark and invisible."
"Trees can also cast shadows on the path, which may result in a discomfiting effect for someone walking alone to the carpark at night," Mr Kebbi added.
Mr Kebbi says the importance of exterior lighting is often downgraded and low quality products are installed, resulting in maintenance issues and discomfort for guests. While this could be a response to budgetary concerns, as technology races ahead in the exterior lighting sector, guest safety and comfort need not cost the earth.
"Traditionally high wattage metal halide products were used with wattages up to 400W; LEDs now provide the same level of light output with around half the power."

"For exterior security lighting, there are now LED luminaires that have integrated sensors so that the lighting is dimmed down to a certain level, and instantly increases to 100 percent when presence is detected," Mr Kebbi concluded.
So, why not take a walk around your grounds at night, alone? Do you feel safe? Can you see what you're doing? Failing the night safety test might just prevent return business, or worse, a 'creepy' review on TripAdvisor.