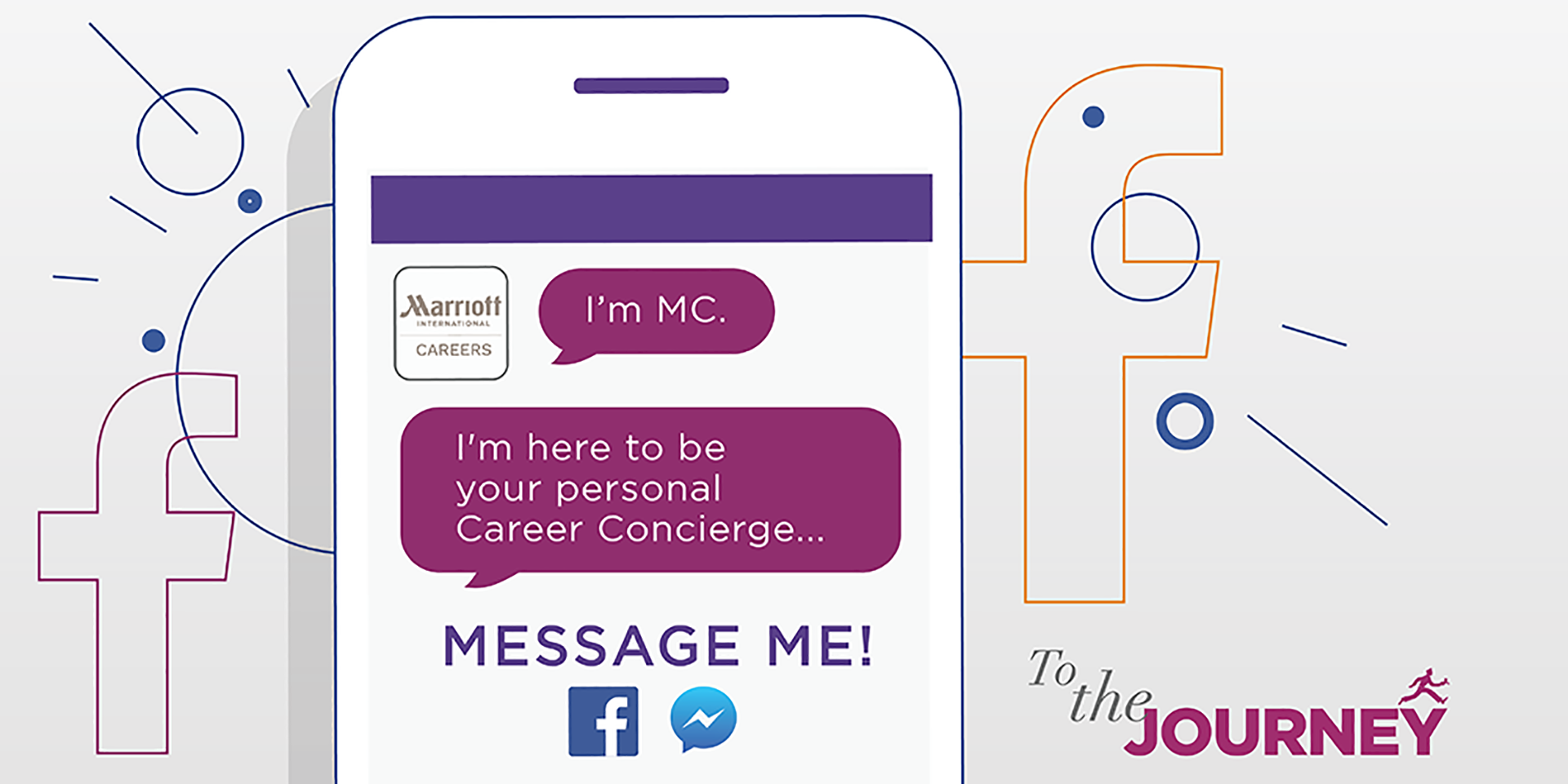 Marriott International is aiming to enhance the job search and apply experience with the launch of MC – the Marriott Careers chatbot for Facebook Messenger.
Powered by data-driven logic and specialised algorithms, the industry's virtual assistant for job seekers aims to create a more personalised and efficient experience while delivering several other benefits to users who have an interest in a Marriott career.
MC converses with job seekers much like a human, guides them to easily apply for open jobs based on discipline and location, and provides education on the company culture and values.  Additionally, a brief quiz within the conversation offers job seekers a fun way to learn which of the 30 Marriott hotel brands may align more closely with their interests.  Job seekers can chat with MC by downloading the latest version of Facebook Messenger and adding Marriott Careers, or by visiting Marriott Careers on the Facebook website and clicking Message.
MC provides information about some of the most commonly asked questions from job seekers, such as:
"Do you have event manager job openings in ____?"
"Do you have restaurant manager job openings in San Francisco?"
"How do I get in contact with a recruiter?"
"How many brands does Marriott offer?"
"What are Marriott's core values?"
"Personalisation is a principle that is changing the expectations of digital audiences globally and with recent advancements in automated technology, we have the opportunity to enhance the search and apply experience for thousands of job seekers," said David Rodriguez, executive vice president and global chief human resources officer for Marriott International.

"To attract the best talent, we need to remain ahead of the curve in tracking and responding to trends particularly as we try to reach the next generation of Marriott associates. As today's job seekers are drawn to companies committed to values and ethics, our ability to educate them on our corporate values and our brands in a fun and personal way is a game changer for hiring."
Over the last few years, Marriott has launched several new ideas in an attempt to put the company at the forefront of travel.  Recently, Aloft Hotels launched the first ChatBotlr, a new chatbot that gives guests an additional way to make service requests. Aloft's ChatBotlr joins Marriott's other newly implemented service innovations powered by technology. Marriott Rewards chatbots are available on Facebook Messenger, Slack and soon, We-Chat and Google Assistant, and serve loyalty members before, during and between stays.
"We are in the business of delivering memorable hotel experiences and the use of the careers chatbot is an extension of that," said Rodriguez.

"By embracing this messaging technology, we are able to provide an around-the-clock, personalised experience that is meant to simplify the job seeking process."