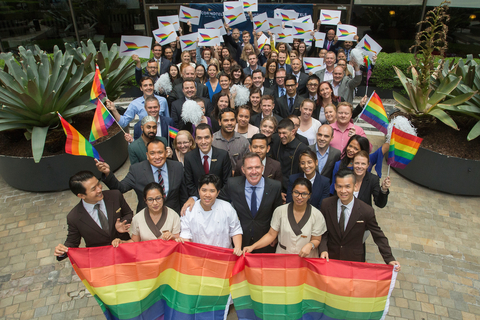 AccorHotels is a major partner and the official & exclusive accommodation partner for the Sydney Gay and Lesbian Mardi Gras Season for 2018.
Celebrating its 40th year, the Sydney Gay and Lesbian Mardi Gras is Australia's largest celebration of LGBTIQ culture and communities and AccorHotels will have a strong presence throughout the festival, with employees marching in the Parade and participating in Fair Day.
Mardi Gras Festival talent will be staying at AccorHotels around Sydney and all of the group's Sydney hotels will have colourful lobby activations and external signage displays throughout the festival, which runs from February 16 to March 4 2018.
Simon McGrath, chief operating officer of AccorHotels Pacific said the announcement was a momentous occasion for the group.
"We are incredibly proud to be partnering with the Sydney Gay and Lesbian Mardi Gras and see it as a wonderful way to celebrate diversity and celebrate our employees.

"As Australia's largest hotel group, we are proud to take a leadership role in championing diversity. Just like our 10,000 employees across Australia, our guests come from all walks of life and it is our number one priority to ensure that our hotels make every person feel welcome, safe, valued and above all, equal.

"We are committed to building a deep culture of understanding and respect for all people regardless of culture, ethnicity, age or sexual orientation. Our association with the Sydney Gay and Lesbian Mardi Gras is just one of many partnerships AccorHotels champions and we look forward to using this occasion to celebrate diversity."
Mardi Gras CEO, Terese Casu, said:
"We're very pleased to have AccorHotels join us in celebrating 40 years of Mardi Gras fabulousness. They have a wonderful history of striving for diversity and inclusiveness and we look forward to working with them on creating an incredible 2018 Festival."
Inclusion and diversity are key drivers for AccorHotels and the group has been a proud supporter of a number of key LGBTIQ events and initiatives, including, Pride Marches, Pride Games, supporting marriage equality and celebrating Inclusion & Diversity Week. AccorHotels was also recently announced as a finalist in the LGBTI Awards 2018.