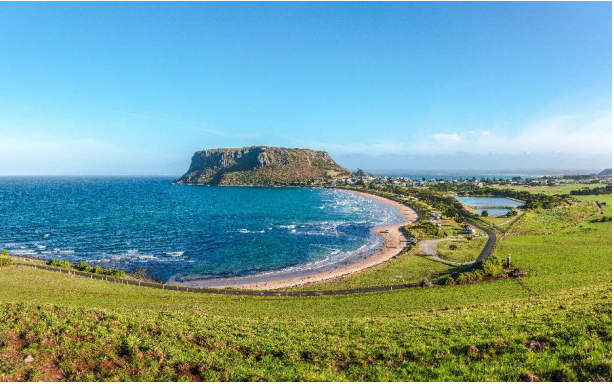 The trivago Awards 2017 results are in — the best-rated hotels around the world have been revealed and West Australian bed & breakfast, Baudin's of Busselton, has taken the top gong as the world's favourite Aussie hotel.
Trivago also collated traveller ratings for local accommodation across the country to find that Stanley in Tasmania has taken the crown as the top destinations with the best overall ratings for accommodation. Based on over 175 million traveller ratings, trivago.com.au presents the trivago Awards 2017 top hotels and destinations to visit.
Top accommodation a humble B&B in Busselton, Western Australia
Baudins of Busselton in Western Australia's Southwest region has been rated the best accommodation in Australia after climbing up from second spot in the last Awards.  The bed & breakfast won with a rating of 95.10. Beachfront Apartments on Trinity Beach in Cairns, Queensland closely followed Baudins in second place with a rating of 95.01.  Lurline House in Katoomba, New South Wales placed third with a rating of 94.91.
New South Wales and Queensland hotels appear most in Australia's top 50
Queensland secured the most top spots in the top 50 with a total of 16 individual accommodation providers, outdoing New South Wales with a total of 15.  Victoria came in third with a total of eight followed by Western Australia with four, then Tasmania and the Australia Capital Territory both three each. South Australia had one hotel in the top 50 from Adelaide.
Accommodation providers are eligible for the awards so long as they have a minimum of 300 traveller reviews online. trivago aggregates an average score from over 175 million user ratings to determine the score out of 100.
Stanely in Tasmania best destination for accommodation in Australia
Stanley has been rated the best destination for accommodation in Australia, with an average score among all its local accommodation providers of 88.64. Stanley has climbed from second place to overtake Montville (88.46) this year as the best destination for accommodation.  Destinations with at least 12 local accommodation providers and 1000 collective reviews between the properties are eligible for the Awards.
Queensland also secured most destinations among Australia's top spots
In a similar story to the top hotels rankings, Queensland has secured 16 local spots in the top 50 destinations ranks while new South Wales came in second with 13 and Victoria in third with 12.  Western Australia came in with four destinations, Tasmania with two and South Australia with two. Whilst Stanley won it all for Tasmania, Montville won second for Queensland and North Tamborine (87.28)won fourth, Yallingup (87.43) won third for Western Australia, McLaren Vale (87.03) topped South Australia and placed fifth nationally, and Beechworth (86.74) for Victoria in sixth.
Smaller destinations tend to do well in the trivago Awards due to the scores being based on traveller ratings, which can be heavily influenced by factors such as personalised service.  These factors are common in smaller towns with smaller accommodation providers.
A full list can be viewed on trivago's website.