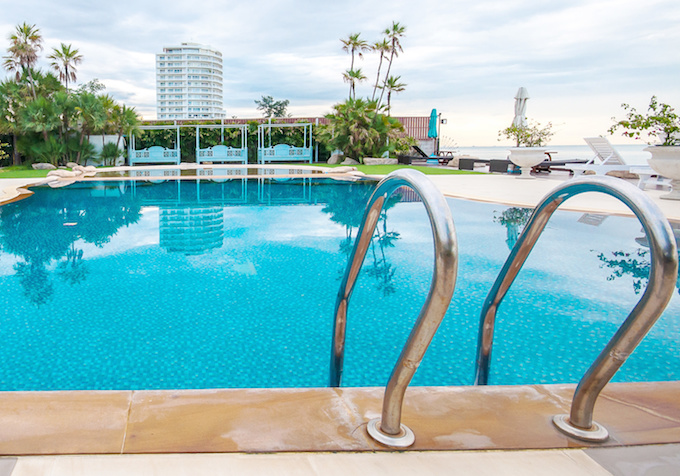 As Autumn descends March 1, it's worth taking a few easy measures to ensure your pool area is up-to-scratch and enticing, no matter what the weather. 
Especially considering the cost of keeping a heated pool running and maintained. Check out these tips to ensure your heated pool is a hub of activity all year round…
Pool bar.
There is no bigger drawcard for parents or business clientele than a pool bar. A drink by the pool, whether you are going for a dip or not, is an idyllic way to unwind and relax. Don't have a pool bar?
Invest in an economical pop-up bar which can be rolled out with minimal effort and staffing requirements. Why not add a pool menu to your list of options with easy to serve snack options to keep peckish guests satisfied between restaurant hours.
2. Pool vibes on point.
If you want guests to use your pool make sure it is visually appealing and immaculately clean. Ensure there are plenty of clean deck chairs and umbrellas to use and the presence of staff members to tend to staff requests such as extra towels, drink and food orders.
3. Inflatables.
It's no secret kids love pools and even if it is freezing outside they will find a way to spend an hour or two splashing around in the hotel pool.
Make your littlest guests feel welcome with a bevy of pool inflatables to play with. These days you can get everything from giant flamingos and dragons to boats and inflatable thongs.
Have a bit of fun with your selection and see your pool area come to life with colour and excitement no matter how grey the sky is.
4. Mix work and play
Tempt business guests to make use of the pool area by providing suitable work stations poolside. Even if guests don't want to get their toes wet they may appreciate the poolside ambiance your facility provides. If suitable for your pool shape, you could add a swim lane for guests who want to swim off stress with a few laps.
Regardless of the weather, make your heated pool a hotel facility that your guests feel comfortable to use no matter what the season.