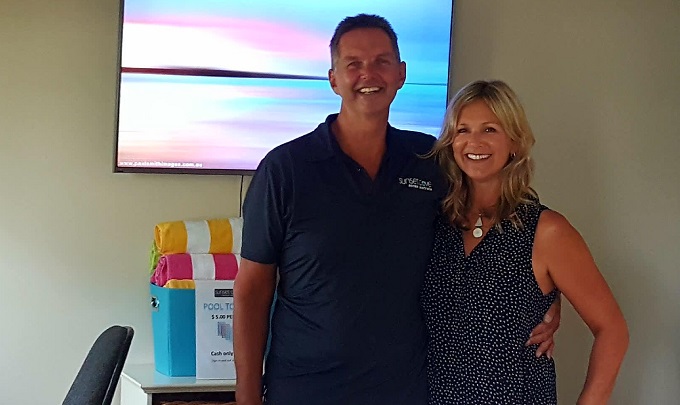 News
Your Stories: Unforgettable river resort refreshed by owners
Arriving at Sunset Cove Noosa, just a stone's throw from the lively pulse of the Noosa River, the open space and tranquillity of this popular four-star holiday resort will immediately strike you. 
Most likely, you will find manager Dom O'Shaughnessy outside in the sunshine, among the palms, tending to the tropical landscaped gardens, alfresco deck; or attending to his heated lagoon-style pool. Inside the cool and calm reception, you will be greeted by his effervescent partner and co-manager, Susanne Wood.
Sunset Cove offers fully self-contained, spacious one, two and three-bedroom air-conditioned apartments and two-level holiday Villas. Dom and Susanne have been the resort managers of this beautiful resort for nearly three years, the purchase of this resort management rights in July 2015 launched this friendly and enthusiastic partnership into this remarkable and evolving industry.
Moving from Melbourne to the Sunshine Coast, Dom and Susanne spent a little time living in resorts throughout the area, asking questions and viewing resorts up and down the coast. However, their search for a suitable MR business stopped when they found Sunset Cove Noosa and they both felt strongly that this was the perfect resort to initiate them into the industry.
In Melbourne, Dom was a self-employed electrical contractor and Susanne a bookkeeper – so a great skillset to begin with. With a blended family of five adult daughters it was the perfect time for a sea change and to embark upon a business where they could combine their skills, work together, and increase the value of their business.
The attractive 18-year-old boutique resort, Sunset Cove Noosa is a 12-apartment resort with eight apartments in the letting pool. Three years ago, it was looking a little tired, in need of a bit of love and attention and fresh branding – an opportunity that didn't go unnoticed by this savvy partnership.
Susanne told us: "The first thing we did was give the resort a really good clean, we refreshed the building inside and out with cool paint hues, replaced carpets and flooring, and generally modernised most of the furnishings. We have worked hard to get unit owners on board to modernise their apartments and we are very proud of how fresh and appealing the resort now looks. We have rebranded and remarketed the resort and revamped its online presence including Facebook and Instagram."
Dom added: "We also spent a lot of time tidying the gardens and we've re-concreted the pool area, we are happy that the resort is now a wonderful relaxed tropical heaven and the apartments have a warm home from home feel that guests love. I work really hard to keep the externals looking the best so that the resort holds the utmost appeal to those families and couples who seek a relaxing break near the beautiful Noosa River."
The resort is certainly appealing and is in a great location, but it is the attention to detail and level of friendly service that sets this resort apart. The apartments are pristinely clean and Susanne noted that she carefully inspects each room to remove the odd missed fingerprint or intruding insect post-clean and she also ensures that the beds and linen are "presented as perfectly as a five-star hotel".
Highly motivated by their "amazing guests", Susanne and Dom love nothing more than receiving great feedback.
Susanne explained: "I know it sounds cliché, but it is the wonderful array of guests that we have had the privilege to host over three years that spurs us on. We get such a kick from seeing our guests enjoy their experience and get to fully appreciate this fantastic locale. We are especially proud of our 9.1 rating on Booking.com."
It's true, guests do love Sunset Cove Noosa, with Booking.com couples particularly enjoying the resort, rating it 9.4 for a two-person trip. The property also rated the best value in Noosaville!
One Booking.com com reviewer, Kim stated: "Susanne and Dom gave us a very warm and friendly welcome. The apartment was well laid out and spacious. Heaps of yummy restaurants are a short walk away. We loved it!"
Apart from the all-round improvements that Susanne and Dom have made at Sunset Cove Noosa, they have also spent time building relationships with their body corporate and owners and they enjoy networking within the local MR industry – attending Tourism Noosa and Visit Sunshine Coast events.
However, Dom advised: "You must plan your time away from the resort, we enjoy hiring a barby boat and taking our jet ski out on the Noosa River and we love to socialise whenever we can. I would also suggest that four times a year you find a good relief manager to take over so that you can go somewhere to completely relax for a week."
For Susanne and Dom, this has all been quite an adventure – a sharp shock into a unique industry that that was unfamiliar to them. With pure enthusiasm and sheer hard work, they have managed to make improvement after improvement, increase bookings, and retain many return guests, while learning many valuable lessons (not just industry related) along the way.
Susanne concluded: "Management rights has given us the opportunity to push our skill set beyond what we thought our limits were. We know that we can work well together, we appreciate each other's strengths and even when we have had a challenging day we have learned to put any problems aside and always greet guests with a big smile. After all, it is all about the guests who have chosen you to make their well-earned holiday unforgettable… In a fabulous way."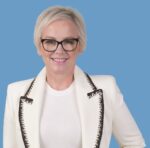 Mandy has over 17 years of accommodation and tourism industry writing experience and is Editor of AccomNews & Resort News, Publisher of SchoolNews & Director of Multimedia Pty Ltd. She is a retired registered nurse with a 25-year NHS career that followed a few unforgettable years in hotel housekeeping.