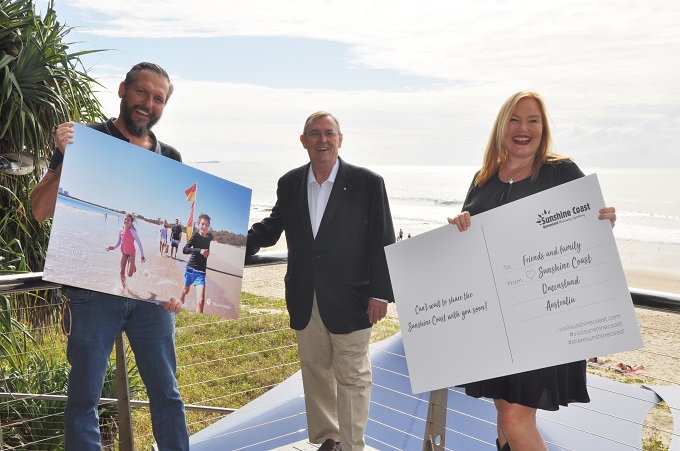 This time of year, usually brings forth hordes of Victorian visitors to bask on the beaches of the Sunny Coast, filling up accommodations, cafes and parks – all tourism businesses operators look forward to this winter buzz.
Sadly, this year is a very different story with the Sunshine Coast industry taking yet another huge hit in 2020.
The regions tourism body, Visit Sunshine Coast (VSC) points out that Victoria supplies over 10 percent of the Sunshine Coast's total visitation, and an even higher percentage over winter, and with that market closed, a more personalised 'people-power' message could help make up the shortfall. Creatively responding to this loss, (VSC) launched its biggest-ever community driven tourism campaign and are calling on locals to invite their family and friends to "plug the hole" and save tourism businesses and jobs.
"The 'Live. Love. Share. Love where you live. Share where you love!' campaign aims to encourage local Sunny Coasters to pick up the phone, message or email their friends and family from across Queensland and interstate and invite them to the Sunshine Coast". The campaign allows locals to use the VSC website to send digital 'wish you were here' postcards of the region to attract visitors. Those who do invite friends or family through the website will be in the running to win one of 20 prizes to bring their loved ones to the Sunshine Coast for a holiday. 
VSC Chair David Ryan said: "The campaign plays on the idea that word-of-mouth is still one of the most effective forms of marketing. What better endorsement for the Sunshine Coast region than locals themselves sharing with their friends and family what they most love about living here?
"The region's tourism industry has done it incredibly tough over the past three months, and this is a way for locals to show their support as we move towards recovery. Most Sunshine Coast residents have moved here over the past decades, so the majority still have close links with other locations within Queensland and interstate, and what better place to escape to over winter?
"The Queensland Premier deserves strong praise for the handling of the border issue because while Sunshine Coast tourism businesses have experienced their worst quarter on record, public health and safety must always be the priority. However, we can't underestimate the loss of the Victorian market, which is traditionally very strong over winter, but with innovative campaigns such as Live Love Share we can support the industry until markets return to a closer 'normality'."
To drive and amplify the community message, popular Sunshine Coast radio station 92.7 Mix FM is offering prize giveaways and featuring endorsements on air from local identities sharing their love for the Sunshine Coast. EON Broadcasters & 92.7 Mix FM CEO John Williams said Mix FM is proud to support the Live. Love. Share campaign.
"We are reminding all locals that we can all share in growing business on the Sunshine Coast and keep locals employed by inviting friends and family to enjoy our great beaches and holiday lifestyle," he said.
VSC has created 10 different postcards – one for each region of the Sunshine Coast – which can be emailed or shared via social media from the VSC website using the hashtag #sharesunshinecoast.
To download and share your Sunshine Coast postcard, visit: www.visitsunshinecoast.com/liveloveshare.