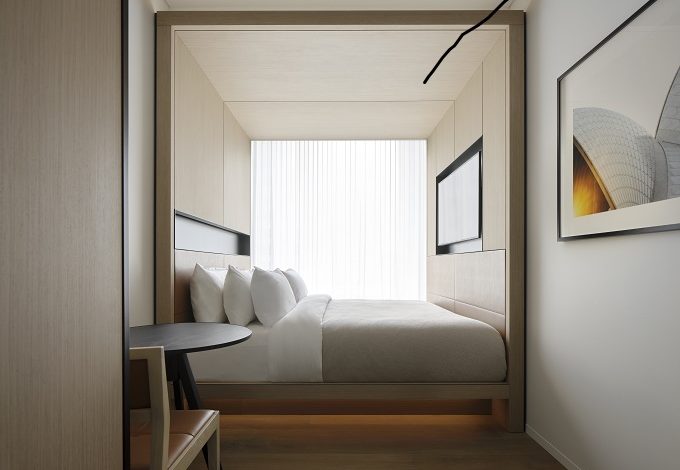 News
Little accom development that could: New Little National Sydney hotel to open
Canberra property group DOMA officially announced the upcoming opening of its latest hotel, Little National Hotel Sydney. This luxury CBD hotel promises to be an interesting and innovative concept by the group and is set to open its doors in September 2020.
The hotel will sit between bustling Barangaroo, Bridge Street and Martin Place, it is the perfect position for discerning guests who want to explore the best of the central locale. It will provide 230 high-tech, luxurious guest rooms and high-end facilities including: a guest gym, sprawling library, and an exclusive rooftop garden bar.
According to DOMA the hotel will be target the "5-star guest who spends most of their time outside of their hotel room enjoying the city and hotel amenities, the hotel focuses on affordable luxury for all. A unique fusion of low-cost, yet high value, for those willing to forgo traditional hotel frills, without compromising on style and comfort".
DOMA Managing Director, Jure Domazet said: "We're thrilled to be bringing a Little National Hotel to Sydney this year. Our approach has always been to provide guests with a convenient, contemporary hotel experience, without the cost of 5-star accommodation, so they can enjoy more of the city around them."
DOMA will work closely with Bates Smart architects again to ensure this signature concept is reflected throughout the new Sydney property, "creating a compact yet efficient space that requires no compromises, all while reflecting the distinctive Little National brand".
The hotel is also very accessible, with very quick rail connections to the airport and walkability to the commercial and retail core of the Sydney CBD (including underground connections to Barangaroo and George Street), therefore it "provides the perfect recharging base for leisure and business travellers alike".
Little National Sydney hotel is one of three Little National Hotels, with the Newcastle hotel expected to start construction in 2020.