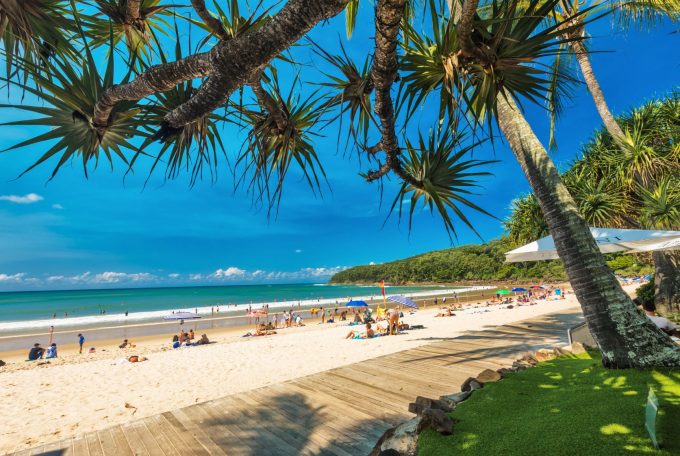 The services of one of New Zealand's most experienced 'Aussie travel specialists' have been secured to represent Visit Sunshine Coast (VSC) in a pre-emptive move to secure bookings from (potentially) Queensland's first inbound visitors from NZ for one of their favourite holiday destinations.
Former Tourism Australia New Zealand manager, Jenny Aitken, will represent this a much-loved region and very popular pre-COVID holiday destination for Kiwis. Ms Aitken successfully drove major increases in leisure and business events travel to Australia in her 12 years at the helm of Tourism Australia in New Zealand.
New Zealand is the Sunshine Coast's primary international market, attracting 84,000 visitors to year end March 2020, an increase of 20.5 percent from the previous year. The increases were built around a high-visibility in the New Zealand market and the growth in direct airline services into Sunshine Coast, which were temporarily postponed as a result of Covid-19.
With the prospect of New Zealand returning as Australia's first inbound international market, interim-CEO of Visit Sunshine Coast, Craig Davidson, said the timing of Ms Aitken's appointment will provide a major boost in confidence for the Sunshine Coast region's tourism operators.
"New Zealand is in many ways a 'natural' market for the Sunshine Coast because of the attractiveness of our beaches, our year-round temperate climate and the range and diversity of our attractions," said Mr Davidson.
"Jenny offers VSC invaluable experience promoting Australia in New Zealand and she is already very familiar with what the Sunshine Coast offers Kiwi travellers.
"In the short term leisure travel will be the primary focus, but as the current situation eases we will be looking to grow groups and business events travel out of New Zealand, especially once direct flights resume to Sunshine Coast Airport's new international-capable runway. In the longer term we would anticipate growth in direct routes from beyond Auckland.
"Jenny brings to the Sunshine Coast an extensive career in tourism, exceptional relationships across the New Zealand market, and a great ability to anticipate and fulfil market trends. She will be an outstanding addition to the Sunshine Coast tourism team."
This news came as a variety of accom providers on the Sunny Coast won acclaim in Tripadvisor Travellers' Choice awards
Bli Bli House Riverside Retreat took out first place in the 'Romance' category for hotels in Australia in the Tripadvisor 2020 Travellers' Choice Awards and The Falls Montville awarded fourth place in the same category.
The Falls Montville and Bli Bli House Riverside Retreat also claimed first and second place respectively in the best Small Hotels Category in Australia and to top it off, The Falls Montville was awarded second in Australia in the Best Service category for Australia.
The Falls Montville Owner Alan Dryden said: "The recognition is particularly pleasing in that it reflects on both our product and our delivery.
"We've done comprehensive refurbishments and upgrades to the property this last year. And we have invested in magnificent original oil paintings that now grace our cottage and Manor House walls. The Falls Montville has never looked or felt better. And the Sunshine Coast hinterland continues to shine as an iconic, boutique destination."
Bli Bli House Owner Phil Greenbury said they were honoured to have received the accolades and thanked the guests who took the time to write reviews which led to them receiving the two awards.
"It certainly has been a trying year and to have received two awards has been so encouraging to our team," he said.
"We always try to move heaven and earth to give every guest an amazing experience to remember and our efforts certainly have paid off. We love what we do and enjoy having people come from so many places to experience the 5-star luxury and charm that we have to offer at Bli Bli House in the heart of the Sunshine Coast."
Other Sunshine Coast tourism operators recognised in the Awards are Oaks Oasis Sunshine Cost Resort in Caloundra that claimed second place in Australia in the Top Hotels for Families category and Avocado Grove B&B in Flaxton that claimed fifth place for Top B&B's and Inns.
Visit Sunshine Coast Interim CEO Craig Davidson congratulated the Sunshine Coast accommodation providers that had been recognised.
He said: "This year has been incredibly tough for our region's tourism industry, so to receive accolades like these is a real morale boost for not just the operators involved, but the entire Sunshine Coast region."
"These awards are based off feedback from travellers, and with word-of-mouth referrals still one of the most valuable forms of advertising there is, it's incredibly humbling to know that visitors consider Sunshine Coast tourism operators as some of Australia's best.
"These awards recognise the diversity of offerings we have here on the Sunshine Coast, and provide a great endorsement to inspire future travellers to start planning their ultimate Sunshine Coast escape."