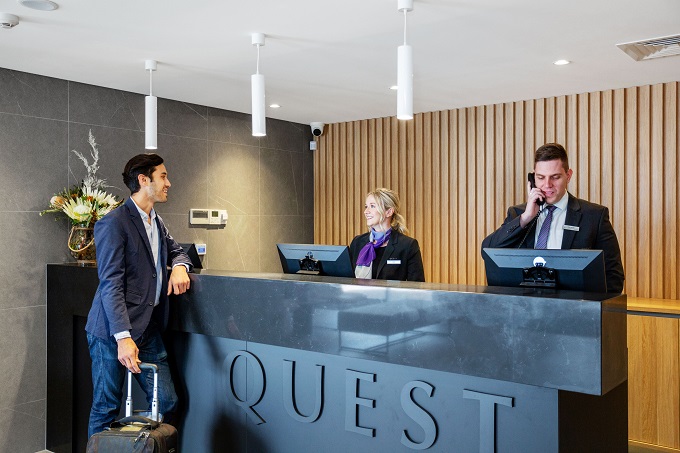 News
New Perth hotel opening cements Quest's commitment to WA
When the ribbon was cut at Quest Perth Ascot this month, it made Quest the largest single hotel brand in Western Australia.
The opening was officiated by Member for Belmont Cassie Rowe (standing in for Minister Papalia) and Mayor Phil Marks, along with the property and project teams. Western Australian Tourism Minister Paul Papalia also commended the accomplishment and the commitment shown to the region by Quest.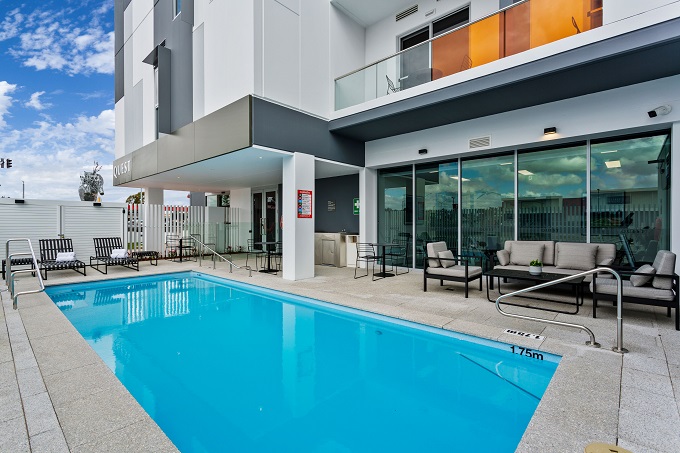 According to STR data, the addition of Perth Ascot location to the company's portfolio makes Quest the largest single hotel brand in Western Australia, a feat Quest's General Manager of Growth and Capital Strategy, James Shields dubbed "a tremendous milestone for Quest".
Mr Shields said Quest has already contracted many room nights for the next 12 months, with majority of guests from the mining, retail, and aviation sectors, many of whom will travel from surrounding suburbs of Belmont, Kewdale, and the Airport precinct.
As it stands, there is a spread of small-medium sized businesses, in some cases requiring long term accommodation, or conference and meeting space facilities. We see clear opportunity in the intrastate segment over the coming months, where business travel continues to be in demand", said Quest's General Manager of Growth and Capital Strategy, James Shields.
"As airlines start to increase schedules, and domestic border restrictions are eased in the future, the location of Quest Perth Ascot will also be advantageous to government staff transiting through Perth, as has historically been the case at our other Quest airport properties".
M/Group's Managing Direction Lloyd Clark said the project shows the thirst in the investor market for secure product, and Western Australia continues to be an extremely attractive proposition.
"It shows demand for tourism investment product that can be packaged with credible operators and quality builders. Our internal construction firm, M/Construction, worked with the best local tradespeople, suppliers and contractors who overcome the extenuating circumstances brought on of Covid-19 and delivered what is a great addition to Ascot. It is testament to the far-reaching benefits of a locally developed project".
Quest also anticipates the serviced apartments will be favoured among intrastate sporting fans, with the AFL having played a record number of games in the West in 2020 due to the pandemic.
Quest Perth Ascot boasts 112 rooms and pays homage to nearby Ascot Racecourse with sculptural artwork installation titled 'The Racer' by local artist Peter McMeikan. Located 3km from the Qantas domestic terminal on Great Eastern Hwy, the apartment hotel is comprised of studios, one-bedroom and two-bedroom apartments and has been  developed and constructed by local company M/Group, the same team behind Quest Joondalup, which opened in 2019.
Western Australian Tourism Minister Paul Papalia said Quest's expansion in WA reflected the tourism sector's fundamental strength, with the recent boom in intrastate travel providing great opportunities in the current climate.
"The successful Wander out Yonder campaign has included a recent push to encourage locals to take staycations and enjoy a different kind of holiday in their home town," Minister Papalia said.
Quest Ascot adds yet another option to Perth's impressive suite of hotels, with intrastate business travellers, regional residents visiting family and friends, and locals looking for a weekend getaway to benefit from this new offering.
"Quest's long-term commitment to WA shows the fundamentals of our industry are sound, and we are preparing to come back stronger than ever when we are again able to welcome out-of-State visitors in the future."
A sculptural artwork installation at the entrance of Quest Perth Ascot by local artist Peter McMeikan will pay homage to the history of Ascot Racecourse nearby. Made from galvanised steel and standing at 4 metres tall, the piece is aptly titled 'The Racer'.
The Racer is an artistic nod to the area's racing culture and an uplifting visual accent to the property's contemporary exterior. At night, the sculpture comes to life as blue backlighting filters through the galvanized panels", said Mr Shields.
The opening of Quest Perth Ascot is the first of four to take place before December 2020, and will be followed by Quest Preston, Quest Wangaratta and Quest Ballarat Station all in quick succession.
So far in 2020, parent company The Ascott Limited has also signed an additional 25 deals for new properties around the world.  
"We have an exciting pipeline of new openings over the next 5 months and are grateful for the trusted development partners and commitment of the Quest network who have made it possible, even amid challenging conditions", said Mr Shields.