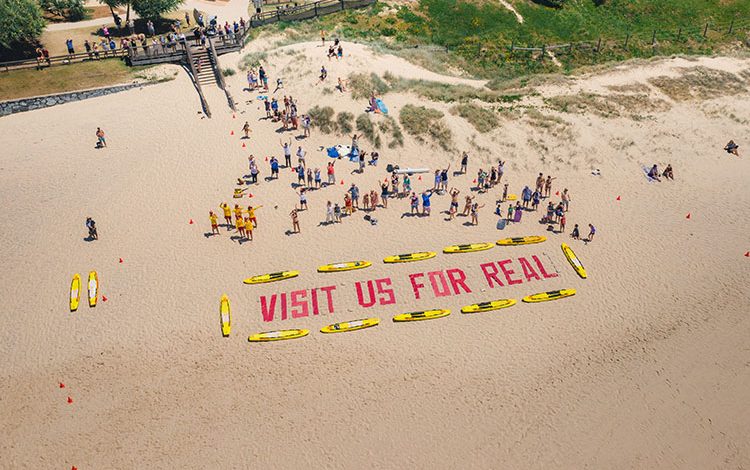 News In Brief
Campaigns to promote domestic travel are step in the right direction for Accoms
Campaigns to boost domestic tourism are welcomed as a great first step to re-build the struggling accommodation sector.
Tourism Accommodation Australia CEO Michael Johnson said he hoped Tourism Australia's revived "Holiday Here This Year" campaign featuring Hamish Blake and his wife Zoe Foster-Blake will quickly change the way Australians travel.
"Australians made about 11 million trips overseas last year and spent $65 billion – we need as much of this money to be spent on tourism at home to help our struggling sector," he said.
"The campaign looks great and it encourages travellers to not just take a holiday but to book an experience which will help revenue flow through to our airlines and airports, tour operators, hire car companies and, of course, accommodation providers."
Tourism Australia has pledged $7m of its $231m Federal Budget funding into the campaign and Mr Johnson said he hopes it will be the first of many such initiatives.
"With no international travel, and some state border closures a reality for the foreseeable future, it's going to be a long road back to recovery and we are going to need on-going help," said Mr Johnson.
"CBD hotels in many parts of the country are operating more than 70 percent down in room revenue compared to this time last year, and iconic international destinations like Uluru, Gold Coast and Cairns are well below capacity."
Mr Johnson said voucher programs, which offer subsidised vouchers for accommodation and tourism experiences, were also great examples of how state governments can support the "Holiday Here This Year" campaign and help stimulate intrastate-tourism. 
"Hospitality voucher programs like those introduced in Tasmania and the Northern Territory are a great way to boost intra-state tourism, they are good for accommodation hotels, tourism operators and the wider hospitality and visitor economy," he said.
"Other state governments should look to follow suit."
Further, this week, the Australian Government agency responsible for attracting international visitors to Australia – Tourism Australia has diverted its resources to boost domestic travel and partnered with Flight Centre and Tourism Australia.
Flight Centre and Tourism Australia are partnering for the first time in eight years to work together on Wake Up, a new Flight Centre campaign with a purely domestic focus.
The campaign, running from 8 October to 4 November, will inspire domestic travellers to wake up and -discover Australia, as border restrictions begin to ease. It does so through a range of eye catching and tongue-in-cheek creative executions.
Wake Up includes holiday experiences from all states and territories, highlighting Flight Centre as your friendly local agent and one-stop-shop who make it easy for Australians to holiday domestically.
The range of immersive Wake Up products on offer include self-drive packages along Australia's iconic coastal roads and wine country, outdoor and island getaways, walking tours and glamping trips, and vibrant city, events and food and wine experiences.
Flight Centre will go to market with the new campaign which ties back to Tourism Australia's highly successful Holiday Here This Year campaign. The travel company will utilise its network of owned assets and extensive customer database of travel intenders as well as paid traditional, digital, and social media.
James Kavanagh, Flight Centre MD says: "We want to remind the market that we are an Australian company through and through. More than just an Aussie brand, we are a group of passionate experts who are part of the Australian community."
Campaign video:
Meanwhile Queensland's Sunshine Coast's natural authenticity is being showcased in new 'For Real' destination campaign which will extend from the drive market to air.
For Real is all about the real experiences, real culture, real people and real nature that makes the Sunshine Coast unique.
The campaign takes on a new relevance following the pandemic, with extensive research highlighting travellers' desires for nature-based experiences – something the Sunshine Coast offers in spades.
Phase one of the campaign showcases the Sunshine Coast in 'Real Time' and will be rolled out through social media advertising and digital billboards.
Visit Sunshine Coast (VSC) Interim CEO Craig Davidson said the new campaign would share the unforgettable experiences visitors can have on the Sunshine Coast, while supporting the region's tourism industry as it moves towards recovery.
"Whether its swimming with humpback whales as they migrate their way up north with Sunreef Mooloolaba or taking on one of Australia's highest ropes courses at the TreeTop Challenge, the Sunshine Coast offers tremendous authenticity," he said.
"It is where the natural environment meets innovative and respectful thinking – and our people are the crucial ingredient that makes the Sunshine Coast such an attractive destination for all markets.
"Undoubtedly the Sunshine Coast has had a reputation for its premium beach and nature-based environment, and today there is even greater desire for uncrowded beaches, wide-open spaces and a genuine respect for nature, which is reflected in this campaign.
"We are not about mass tourism, but rather emphasising our incredibly diverse geography and range of attractions."
Phase one of the new For Real campaign will target Queensland's drive market.
VSC has partnered with booking agents Wotif.com and Experience Oz for the campaign to further drive bookings to Sunshine Coast accommodation providers and attractions.
"Importantly the campaign will include a number of 'real deals' – including mid-week specials – that will help bolster bookings as we move out of the school holiday period in to what is traditionally a quieter time for Sunshine Coast tourism," Mr Davidson said.
"The campaign will evolve as Queensland opens up further to interstate travellers. Already we have seen outstanding results from the launch of new direct air services from Cairns and the resumption of flights from Adelaide, but clearly many of our operators have suffered as a result of the loss of key markets such as NSW, Victoria and New Zealand.
"Fortunately we switched very early to targeting the local drive market – with considerable success – but the launch of this new campaign signals the start of a much wider promotional effort."
The campaign launch comes days after VSC sent a message in the sand at Coolum Beach to travellers on board the sold-out Qantas Great Southern Land scenic flight of Australia encouraging them to start planning their next Sunshine Coast escape – For Real.
For more on the campaign, visit sunshinecoastforreal.com.