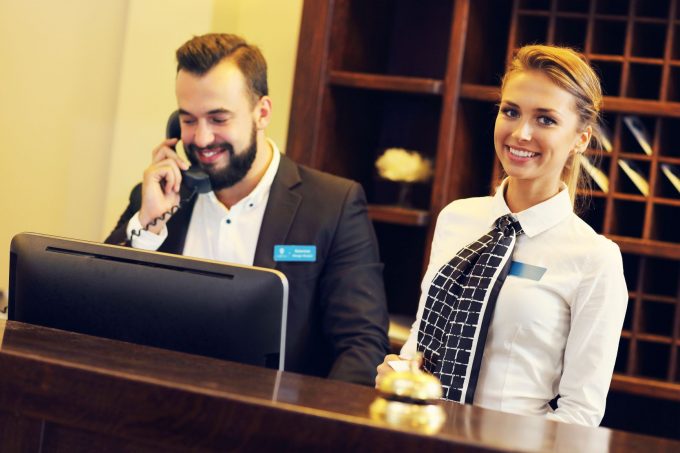 New Zealand
Op-Ed: Train front-desk staff to handle COVID-19 complaints
Working at the front desk has never been an easy job, but the COVID-19 pandemic has caused hotels to make operational changes that often confuse and frustrate guests, making the job even more difficult lately.
When I read the online guest reviews and social media postings, one legitimate factor frustrating the traveling public is inconsistency. Guests are confused as to why things vary from one hotel to another, especially when both display the same brand banner.
Often, this variance is unavoidable, as local ordinances differ between municipalities and locales. Despite how much brands push protocols, it seems inevitable that implementation will be inconsistent.
Being the most visible guest-facing department, it most often falls on the front-desk staff to enforce protocols and explain temporary operational variances. Clients tell us that while most guests comply and understand the disruption, a small but very vocal minority are challenging the staff in a way that is confrontational and often demeaning.
Therefore, it falls on hospitality leaders to train their team on how to respond to property-specific complaints such as these:
Face masks. "Why do I have to wear one? It's my personal decision and there's no law against not doing so." Or "We're wearing our masks, but the guest I just had to ride the elevator with wasn't wearing one."
Changes to breakfast offerings. "Why is the buffet gone? Where is the waffle machine? I don't like what's in this bag." Or "I just stayed at another (brand name) hotel last week and they served the usual breakfast like always."
Pool or gym. "So what if there's someone in there now. Why do I have to wait for them to leave?" "Why is the pool closed?" Or "We went to the pool and it was so crowded. Aren't you supposed to limit capacity?"
Missing amenities. "What's up, you guys can't afford to provide free coffee makers in the room anymore?" Or "What happened to all the extra pillows you used to put in there?"
Housekeeping services. "No one cleaned my room for yesterday." Or "If you're not cleaning the rooms as often, I should get a lower rate." Or "The housekeeper came in my room to clean, but I didn't want anyone coming in."
As much as the complaints will vary from one guest to another, so will the operational protocols vary by brand and municipality. Therefore, it is important for each hospitality leader to stay actively engaged with their own front-desk team to discover their uniquely challenging complaint scenarios and then to provide the training they need in order to succeed.
Here are some train-the-trainer suggestions:
Keep a running list of challenging complaints. Besides speaking directly with the staff, ask them to email you details on the latest complaints they hear.
Meet regularly in small groups or even one-on-one to review the list and then to role-play how to respond. Rather than telling the colleague what to say, have them practice their response. Then practice it again while having the role-play partner up the intensity to match how upset guests really sound.
Here are some hospitality training tips:
Express empathy and then apologize to defuse the encounter. As with all KTN training on service recovery, the first recommendation we have is to deflect the guest's anger with a sincere statement of empathy, personalized and contextualized to their situation. Here are some examples. 

Empathize: "I can understand how you feel, and to be honest sir, I don't like wearing a mask either, especially for a full shift here at the hotel …" or "Indeed, Ms. Smith, I know how you feel. When I stay at a hotel my favorite part is also the hot breakfast buffet."
Apologize: "… and I apologize for the inconvenience this pandemic situation has caused." Or "… I apologize for this situation here in our town."
Defer to a higher authority. Let the guest know who is mandating this requirement, such as a hotel brand and/or the local, state or national decree. "Here in Anytown, the (Mayor, Council, Judge…) is requiring our business to comply and we must do so to avoid fines (or risk being closed down). Unfortunately, we are not able to welcome any guests who do not comply." Or "Because the safety of our guests is a top priority here at Hotel Brand X, our leaders are requiring all our guests to comply in order to protect our immune-compromised guests who are especially vulnerable."
When guests continue to object and raise their emotional intensity, try once again empathizing and apologizing. After you cycle through these a few times, most guests will relent.
When guests still resist, speak more firmly such as: "As it is sir, I am just not able to allow you to proceed inside, so may I kindly ask once again that you please wear a mask?"
Regardless of what is said, some guests will refuse to comply or continue to demand a refund. As a manager, be sure to let your staff know where the line is drawn. Will they allow the guest to cancel their reservation without penalty and walk out? When should they call for security or law enforcement? Be sure that you or another leader is always a cell phone call away during this especially challenging era.