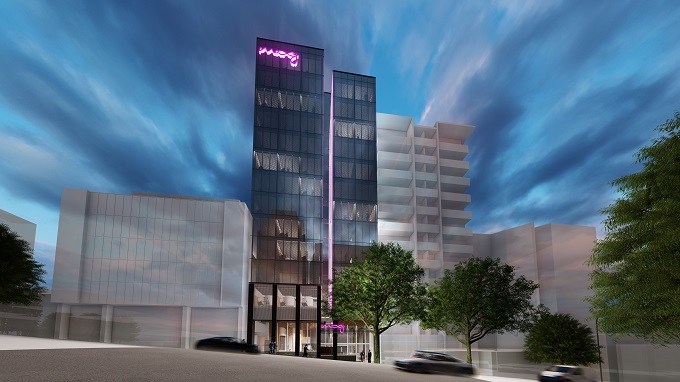 New Zealand
Work hard, play hard… Marriott International's Moxy Hotels invite Auckland to play on with signing of its second property.
Marriott International shows it is serious about showing travellers to New Zealand a good time with latest news that it will start construction of a new hotel development in Auckland from January 2021.
Owner Tianyou Group (Tumyu Group) is putting central Auckland on travellers "to-visit" list with construction of Moxy Auckland, when it opens in January 2023. The hotel will follow in the footsteps of highly popular Four Points by Sheraton Auckland, and will offer small but smart rooms, stylish communal spaces and bars everyone loves.
Richard Crawford, Senior Director of Hotel Development, Australia, NZ & Pacific said: "This latest signing follows Marriott International's announcement of new-build Moxy projects in Melbourne, Perth, and Queenstown in the last year, making Moxy our fastest growing brand in the Australia Pacific region."
Not taking itself too seriously, Moxy offers a playful new approach to an affordable hotel stay. The 185 guest rooms are cleverly designed to maximize space and allow guests the flexibility to adapt the room to their needs. The hotel will also feature a fitness centre, meeting room and a communal table in the lobby for guests to plug into.
A fully glazed atrium and central core will create a sense of welcome with the hotel's lively communal spaces, including the Moxy Kitchen and bar, the ideal spot for visitors and guests to dine and socialise. An inner courtyard will provide a tranquil escape for both guests and passers-by from the busy surrounding streetscapes of city living and working.
The new hotel, once completed, will be strategically located in the "Learning Quarter" of central Auckland, within a kilometre of the University of Auckland, Auckland Art Gallery, Auckland Hospital, and Auckland Domain, offering guests walkability to top CBD sites.
Marriott International's Area Vice President Sean Hunt said: "Moxy's global footprint has surged to 71 distinctive hotels, from just a dozen hotels three years ago. We are thrilled to introduce the Moxy name to Auckland, which is one of the highest priority destinations in the context of our assertive growth plans in the Pacific region. Moxy Auckland will bring the play on spirit to the city, where we are confident there is strong appetite for new bespoke lifestyle hotels that reflect the diversity and energy of the city."
A spokesperson from Tumyu Group."Tumyu says it is pleased to be investing in the development of this lifestyle hotel and to be partnering with Marriott to bring the Moxy brand to Auckland. Marriott International is a world class operator, well positioned to capitalise on the consumer demand for a hotel of this type. We would like to acknowledge the Axsia team ASC Architects and Mandala Interior Design who have supported us through this journey."