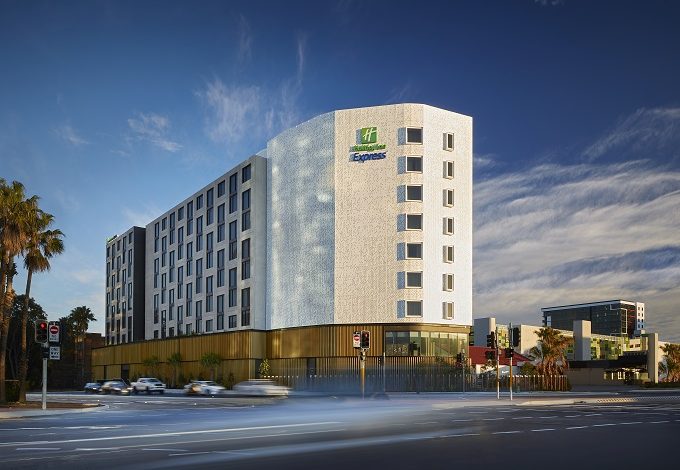 News
Holiday Inn Express opens its first airport hotel in Australia
Australia's first Holiday Inn Express airport hotel welcomed guests for the first time in October 2020.
The Holiday Inn Express Sydney Airport opened in time for the re-start of international travel from New Zealand and with expectations of increased post-COVID-19 domestic and international travel demand.
AccomNews spoke to Emmi Mae Luke who is the general manager of this new 247-room, 8-storey accommodation property that opened in partnership with Pro-invest Group. Emmi started her career in the hotel industry in 2011 at IHG in Darwin under the Crowne Plaza Umbrella.
She told us: "After close to two years I was looking for my next exciting challenge and headed over to the UK where I re-branded and then opened the Hotel Indigo London Kensington-Earl's Court. At the end of 2014, my visa was coming to an end, so it was time to head back home.
"At end of 2018, I started at Holiday Inn Express Newcastle as assistant hotel manager, on the pre-opening team. After opening and a successful year of trading we sadly closed for 10 weeks due to COVID-19.
"In July 2020, after re-opening I was given an opportunity to take on more of a 'clustered' assistant hotel manager role where I looked after Holiday Inn Express Sydney Airport for their opening. Then I was at the Sydney Macquarie Park and Newcastle until very recently when I was appointed hotel manager here at, Sydney Airport."
Emmi confirms that the design of the new build Holiday Inn Express Sydney Airport Hotel was inspired by its location next to Sydney's domestic airport terminal and just minutes away from the international terminal. The hotel's aeronautical-theme design continues throughout the hotel, with installations and designs that are a "nod to those found around the airport terminal".
Visitors to the hotel enjoy discovering the two large vintage propellers in the lobby entrance and wayfinding signage in the guest lifts. The gym and meeting room walls are reminiscent of runways and the hotel also has its own 'business lounge' inspired by the classic airport concept.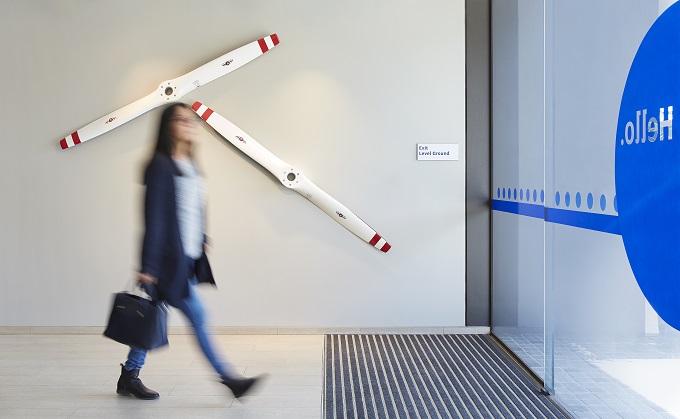 Furthermore, it is delightful that the fun airport motifs continue in hotel guestrooms, with bathroom shower screens printed with airport arrival and departure signage!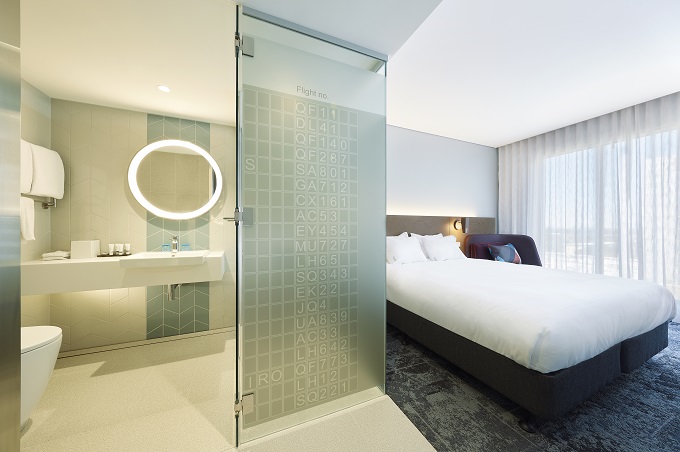 However, although the hotel's fun design elements pay homage to airplane enthusiasts and jetsetters the hotel is very much built with business in mind, and for the serious traveller it offers an outstanding experience. The guest accommodation offers an array of features appreciated by all smart travellers: from power showerheads, a choice of pillows, black-out blinds and high-quality bedding for the perfect night's sleep, to free uncapped wifi, two meeting rooms, flexible workspaces, free business centre, self-service laundry and on-site carparking.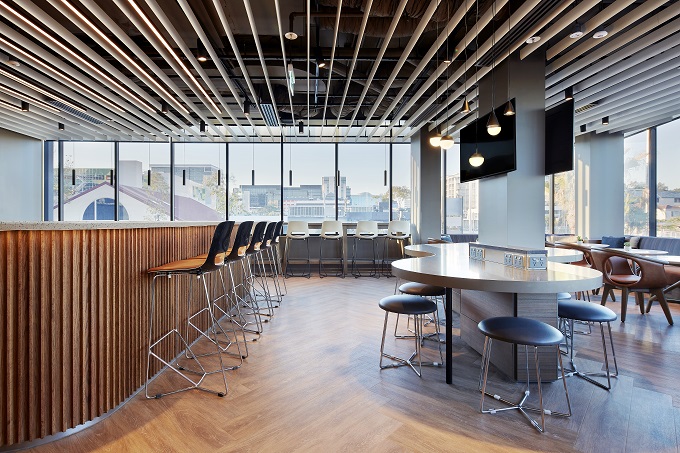 Friendly, flexible service is what guests have come to expect from IHG's renowned Holiday Inn Express experience and here it is what they get. The hotel offers early departures and late arrivals and convenient "Grab & Go" breakfast options and snacks, beverages, and barista-made coffee available 24/7.
Describing the hotel pre-opening phase of Holiday Inn Express Sydney Airport, Emmi told us: "The most important task we completed before opening to the public was to ensure our team was trained in our systems and operations and ready to serve our guests.
"We ran a 'Dry Run' night where we invited some family and friends, colleagues from other hotels and hospitality professionals. We attained some honest feedback on the in-room experience, the service, menu's and guest experience before opening to the public."
Introducing her team, Emmi said: "I have a very small team who sit here onsite at the hotel. I have two duty managers; Thea and Neil who have been with us since the pre-opening phase and know the hotel inside and out. Brooke who joined us last month as our night manager. We also have three front office team members; Kerri, Doran and Merlin, all of whom have also been with us since the pre-opening phase."
She added: "We are also about to welcome two more colleagues to the team in the coming weeks: Shaun as a night manager and Serina as a supervisor. Our other resources (sales/reservations/revenue) all sit offsite at our new Revenue Centre based in Newcastle."
Holiday Inn Express Sydney Airport is the seventh Holiday Inn Express hotel opened by Pro-invest Group since 2016, following the launch of Sydney Macquarie Park, Brisbane, Adelaide, Newcastle and Melbourne Southbank hotels in Australia, and Queenstown in New Zealand.
Ronald Barrott, CEO of Pro-invest Group said the Group's first airport hotel was well-positioned.
He commented: "With the Trans-Tasman travel bubble established between Sydney and New Zealand, and international arrivals increasing, we expect demand for this type of accommodation to grow. Sydney also has a reputation as a premier holiday destination both domestically and overseas and is a hub of business activity for corporate travellers."
Leanne Harwood, managing director, IHG Australasia & Japan said: "We have seen the Holiday Inn Express brand grow from strength to strength in Australasia – from our very first hotel in Macquarie Park in 2016 to debuting the brand in New Zealand this July, and now our first Holiday Inn Express airport hotel in Australia. The growth is a wonderful testament to our ongoing partnership with Pro-invest Group, especially as we seek out new locations for savvy travellers who are looking for reliable, quality, and importantly, safe accommodation."
As part of IHG, guests will stay confident, assured, and safe with the refined IHG Way of Clean using new, science-led protocols and service measures in partnership with industry leading experts Cleveland Clinic, Ecolab and Diversey – including the IHG Clean Promise to give guests greater confidence and hotel teams the protection needed.