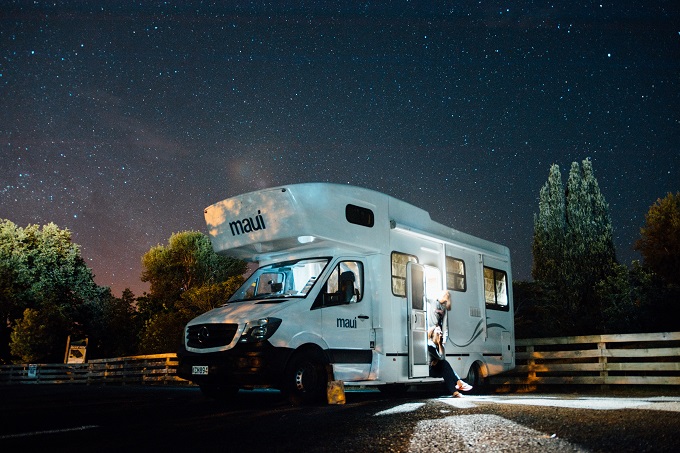 Aotearoa New Zealand's Motor Caravan Association has called for a national database to regulate the alarming rise in unsuitable vehicles engaged in freedom camping in the country's great outdoors.
Freedom camping has a long tradition in New Zealand where holidaymakers have for decades used their own vehicles as accommodation in public spaces.
But the surge in popularity of New Zealand as a tourism destination, and the boom in tourists realising old vans are a cheap way to see the country, has caused growing community angst.
Foreign freedom camper numbers ballooned from 10,000 in the early 2000s to 123,000 by 2018 and it led to crowding at car parks and beach fronts, road congestion, littering, and campers using parks, beaches and forests as their toilets.
Bruce Lochore, the CEO of the New Zealand Motor Caravan Association, says the problem would be immediately curtailed by a national database of all vehicles legitimately certified as being self-contained campers.
"If the data base was set up under a government agency it would have some teeth to ensure mandatory regulations for freedom campers," he said.
It would ensure that only vehicles that were compliant with regulations could go freedom camping and it would immediately get rid of 99% of the vehicles that cause the angst.
"Enforcement officers could check immediately on whether a vehicle was compliant, and move on any that weren't certified."
Mr Lochore said New Zealanders were more than tolerant of freedom campers using vehicles that were equipped for that purpose, including having portable toilets fitted.
"It's the vehicles that aren't equipped with toilets and the sheer volume of people parking where they like in unsuitable vehicles that has been causing the problem," he said.
"We have had an absence of international visitors during COVID and we are now addressing how we will deal with the issue when the tourists come back. A big part of that is actually just making sure vehicles that are supposed to be self-contained actually are."
Mr Lochore said his association's database had 55,000 vehicles registered – or close to 80% of the country's legitimately certified self-contained campers.
"It would not take much to get the rest into the system and we're happy to share our data so we would have a really strong foundation for a national register – the entire rental industry is only about 5000 vehicles and most of them are certified as well."
New Zealand's Parliamentary Commissioner for the Environment recently devoted one of its four main recommendations to better regulation of freedom camping, declaring that it wanted to "strengthen the existing standard for self-contained freedom camping, improve oversight of the certifying process and require rental car agencies to play a greater role in collecting freedom camping infringement fees and fines".
The Parliamentary Commissioner made the following recommendations:
Vehicles to have a permanently plumbed toilet in order to be certified as self-contained, and vehicles should also have separate holding tanks for grey and black water
The government reintroduce national oversight of the certification process and a national register of self-contained vehicles
The government ensures freedom camping penalties represent a serious deterrent to undesirable camping behaviour