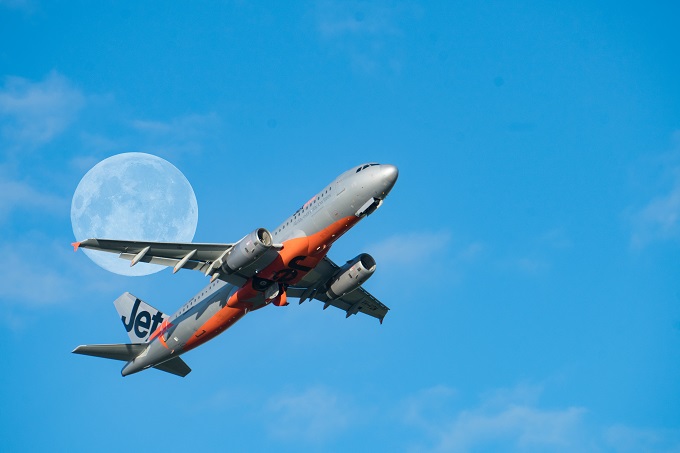 The Federal Government's discount airfare scheme has become a political football with Queensland declaring a lack of consultation has made it unfair for holidaymakers in the Sunshine State.
The $1.2b package will halve the cost of 800,000 return flights to thirteen destinations, but Queensland's Treasurer says his government was not consulted about the plan, while the Federal Opposition leader says the majority of the holiday destinations are in Liberal or marginal seats.
Locations in Queensland for the scheme include Cairns, the Gold Coast, Proserpine and Hamilton Island in the Whitsundays and the Sunshine Coast, but Queensland Treasurer Cameron Dick said those destinations should also have been available to Queensland holidaymakers.
Mr Dick said he was pleased more interstate visitors would come to his state but pointed out there was almost 1,700km between Cairns, where tourism is struggling, and the heavily populated southeast of the state which is 19 hours away by road.
"Why can't Queenslanders be supported to travel to Queensland, why can't they go to Cairns?" Mr Dick said on ABC radio.
Queenslanders want to back Queensland, that's why our economy is coming back and leading the pack nationally.
"In Brisbane and in the southeast, people want to go to Cairns but this scheme says no. Instead, we have to go to places like Launceston, or Merimbula."
The Queensland Government's own programs offering $200 tourism experience vouchers for Queenslanders and $150 to students to visit the Great Barrier Reef are incompatible with the new federal travel scheme.
Labor has questioned why 13 regions to benefit from half-price flights to boost tourism include marginal seats in Tasmania and Queensland while neighbouring areas miss out.
Return flights to eligible locations will receive a 50 per cent discount between 1 April and 31 July.
Margy Osmond, Tourism and Transport Forum chief executive, said the package "will not be enough" and that without ongoing support for non-aviation businesses across the sector, hundreds of thousands of jobs were still at risk.
Graham Turner, the Flight Centre founder and chief executive, said he did not believe the government's tourism support package would "save many jobs at all".
Turner said the key to the industry's strength would be state borders remaining open, but he also called on the government to reopen international borders by July when older and vulnerable Australians were due to be vaccinated.
Mr Dick said his government has provided a lifeline to hundreds of local Queensland tourism operators and suppliers with a conditional loan to Imperium Tourism Holdings through the government's Industry Support Package.
"Although Queensland's tourism sector is now rebuilding, we know the sector faced incredible challenges in 2020 and is challenged again in 2021," Mr Dick said.
When COVID-19 emerged and borders closed, tourists began cancelling trips and the tourism industry experienced significant cashflow problems affecting both customers and suppliers who were left out-of-pocket and awaiting payment.
"This loan has enabled over 540 payments to Queensland tourism businesses and Queensland-based suppliers.
"These businesses offer visitor experiences throughout regional Queensland such as tours, activities, day trips, travel and accommodation."
Queensland's Minister for Tourism Industry Development and Innovation Stirling Hinchliffe said his Government had also launched a new national program to recruit Australian corporates to hold business events, conferences and conventions in Queensland.
He said the new National Business Events Program would help Queensland's tourism industry to rebuild better after COVID.
The Business Events Council of Australia estimates up to $35.7 billion to be lost to the Australian economy from dwindling corporate events.
Meanwhile, two Cairns tour operators, Alan Wallish and Andrea Cameron, have revealed the extent of the hit their businesses have taken during COVID.
Ms Cameron told the ABC program Q+A that: "My business, obviously, like everyone else's, has been absolutely decimated. Normally, I'd be running 42 tours a week – now I'm down to six a week if I'm lucky. I've only got one staff member left. I've had to let everyone else go."
She said while the half-price flight ticket announcement was "encouraging", it was still not going to be enough.
Alan Wallish has 18 staff on JobKeeper but had 34 staff pre-COVID.
"I need those 18 staff to actually run the business," Mr Wallish said. "They're my key staff. Some of them have been with me for 15 years, so I'm not letting them go anywhere. But, yeah, obviously, the end of JobKeeper is certainly a financial hit. And we're hoping that this…the [discount flight] announcement, with the vouchers, people wanting to come up to Cairns, so that we can look after you, show you a great holiday, and the interest-free loans will just help us get through a few more months, while things start to sort themselves out.
We're probably 12, 18 months, 24 months away from getting any sizeable international tourism anywhere in Australia, and particularly up here, where tourism was really 70 per cent of our market.
"So we really need a strong Australian market to get behind travelling in Australia, particularly coming to areas like here, Cairns, where we can show you a fantastic holiday, and support our small operators, so that we can get through this."