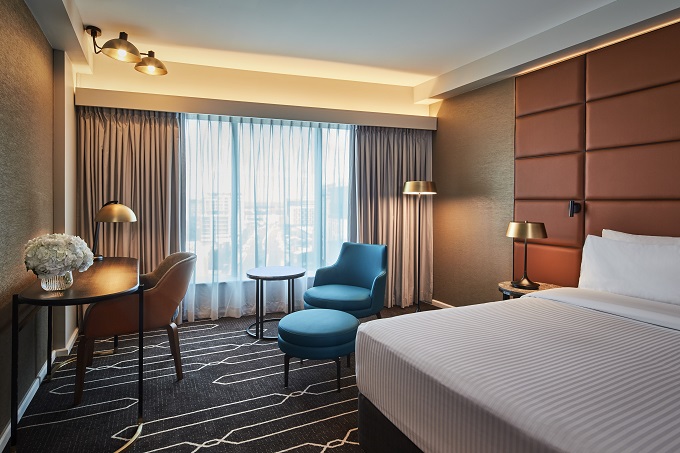 News In Brief
Refurbishment
$4 million dollar refurbishment of Holiday Inn Sydney Airport Hotel
Newly renovated guest rooms and bar offer comfort and convenience....
Holiday Inn Sydney Airport has revealed the results of a $4 million renovation of 50 percent of its guest rooms.
The extensive refurbishment project was led by a team of creative architects and interior designers from A+ Design Group and includes new furnishings and bathrooms. 
The newly presented Superior Rooms and newly introduced Junior Suite rooms have bronze light fixtures, wooden panels, leather headboards and earthy tones that offer an atmosphere of inviting warmth and comfort.
Each room features the ideal workspace, perfect for business travellers and features comfortable and eye-popping armchairs that add ergonomic support and a sense of luxury to airport layovers complimented with marble tables. All rooms have complimentary in-room espresso coffee, the choice of firm or soft pillows and large smart TV.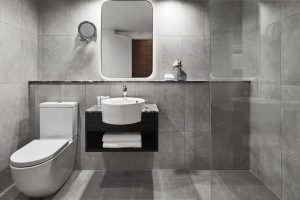 Bathrooms are filled with luxurious grey marble, softening the crisp white circular basins and towelling. All rooms have a perfectly placed make-up mirror and the option in the walk-in shower of rain or handheld device.  
Ben Burns, General Manager Holiday Inn Sydney Airport said: "Whether you're travelling for business or leisure, our new rooms deliver an experience of total comfort and convenience, so guests feel truly refreshed and relaxed throughout their entire stay" –
To complement the room's modern design, local favourite Biggles Bar and Grill has also had a refresh, with tiled flooring, new seating, layout and fresh artwork, themed to its aviation heritage. With a new menu on hand including our signature dish The Original Biggles Burger and pub classics like chicken schnitzel and Caesar salad. 
Holiday Inn Sydney Airport enables movement with the latest addition of a guest-only 12-seat Mercedes airport shuttle service; partnering with Green Motion; it's a convenient way to travel. The shuttle is safe, clean, and modern and handles all types of luggage with ease. The service runs every 30 minutes in peak times and bookable by hotel reception. Pair this with ample underground parking, the hotel provides convenience and ease for your next getaway. 
The full-service hotel offers 252 guestrooms, two restaurants, gymnasium and business centre.