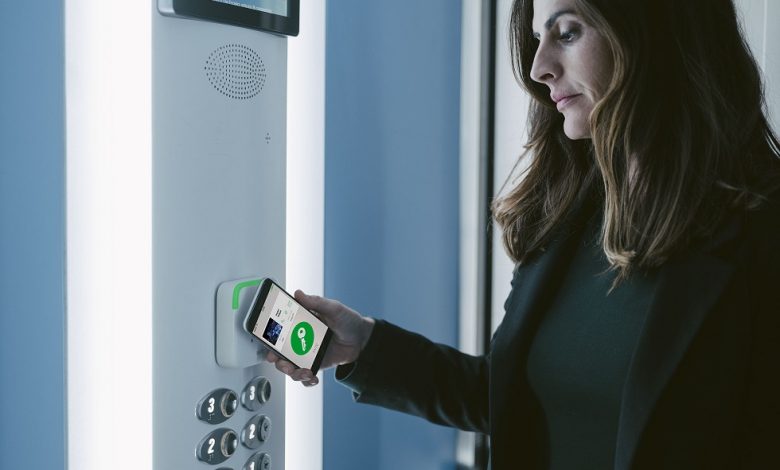 Door Lock Security
News In Brief
Hotels lock into smart technology
Hotel door locks: accommodations that embrace smartphone technology enhance convenience and limit COVID exposure
For thousands of years, keys and locks were the primary security system for most buildings, just as the horse was the main mode of transport.
But the technological revolution over the last two centuries has changed everything about the way we live, the way we travel and the way we stay secure.
Metal keys were the norm in hotels right up until 1975 when Tor Sørnes, a Norwegian author and inventor, patented the first electronic keycard lock.
His innovation opened the door for a massive new market in programmable locks and the potential for a huge range of authentication methods.
While the majority of hotel chains operate with familiar key card technology, an increasing number are now embracing technology based upon the smartphones most of us carry with us 24/7.
The technology was first adopted by smaller hotel groups, with Aloft, in North America, one of the earliest adopters in 2014, followed by Hilton and Marriott.
Tourism Accommodation Australia (TAA) CEO Michael Johnson said hotel locks were often now high-tech pieces of equipment.
He said: "Now in most hotels when you tap on a door lock with your access key the front desk immediately knows that you have entered the room because the keys are interfaced back to property management systems.
"Security people know when people are in rooms – or not in rooms – and it's great for cleaners who are servicing guestrooms as well so that guests are not disturbed. The room access technology has meant great improvements in both security and service."
Smart technology also allows self-check-in and lets guests check out at times convenient for them. They eliminate the need for queues at the front desk with a survey by America's Cornell University showing that a wait of more than five minutes at check-in leads to a 50 percent drop in hotel stay satisfaction levels.
And while thieves were able to crack security codes in a string of high-profile hotel robberies in the United States some years ago, technology has moved on and security is better than ever. In 2017 Hilton boasted that they had had 11 million digital key uses that year without a single security breach, and many hotels now use "bank-level security" for their locks with 128-bit encryption.
Dean Long, the CEO of the Accommodation Association of Australia (AAoA) said while the latest hotel lock technology was more expensive to install than the old-fashioned key and lock systems, "not only do they offer much better security for guests but once they are installed, they are much cheaper to maintain.
"COVID really increased the need for touchless technology, and the new smartphone systems offer a whole world of possibilities and convenience for guests that the industry is still tapping into."
We asked Cedric Duigou, SALTO Systems Hospitality Vertical Manager for Oceania about the benefits of the latest door lock technologies
He told us: "The traditional check-in experience is frustrating for guests and expensive for operators, more so now with the demand for hygienic interactions.
"Bluetooth Low Energy (BLE) and Near Field Communication (NFC) door lock technology reduces or eliminates front desk hours and reallocates staff to roles that add more value. Using a digital key sent over the air to their phone prior to check-in, guests can bypass reception and the handling of keys or cards. Digital keys not only authenticate access for the guest room but can be deployed anywhere on the property – whether it be a carpark, lift or gym."
Tell us about RFID and NFC door lock technology?
"RFID technology is more secure and cost-effective than mechanical keys and can be used to create an audit trail of events for management. Cards can incorporate branding and be integrated into other systems such as GRMS, energy management, POS, and business centre services.
"NFC and BLE door locking technology builds upon the benefits of RFID by incorporating smartphone technology. Digital keys can be sent remotely, contact-free and can also be integrated into guest apps for an exceptional and seamless experience."
What about antimicrobial options?
"A great support to cleaning programs, antimicrobial coatings help to reduce the growth and spread of bacteria and viruses on high touch areas such as door handles by up to 99.99 percent.
What are the new door lock tech trends?
The ability to integrate door locks with a Guest Room Management System (GRMS) is another step towards greater personalisation for the guest experience. When access control is linked with a guest profile, accommodation providers can drive their vision of the optimal in-room experience, as well as manage room energy consumption. Access granted to a cleaner by contrast, may simply turn on the lights.
"We're also seeing great interest for cloud-based access control platforms and PIN code locks that require no physical credentials. Without the need to interact with staff, guests can be sent a PIN code that works for the duration of their stay. This allows operators to effectively run their accommodation contact-free and remotely."
We also consulted Michael Benikos from AssaAbloy
On NFC, he told us: "Currently while technically possible with many RFID door locks NFC is not operationally ready because the backend systems integrating NFC on the phones to the hotel systems aren't able to send keys to the guest using this technology.
"If these issues can be overcome depending on how it is implemented guests may not be required to download an APP to receive a mobile key.
He says digital key and self-check-in technologies have increasingly become a mainstream feature at hotels around the world, with industry research projecting that such services will become standard amenities by 2022.
On being COVID safe he explained: "While initially designed to cater to guests' demands for enhanced convenience, mobile access functionality is now proving to be a crucial tool in a hotel's ability to provide guests with safe service alternatives that limit their exposure to bacteria and viruses.
"As hotels and resorts look forward to recovery once the global health pandemic subsides, contactless technologies such as mobile access are now increasingly being identified as playing a central role in regaining the trust and business of guests.
On trends he said: "Thanks to its contactless and social distancing enhancing abilities, it is unsurprising that mobile access technology is now experiencing an even greater adoption rate than ever before.
"Future door lock technology will include mobile key – online connected locks using Zigbee which integrate to other IOT devices like room controls. Also moving software running hotel systems to the cloud instead of on premise will become the norm."
Read more: