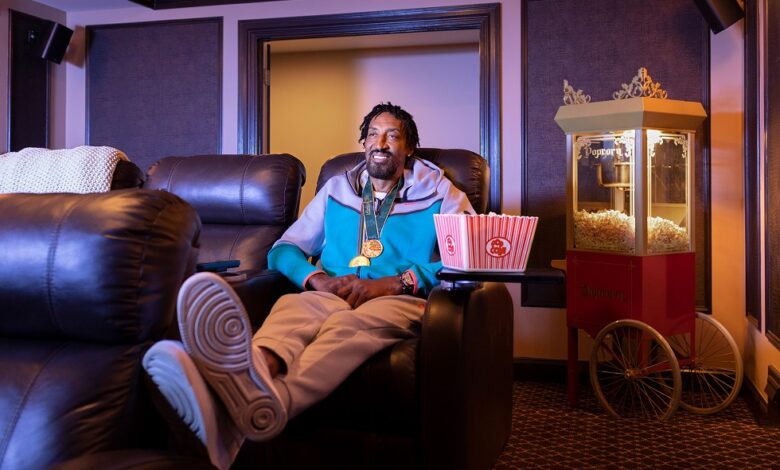 News
Airbnb to offer unique Olympic Games experiences
Olympian Scottie Pippen will host fans in his home for the Olympic Games
Tokyo 2020 is less than two weeks away and to celebrate the return of the Olympic Games basketball legend Scottie Pippen's will host a throwback 1992-inspired stay at his Chicago home, while fellow team members Larry Bird and Patrick Ewing host online experiences, virtual sessions available to Australian and Global audiences.
Opening up his home on Airbnb, the two-time Olympic gold medallist and six-time NBA champion Scottie Pippen will give fans the chance to experience the Olympic Games Tokyo 2020, with an overnight stay and opportunity to watch the Olympic Games at his Chicago home.
Wearing number 8 for the 1992 U.S. Olympic Men's Basketball Team, forward Scottie Pippen is one of the most beloved members of the team. Pippen is the only player to have won an NBA championship and gold medal at the Olympic Games in the same calendar year twice, first in 1992 and then again in 1996.
Pippen said: "Being able to represent the United States as an Olympian twice was an incredible honour as an athlete.
"Playing alongside the best of the best with Team USA will always be a career highlight for me, and I'm excited to host basketball fans at my home to witness the next generation of athletes performing at the top of their sport."
Pippen's former team members Larry Bird and Patrick Ewing are also hosting online experiences, in honour of the Olympic and Paralympic Games, in addition to 200 plus Olympian and Paralympian online experiences that guests can book throughout the Olympic Games on Airbnb.
Aussie Olympians and Paralympians will be adding to the amazing online experiences, with activities such as a yoga session on Tsurigasaki beach (Olympic Surfing venue) with professional WSL Surfer Nikki Van Dijk. Olympic gold medalists. Furthermore, there will be sessions from Kerri Potthurst (Beach Volleyball), Matt Mitcham (Diving), Evan O'Hanlon (Paralympic Athletics), and Vanessa Low (Paralympic Athletics) to name a few.
Many Australian athletes will be joining in on the online fun and serving up an array of unique experiences for their green and gold fans.
Additionally, Airbnb has partnered with the Nippon Foundation Volunteer Support Center – an organisation operationally supporting the Games – to help ensure that world-renowned Olympic volunteer spirit touches as many hearts as possible. At a time when many Olympic and Paralympic fans find themselves unable to make it to the Games, a series of 20 unique online experiences hosted by 89 local volunteers will help them feel connected to the event in a truly memorable way.
Hosted by locals, these free, authentic experiences will give guests insights into the venues, cities and histories behind this year's Games. From a virtual tour of the Paralympic Marathon course to an introduction to the Fukushima Azuma Stadium area that's paired with a calligraphy class, guests will uniquely experience hosting cities across Japan.