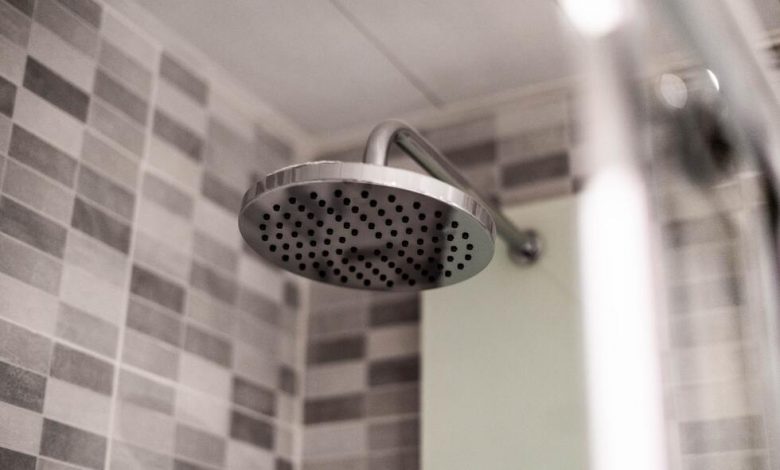 There are a few essential cogs in an accommodation experience machine that providers must get right. The guest room shower, for one!
This is a cog with which you cannot blow hot and cold. Your bathroom must offer a fantastic shower in good working order. This is one thing most hotel guests agree on. If your shower is a watered-down version of your guest's own shower at home, from their perspective, there is nothing more disappointing.
Picture this: Your guest discovers your underwhelming shower when they are at their most vulnerable and naked. Expecting to partake in refreshing ablutions, to their horror, instead they find a poorly designed, ugly or grubby shower with erratic temperature or worse: dribbling water pressure!
Most of us will never be fortunate enough to stay at The Savoy Hotel in London but know that it is famous for its incredible showers. It is reported to feature fantastic showers with giant 10-inch-diameter stainless-steel shower heads. The showers are suspended from the ceilings in all 200 bathrooms, and a beast of a water pressure system makes sure guests get the shower of their lifetime.
Many online reviewers comment on the size, style, water volume and temperature of the hotel's amazing showers. They especially love how easily controlled they are. There is so much buzz about these bad-boy showers that they are sold direct to guests on request.
It is true that guests demand hot showers that are easily controlled, said Rob and Sarah Pond, who established Therm-Oz Showers in Australia in 2015. 
Sarah told us: "One of the most common complaints regarding hotel and guest accommodation in Australia relates to hot water. Either there is none available when you want to take a shower, or it comes out scalding hot. Water is wasted while juggling taps. Often, the shower is left running for others to use once guests are successful in finding the right temperature!"
The answer, in Ms Pond's opinion, is: "A thermostatic shower. It mixes water to a set constant temperature, even if other taps, toilets or washing machines are in use. If the cold-water supply to the shower were to fail, the shower will instantly shut off, preventing any chance of scalding.
"A point-of-use thermostatic shower also represents a highly effective solution to the risk of pathogens and bacteria, such as Legionella, building up in stagnant water in pipes if showers are used infrequently, and the hot water system has been tempered to 50 degrees centigrade. Legionnaire's disease is most commonly contracted by inhaling steam or water vapour, and enclosed shower recesses are a recognised risk area."
She explained: "Hot water can be supplied up to 85 degrees centigrade directly to the thermostatic valve, which not only removes the risk of scalding by tempering the water at the outlet to a maximum of 45 degrees centigrade but also minimises the risk of harmful pathogens. Thermostatic showers also reduce water consumption, which is why many hotels, bed and breakfast accommodations and cruiseliners use this type of shower."
Surprisingly, many accommodation properties due for a renovation will happily spend their budget on creating a stunning first impression. They will splurge on the external entrance of the building, the lobby design, new carpets or even expensive art installations, but showers can be left out in the cold. Perceived as expensive to replace and time-consuming to renovate, showers can be last on the list of refurbishment priorities.
However, there are ways to refresh and modernise your shower that will not break the bank or cause your rooms to be out of action for long periods of time.
The Shower Repair Centre's Kere Zahn said when showers need attention, it can be more commercially viable to clean, repair and refresh than to renovate. He said you may find it more financially beneficial to find a team that specialises in sealing and revitalising leaking showers and tiles rather than replacing.
If you decide to refresh, he advised: "If you want to complete a top-quality shower refurbishment, always use a high-quality service provider that will refresh and repair your leaky shower without damaging the existing tiles."
Grout can be your shower's biggest problem.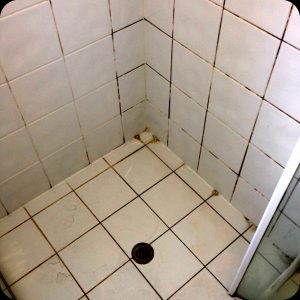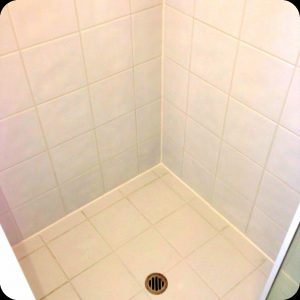 Mr Zahn explained: "Cement-based grout is actually the weakest link in tile installation because of its many drawbacks. Being so porous, it absorbs dirt and other elements, causing staining, and allows mould to grow.
"A far better option is Epoxy grout, which is strong, durable and requires light maintenance. While it costs more than cement-based grout, it lasts much longer, negating the difference in price.
"I suggest you find a team who can strip off existing grout and replace it with a premium Epoxy grout, which is more resistant to stains, cracks, harsh weather conditions, chemicals and climate changes. This is suitable for areas with high traffic, and since it's waterproof, it improves not only the bathroom's aesthetics but also functionality."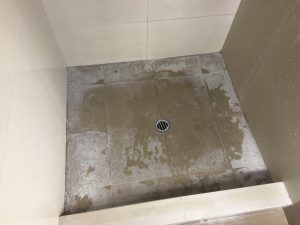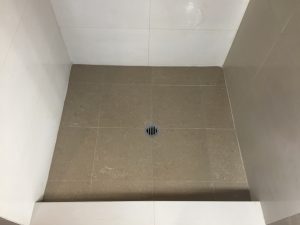 Mr Zahn revealed the tell-tale signs that indicate that a shower needs urgent attention.
He said: "Cracked grouts, peeling paint on adjacent walls, damaged timbers and water seeping through weak points of the bathroom are some indicators that it is time to re-do the waterproofing.
"This is usually a tedious and time-consuming process, but with today's technology, it is possible to waterproof 95 percent of wet areas without the need for replacement. In fact, some of our large hotel partners have shared with us that by waterproofing their bathrooms, it has significantly saved housekeeping time. This has not only enhanced productivity but has also made cleaning easier and less taxing."
Mr Zahn also offered some tile replacement tips.
He said: "Larger tiles are popular for all types of renovations or new construction works and shower refurbishments. While these tiles are more expensive, benefits outweigh costs.
"Larger-sized tiles make your bathroom look more spacious. They are also more hygienic with fewer areas to store dirt. Frameless shower screens are also on-trend. They enhance the luxuriousness of the hotel."
Geoff Biddle from GroutPro Australia also advocates for shower restoration rather than a complete renovation. He said a good clean could refresh any bathroom, and foam-based cleaning products offer an easy way to clean grout. Cleaning chemicals need time to activate, and foam is more effective and allows the chemical to do its job.
He added: "Other products used to restore showers are acid based, they assist in the removal of calcium and other mineral build up found on the tiles and grout. A mould neutralisation product can also be used to kill any mould spores that are present. Once totally clean an advanced mould and mildew resistant sealing product will help to keep it looking like new.
"Alongside the use of chemicals, mechanical scrubbing and the use of high-pressure water rinses will remove the dirt. As the products activate on the surface of the tiles and grout, the machines can scrub the bacteria, mineral build up and stains from the pores of the tiles and grout on walls and floor.
He added: "The use of chemical products and methods mentioned above are not for daily use but should be used periodically to bring showers back up to standard so that conventional daily cleaning can be effective again."
Spot shower deterioration as early as possible before it becomes serious. 
Geoff warned: "Look for water marks or staining outside the shower or on adjacent walls and floors. Look out for black spots on the silicone seals or grout, as it could be the beginning of mould. Calcium and scum builds up on walls, floor or glass and should be removed before permanent damage occurs. Moisture metres, thermal imaging scanners and pipework pressure testing equipment can also be used to help identify leaking pipes inside the wall or water leaking out of the shower into the wall cavity."
Shower screens can also be problematic because glass is microscopically porous and can absorb scum and dirt.
Geoff told us: "In serious cases, build up causes irreversible damage to the glass surface. To restore affected glass, we use a jewellery-grade abrasive compound to remove build-up without damaging the glass. This is followed by sealing the glass with a high-quality product that protects and helps prevent future build-up."
Other articles: