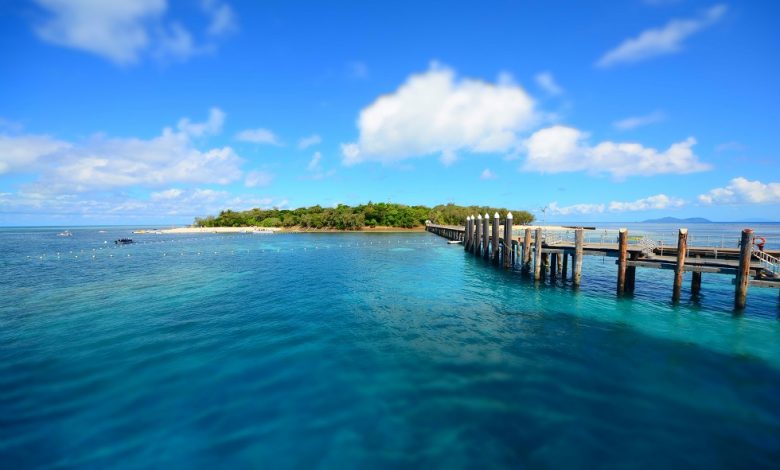 Queensland families might have flocked back to some of the state's most popular vacation spots at the start of the September school holidays, but the Tropical Far North is beset by worn-out workers, financial hardship and a lack of job security.
Iconic holiday destinations such as Noosa, the Gold Coast and Yeppoon were packed out at the start of Queensland's school break but the north was sadly whisper quiet.
And in another major blow for the Tropical North's tourism industry, Green Island Resort announced it will temporarily close after the school holidays because of what owners Quicksilver Group cited as a shortage of advance bookings, largely as a result of stay-at-home orders across NSW and Victoria.
Green Island staff have been stood down temporarily.
The resort's managing director Tony Baker said lockdowns made it impossible to keep trading beyond the holiday period."
"Really once Victoria went into lockdown we saw quite a significant drop in business," Mr Baker said, adding that the longer the closure in Victoria, the more room cancellations flowed through.
Day-trips to the island will continue with limited staff to cater for those visitors.
The Quicksilver Group hopes to reopen the resort in December ahead of the Christmas holidays.
Tropical North Queensland experienced a bounce-back in confidence due to financial supports such as Job Keeper in the middle of last year but that has dropped this year due to the continuous lockdowns.
On June 18, 22 tourism employees, operators and stakeholders from the Tropical North Queensland region participated in a series of Tourism Workforce Workshops, as part of the Advance Queensland funded "Queensland Tourism Workforce Strategy V2: A crisis resilience and recovery plan" Project.
The study found that employees experienced anxiety with job security and were financially stressed by income losses. Some considered switching industries for more secure jobs.
Operators' job security concerns were reflected by "environmental uncertainty" during the crisis. This was followed by financial hardship and well-being issues because of a decline in travellers, working extended hours and dealing with various stresses due to changes in operations. Often this led to business closures and families losing livelihoods.
The study found that the resilience of those in the tourism sector in North Queensland was showing signs of diminishing because of a compounding effect impacting on their job security and well-being.
The decrease of resilience in 2021 was "due to a loss of hope with repeated lockdowns." and the study found that workers who migrated to other industries were unlikely to return.
Andrea Cameron, the co-owner of a Port Douglas touring company, told the ABC that her town was "empty, there is just nobody here".
Ms Cameron said she had been forced to sell off one of her tourist buses to stay in business after selling her house earlier in the pandemic.
"[This is] in order to try to hunker down as long as is going to be necessary, with no money coming in," she said.
Tourism Port Douglas Daintree CEO, Tara Bennett, said occupancy was around 30–35 percent this year when 95 percent was the norm pre-pandemic.
"We've seen a slight increase in visitation, but it's nowhere near what we would have hoped for," she said.
"Traditionally, this time of year the vast majority would be from Victoria and then New South Wales."
Mark Olsen , the Chief Executive Officer of Tourism Tropical North Queensland (TTNQ) said 3150 more jobs would be lost by Christmas as the tourism workforce was slashed to half its pre-pandemic size.
Mr Olsen said tourism had employed 15,750 full and part-time staff and, with indirect tourism spend, supported a total of 25,500 jobs before the pandemic.
But, he said by July 2021, tourism in his region had lost 6000 jobs, "even with the support of Job Keeper and a returning domestic market."
Mr Olsen said governments needed to understand the impact of the decline in visitors to North Queensland given that one in five jobs there depended on tourism.
Tourism Accommodation Australia CEO Michael Johnson said the tourism industry was also still facing ongoing skills and labour crisis and the return of international students and backpackers was a vital piece in solving the puzzle. 
"This was a problem before COVID and it is even worse now due to the lack of international students, working holidaymakers and temporary visa holders," Mr Johnson said. 
He said hotels were crying out for skilled staff including chefs, cooks and food and beverage and room attendants.
Many properties including some at world-leading North Queensland destinations such as Hamilton Island were unable to open despite huge demand because they simply didn't have the staff to service the influx of visitors.
Queensland Premier Annastacia Palaszczuk has committed to visiting Far North Queensland after a recent meeting with a Cairns tourism delegation.
Leaders from Advance Cairns and Tourism Tropical North Queensland met with and her deputy, treasury officials, director-generals, heads of departments and the opposition leader, David Crisfaulli, over three days.
Advance Cairns CEO Paul Sparshott said his delegation called for a greater slice of the $600-million COVID-19 Business Support package, jointly funded by the Palaszczuk and Australian Governments.
Dr Sparshott said many of the Far North's tourism businesses were only operating at between 10-20 percent of capacity.
Read more: