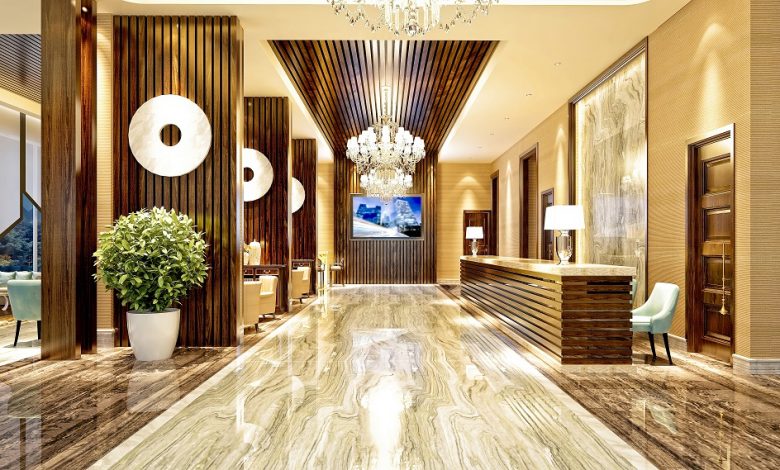 News
News In Brief
Refurbishment
Flooring options: we've got you covered
Choosing the right floor coverings for your property is a decision that shouldn't be taken lightly.
Choosing the right floor coverings for your property is a decision that shouldn't be taken lightly.
A clever choice of flooring sets out your stall from the minute your guests walk through your door. They will know what you stand for, what they can expect from your brand and most important of all that you are committed to their health and safety. Therefore, choosing the right floor coverings for your property is a decision that shouldn't be taken lightly.
But don't worry because this issue AccomNews asked industry supplier David Blakemore, Marketing Manager, Australia & New Zealand, Forbo Flooring Systems, the following questions.
What flooring options are most effective in high traffic areas and in guest rooms?
The type of flooring really depends on the area and what is required from a design and functional point of view. Lobbies and entry areas are best suited to hard or resilient floors that can handle heavy traffic and are easy to clean. Beware a stained and worn carpet on arrival is not a good visual for your guests.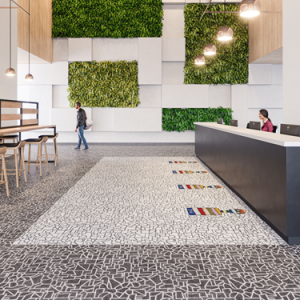 For hallways and corridors, I recommend LVT or hardwearing textiles, they also provide visual warmth. In any corridor or heavy traffic area where textile is used it is important to ensure it is of suitable construction, that it passes the appropriate wear tests, will clean easily and not pack down and look tired. These are critical cost areas; they are heavy hauling in terms of traffic and are expensive to replace. Here Flotex is a suitable heavy-duty textile product, it's extremely durable, easy to clean, acoustically sound and digitally customisable for any visual.
Modern guestrooms do not have the same requirements as areas with heavy traffic, here choose flooring that provides visual warmth and comfort. Carpets are a popular choice because they are aesthetically pleasing, offer design diversity, texture, acoustic comfort, and provide a homely atmosphere.
Carpets are more difficult to clean and can show dirt, so luxury vinyl tile and plank flooring may be a good alternative. Offering ease of maintenance, this flooring is suited to beachside locations.
Why is it important to use colour effectively and design thoughtfully?
Colour and design are two of the most important aspects of interior design when creating a memorable guest experience, the floor can make or break a space and good design should consider both aesthetics and practicalities.
For instance, the colour choice of a floor can provide a powerful link to brand identity or give a space a unique feel that communicates a mood or emotion. Also think about maintaining consistency with the overall design across your venue so that it communicates a clear story.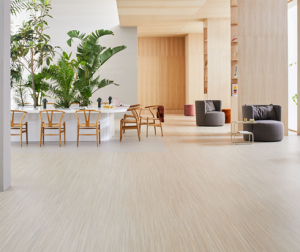 What is your advice to accommodation managers about ensuring the health, safety, and comfort of their guests?
Always use certified products that comply with leading standards for health, fire and safety. Use the right type of floor in the right space and consider how the floor is used from a guest and staff point of view. Health and safety begin from the floor up.
Can the choice of floor covering really help reduce noise?
Yes. There are numerous products that help with noise control. Noise can eventuate in different forms. Impact noise between floors and in-room noise absorption or reverberation. Textiles are naturally acoustic; however, modern resilient flooring can be installed with an acoustic backing or underlay.
Compliant acoustic ratings are part of the building code, so be aware of the acoustic values of any floor you select. Reduce noise from foot traffic or rolling loads to provide an enjoyable acoustic level for guests.
What flooring options are available for the environmentally conscious?
There's no doubt that sustainability is an important design consideration when it comes to selecting materials for a project. For those looking to reduce embodied carbon or waste within the environment there are some leaders in the field especially when it comes to eco resorts and eco-tourism.
Marmoleum for instance is a linoleum floor covering that is made from natural raw materials that grow. This means the floor is certified CO2 neutral on leaving the factory without the need for carbon offsetting. The colour options are vast, and formats include sheet, tile, and plank. The end-of-life options are also good for the environment.
Natural jute fibre carpets are also a sound choice, however, can be difficult to clean.
Consider products that are recognised in the Green Building Council of Australia Projects and are accredited by third party ecolabel organisations including Green Tag and GECA. You can go beyond local requirements and make sure the product's production and supply chains are certified to the human rights and labour norm SA8000.
Tell us about flooring trends?
We are seeing extensive use of solid colours, with greens, rust and burned orange extremely popular right now.
There is also a shift in segment design towards 'the dynamics of a building' methodology or story, which involves designing around the activities and human interactions that take place within a particular building's space. The floor will align with this activity.
For instance, the user no longer needs to think about the purpose of the space, rather is immediately aware and interacting. Spaces and floors that link while being functional. COVID social distancing or wayfinding prompts are built into the floor.
In flooring, we are also seeing more use of digital technology to create bespoke and unique feature floors. This may be to create a unique emotion or to link and strengthen brand identity.
Finally, David shares some important factors about flooring for you to consider…
Daily floor care: Use the right equipment and avoid harsh chemicals that will reduce the life of your floor and might even attract dirt. Carpets should be vacuumed, and hard flooring should be dry, or damp mopped. For those who suffer from respiratory conditions anti-bacterial, and allergy approved flooring solutions like Flotex can help create a healthier indoor environment for staff and guests.
Slip resistance: In areas that are prone to increased slip risk such as ramps, laundry, and bathrooms, it's important to choose a floor covering with sustainable slip resistance properties.
Acoustic considerations: Choose the right floor in areas where noise floor in areas where noise will attract complaints.
Entrance matting system: This will not only reduce the risk of trips but also help to prolong the life of interior floor coverings.
Did you know? Using six linear metres of entrance flooring can stop up to 95 percent of walked in dirt and moisture from entering your building. Think of the savings you could make.