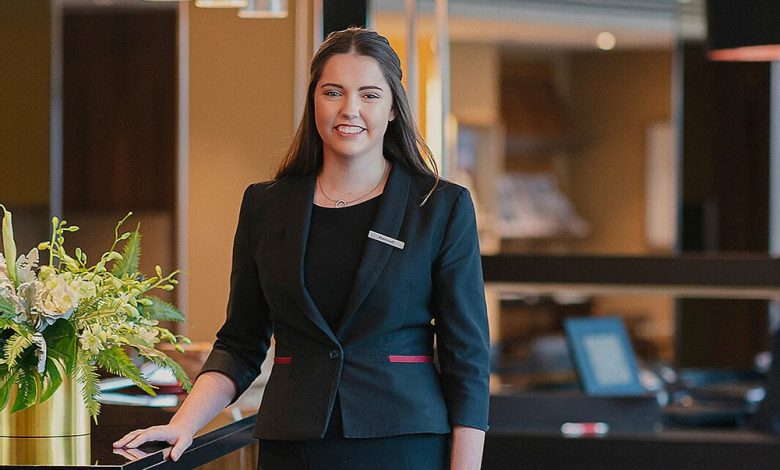 A career in hospitality was something a teenage Hannah Holden had always aspired to.
But even with a commercial cookery certificate, achieved while at school, under her belt, prospects for a job in her chosen field in her home town of Bendigo appeared bleak.
But as they say opportunity always knocks and for a career-undecided Hannah, opportunity came at the right time at a school careers day where she met a William Angliss Institute representative.
Impressed by what the representative had to say, and particularly his posters displaying hospitality staff working in what she describes as "nice hotels and resorts and places where I would like to have a holiday," just weeks after that chance meeting, Hannah made the decision to leave her regional Victoria home and move to Melbourne to seek out her future.
On the same day she arrived, she embarked on a diploma of Hospitality Management at the William Angliss Institute.
That was 2018 and today, looking back from her desk in the Grand Hyatt Melbourne where she now works as an HR officer, Hannah will tell you the decision to study at William Angliss was best move she ever made.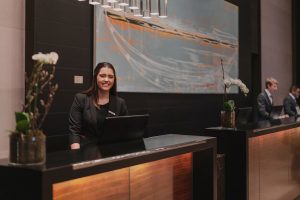 The curriculum, she says, was full on – "we worked from 9.00AM – 5.00PM, five days a week" – but the course while hard work, the practical side of the program presented Hannah and her fellow students with the opportunity to go very hands-on, working at a variety of events including Melbourne's famous Long Lunch event.
The course also presented students with opportunities to participate in courses and also educational visits to several well-known hotels in and around Melbourne, including placements. Add in a trip to Singapore, where the students gained invaluable information on the practical aspects of the many operational roles required in the hospitality sector.
Talking about her career progression, Hannah said things have changed a lot these days and many people want to just get straight into a role instead of working up from the bottom.
"And that was something we learned at William Angliss right from the start – why the first step is so warranted," she said.
The institute was also the catalyst for where Hannah finds herself today at the Grand Hyatt Melbourne.
Attending a William Angliss speed-networking event, she and a fellow student met a Grand Hyatt Melbourne HR representative.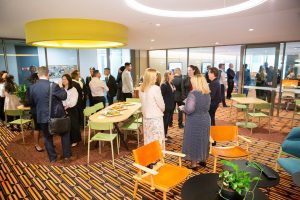 While Hannah didn't have much opportunity to ask questions, given the other student talked most of the time, she says she was pleasantly surprised when at the end of the event, she was approached by the manager who asked to see her resume.
"I remember asking him what positions the hotel had available and he responded by telling me "Oh, we've always got positions available for the right people", "she said.
"And then a week later, I started my placement there, and almost four years on, I'm still here."
Hannah's career with the Grand Hyatt started in the hotel's communication centre, managing incoming calls internally and externally, as well as taking orders for the hotel's restaurants and room service.
From there she was promoted to guest relations where she was able to work with many of the hotel's high-profile guests and VIPs before being elevated to Grand Hyatt Club team leader.
The opportunity to become join the HR team came in July last year.
"My specific job here is to do training and learning which involves developing different training schedules for the hotel," she said.
"At the moment, we are generalists, and a very small team, just three of us for some 400 staff members so we do everything.
"But my focus is training and learning, creating training modules, putting in read-through orientation, making sure everyone's being safe at work as well, those kinds of things.
"I am also involved in recruitment side of things as well, and often head out to universities to take part in career days.
"But there are lots of other opportunities here too, Hyatt has its own internal platform of different training modules that you can do to learn other roles within the hotel. "
Hannah says she is a very big fan of Accor Pacific CEO, Sara Derry who, before being elevated to the role, was the company's Senior Vice President Talent and Culture.
"Sarah is someone I definitely look up to," Hannah says
"There's so many other women leaders and it's great to see how far they can go and show everyone what they can do.
"And I love every inch of that."