An exclusive touch of opulence and glamour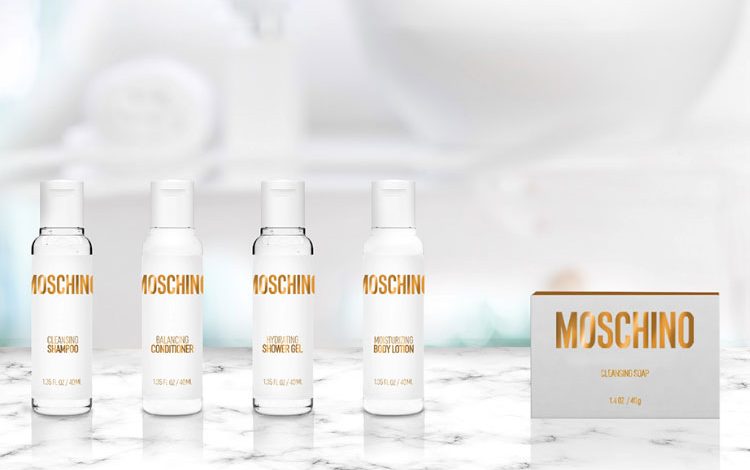 Interior Images is thrilled to announce an exclusive new addition to our range of luxurious amenities. Take your guest experience to new heights with Moschino, the inimitable Italian luxury fashion house. 
With Moschino, we bring you an unparalleled level of sophistication and style that is synonymous with the iconic fashion brand. Available across Australia and New Zealand exclusively through Interior Images, read on to discover why you'll want to be amongst the first properties to offer this incredibly unique, and captivating brand.
ELEVATE YOUR AESTHETICS
Moschino is renowned for its avant-garde designs and artistic flair. By incorporating Moschino amenities into your hotel, you are not only offering products; you are creating an immersive and stylish environment that will leave a lasting impression on your guests. The Moschino touch adds an air of glamour and opulence to every room.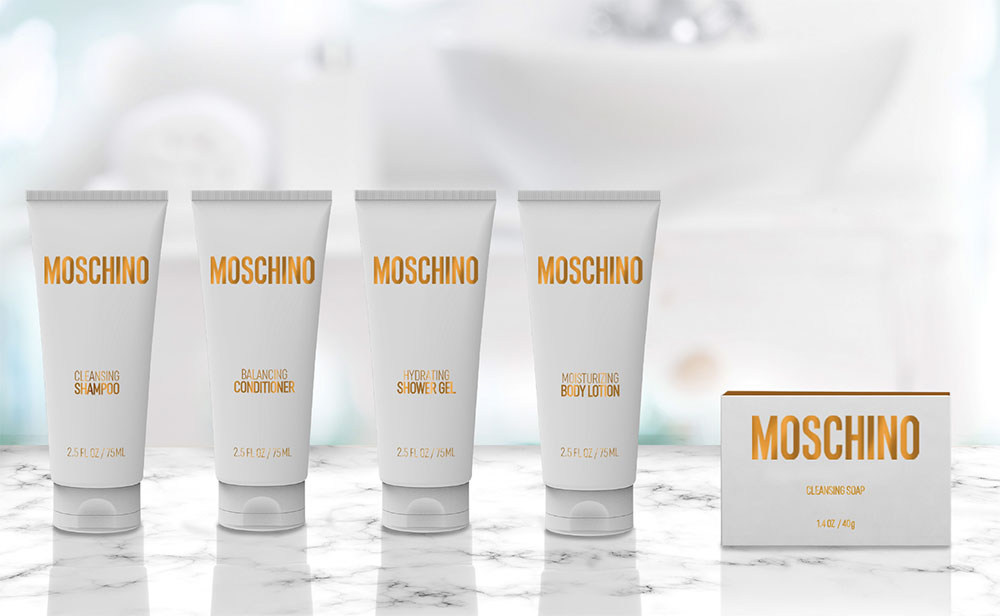 NATURAL, QUALITY INGREDIENTS
Moschino amenities stand out not only for their elegance, but also their quality. Moschino products are formulated with extracts of ginkgo biloba, grape seed oil, and soybean oil. These carefully selected ingredients offer a unique blend of benefits for both hair and skin.
Moschino's signature herbal and woody blue basil and sandalwood fragrance creates a refreshing experience using a number of essential oils. It opens with notes of punchy star anise, blue basil, and lime, with a heart of sweet jasmine and lavender to balance, and finishes with sandalwood and patchouli for a warm, woody close.
Haircare: Moschino's haircare products are enriched with ginkgo biloba, grape seed oil, and soybean oil. These natural extracts are known for hydrating hair, restoring moisture, and promoting strong and shiny hair. Your guests will enjoy a truly pampering experience every time they use Moschino haircare.
Body care: The body care range harnesses the power of ginkgo biloba, rich in Vitamin E, to restore skin's moisture. It's combined with a luxurious blend of grape seed, soybean, coconut, and sunflower oils, providing superior moisturization and leaving the skin soft and nourished.
LOW MAINTENANCE
Featuring a unique mini bracket mounting system, this innovative range of amenities allows you to effortlessly enhance your guests' stay without the need for drilling tiles, ensuring both convenience and style. The 100% recyclable, tamper-proof pump dispenser system increases housekeeping efficiencies and reduces labour costs.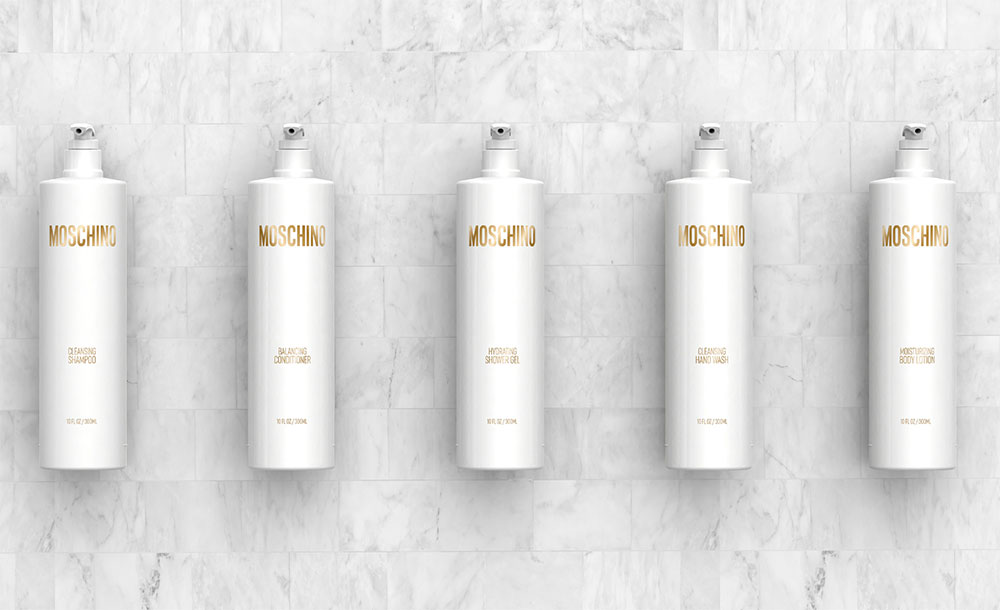 VALUE WITHOUT COMPROMISE
We understand that delivering luxury experiences should not come at the cost of your budget. With Moschino, you can provide your guests with premium, world-class amenities at unbeatable value. Elevate your guest experience and lower costs while reducing waste.  
The introduction of Moschino to our range of luxury amenities is a game-changer. It allows you to provide your guests with an unforgettable, stylish experience while staying within your budget. Don't miss this opportunity to elevate your property and set a new standard in luxury hospitality.
---
To explore our Moschino amenities collection,
visit: https://www.interior-images.com.au/brands/special-invitation-only/moschino/
or call us for a chat on +61 3 9673 1444 about how this exciting brand could add
a touch of glamour and opulence to your property.