Unlocking Efficiency: Energy management systems and kiosks transform hotel operations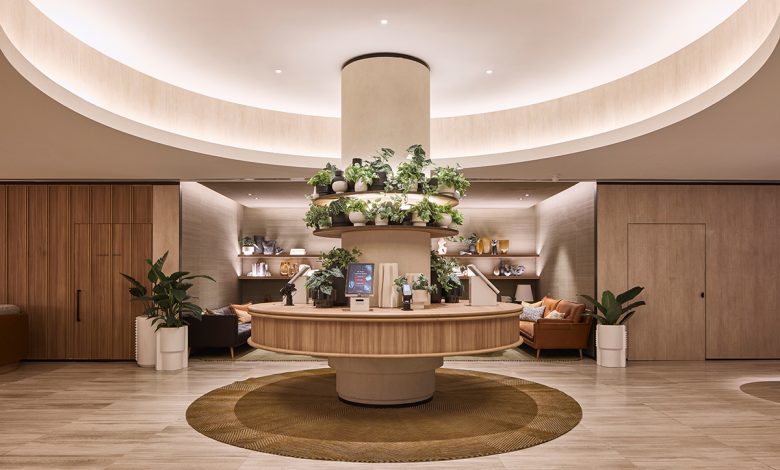 With leading hotel chains around the world committed to climate action, energy management systems have become one of the keys to net zero carbon emissions.
More and more hotels are turning to locks that are part of a fully integrated online system for room controls, and connected to both Property Management Systems and Building Management Systems.
Michael Benikos, Managing Director of ASSA ABLOY Global Solutions Australia, said he was delighted with the success of his energy management systems and the way they can not only improve the guest experience at every property but also engineer massive energy savings on the way to net zero.
He said the energy management systems reduce the runtime of a property's air conditioning by up to 45 percent and that meant huge cost savings to a property and much less waste for the environment. The savings are largely based on energy not being wasted on unoccupied rooms.
He said when a guest arrives at a hotel they check in and a message immediately goes through the Property Management System to start the air-conditioning in the guest's room.
As soon as the guest opens the door a motion sensor in the room tells the air-conditioning unit to stay at the temperature until the guest leaves. It then reverts to a slightly more efficient temperature until they come back.
The system will also switch off any lights that have been left on when the guests leave the room. While the property makes big energy savings, the guest comes back to a room that is still very comfortable even though it may have been unoccupied for hours.
Mr Benikos said Australia was leading the way with advancements in energy management systems.
More and more self-check-in stations near reception are being integrated with ASSA ABLOY's sophisticated door-locking system.
"The self-check-in systems really took off because of the staff shortages brought on by COVID," Mr Benikos said.
"We've now installed or are in the process of installing over 100 self check kiosks into over 40 hotels within Australia and is continuing to grow.
"At the Capitol in Sydney, the check-in system is built into a desk rather than a stand-up kiosk like you might have at an airport. Guests check-in through a tablet and it is proving really popular."
Mr Benikos said: "One of the big reasons for the uptake of the technology is the constant problem of labour shortages in the accommodation industry. The self-check-in process speeds up check-ins, but it also allows staff to move about and interact with guests much more. That's got to be good for everyone.
"It makes for much more effective use of the staff on hand and a much more enjoyable experience for staff and guests."
Self-serve check-in kiosks are allowing Australia's most tech-savvy hotels to offer unprecedented levels of service. They even provide guests with a visual room plan when they arrive at the property so they can choose exactly the accommodation that will guarantee their greatest customer satisfaction.
"Guests love it," said Andrew Turner, the Group General Manager Technology and Digital at EVT, whose properties include QT, Rydges, Atura, LyLo and Independent Collection by EVT.
"Allowing guests to individually select their room is not something we could facilitate in the traditional check-in process but the self-check-in, check-out facilities make this a reality and enhances the guest experience'.
"We've had great success in several properties now, with our flagship Rydges Melbourne being the best example with 370 keys."
EVT has so far set up integrated energy management door lock systems and self-check-in facilities from ASSA ABLOY at five of their properties, with the Capitol Hill in Sydney's Haymarket being the latest.
"The two metrics for success obviously are take-up and guest sentiment and we track both very closely," Mr Turner said.
"The take-up of the self-serve and digital check-in is at over 80%, and the sentiment from guests is amazing – we've removed those queues in peak times, we've now constructed a layout where our team members can focus on offering great customer service'.
"Some people want to retain the traditional check-in process while some guests just want to breeze through and be a little more anonymous.
"The kiosks also speed up the whole check-in process and it removes all those repetitive tasks that our staff were doing.
"It actually allows them to have a more meaningful interaction with guests – allowing them to move from behind the counter and have conversations about what the guests want and need."
Mr Turner said EVT had 14 properties using the ASSA ABLOY kiosks, with Rydges Melbourne being the largest. More properties were in line to end the queues as the check-in kiosks are integrated with a locking system that allows hotel managers to provide more comfort in every room.
"I think we've got the system really robust and we've proven it with the success at Melbourne. So now we're planning for a number of properties to go live with the technology over the next 12 months."
Mr Turner said it had been a year since EVT tested the market and selected the "right vendors" who could meaningfully engage with the hotel group and "take a long-term view" to make sure the technology rollout was "a consistent, coherent experience."
"It's a great system. We've backed ourselves to introduce it and it's a testament to the strong partnership we have with ASSA ABLOY."