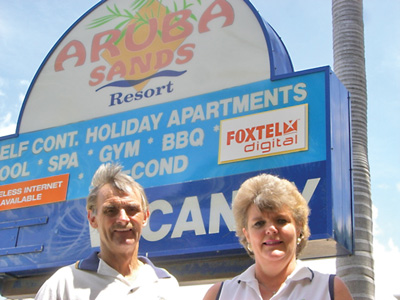 Barbara and Bruce Keane bought the management rights to Aruba Sands Resort back in 2005. Originally from New Zealand, the Keanes used to stay at Aruba Sands Resort during their holidays in Australia as their friends then owned the management rights.
Coincidently when, due to health reasons, the managers offered the business for sale to Barbara and Bruce, they leapt at the opportunity. With no previous experience in the accommodation industry – Barbara having spent 30 years as a legal executive in a law firm and Bruce, 15 years as a refrigerated transport business owner – it has been an interesting learning curve for the Keanes but one they wouldn't trade for the world.
"I had the same job for 30 years and it was funny I used to threaten my old boss that one day I would leave and he would say the only time I would leave is if I left the country and we did.
"It has certainly been different going from guest to manager but the friends we bought Aruba off stayed in as our silent partner; we have made lots of friendships and are quite lucky because we have so many return guests and the location of the resort and everything is so handy here, everything is in walking distance, everything is at your doorstep."
Since taking over the resort, Barbara and Bruce have completed a number of refurbishment projects from new paintings and furniture inside to a complete over haul of the gardens outside.
"We have also installed security cameras, which have been absolutely beneficial to us."
However, Barbara said, "The biggest change we have noticed in the four years we have been here is there are now five new high rises around us so there is a lot more competition these days. Because we are a three-storey walk up, I was so surprised at how many people like it. I always thought people would like the high rise better but they love the walk up and we are lucky to have so many repeat guests and that we haven't lost anyone from the holiday pool."

Utopian Beachside Living
Built in 1998, Aruba Sands Resort offers 40 luxurious studio, one- and two-bedroom apartments in a three-storey walk up building. All of the studio apartments feature ensuite, private patio, queen-sized bed, television and tea and coffee making facilities. The one-bedroom apartments are fully self-contained with bathroom, private patio, queen-sized bed, separate lounge room with television, full kitchen including microwave and dishwasher and a washing machine and dryer. The two-bedroom apartments are a split-level unit with two private patios, both bedrooms have an ensuite and queen sized bed, separate lounge room, two televisions, full kitchen including microwave and dishwasher and a washing machine and dryer.
Within the resort is a surfeit of facilities such as a pool and spa (heated in winter months), outside entertainment area, security system, basement mini gym, security parking, BBQ and sunbaking area, luggage lockup area and tour desk.
Located on Philip Avenue in Broadbeach, Aruba Sands Resort is just one block from patrolled Gold Coast beaches, a short stroll from the Broadbeach Mall and only minutes from Jupiters Casino, Pacific Fair Shopping Complex and Gold Coast Convention Centre.
Are you interested in lifting your industry profile?
Email [email protected] or call (07) 5440 5322