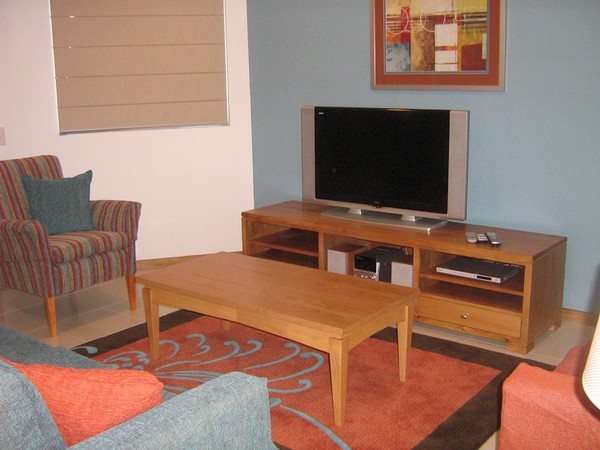 When Coolum Seaside completed extensive refurbishments, the aim was to ensure the complex maintained its five-star standard. The resort, consisting of four buildings, previously underwent renovations in 2006 when Seaside 1 was refurbished and Seaside 3 was built.
The most recent refurbishments, started in May 2007, included retiling the pool, laying a new driveway and revamping Seaside 2 with a total repaint inside and out and installation of new furnishings, curtains, blinds, rugs, artwork and dishwashers.
The internal renovation of Seaside 2 was done by Sit & Sleep Interiors. Sit & Sleep Interiors did the design of Seaside 3 and owner, Vikki Newton said because the refurbishment of Seaside 1 and 2 was taken into account while Seaside 3 was under construction, the design plan was to use the same textiles in different colour combinations to maintain style and standard yet give identity to each building.
"The whole refurbishment of the existing buildings was based on the textiles used in the new building. Once the concept of the new Coolum Seaside 3 building was in place we started to work on the concepts for the other buildings. These had to flow on from the new building in style and standard, yet all have their own individual feel. This was achieved by using the same fabrics for the sofas, soft furnishings and quilts with each building having its own slightly different colour scheme,"
Vikki Newton, a textile designer by trade, created the series of upholstery fabrics in various colours to tie the buildings together.
"As I am a fabric designer this was something I relished. All the fabrics, rugs and furniture were designed specifically for the developer who worked closely with us in jointly coming up with a brief that included using strong, lively colours and quality fabrics. I understand how aged an apartment can look if the correct fabrics are not used so all the fabrics had to be extremely practical, durable and, of course, needed to be washable. We produced all of the fabrics locally in Brisbane and the rugs too were designed to coordinate with the fabrics and are all totally exclusive to Coolum Seaside,"
Different colour combinations were used for each room and fabric used in the living rooms was introduced into the bedrooms in a subtle way such as on an occasional chair or as part of an upholstered bed head making the interiors flow.
"Feature walls in blues adorned the living room walls, combining with aqua and chocolate upholstery with orange and red as accents. A striped occasional chair in aqua and red added interest. Light timber tones, cool tiles, natural coloured window furnishings and large floor cushions added to the beachside atmosphere. Pure wool rugs were also designed to coordinate and these were successful in tying the colour scheme together. Colourful abstract artwork with rich borders and simple frames added the final touch,"
The penthouse was decorated differently to the rest of the building while continuing to maintain elements of the resort.
"Luxurious silky fabrics were used in the master bedroom for the full length drapes, full length bedspread and upholstered bed head. These were some of my designs from when I designed for fabric houses such as Marco, Warwick and Kibby. Existing sofas were given new life, re-upholstered in faux leather in a range of colours from red, lime to mustard. Huge roll back dining chairs were re-upholstered also in different colours mainly citrus range tones,"
Coolum Seaside managers, Vicki and David Mackenzie did not want to close the resort's doors to holiday makers for a lengthy period of time therefore the refurbishment timeframe was short. Because of this tight deadline and the standard budget constraints, not all the furniture was replaced instead much of it was revamped.
"Furniture was to be replaced strictly where necessary with the majority being re-sanded and stained. This was done by a local furniture manufacturer and we introduced colours that would sit well with the revamped furniture to create and overall theme that was equally as up to date as the new building without the unnecessary added costs of new timber furniture.
We are very happy to be flexible in refurbs by using what does not necessarily need to be replaced and bringing it back to life, it makes both economical and environmental sense,"
Vikki Newton said the most challenging aspect of the project was working within the tight timeframes to allow rental of the units while refurbishing the remainder. However, she also said the highlight of the project was working with the owners and seeing it all come together and achieving consistency between the four buildings.
"The result is now all buildings are all of an equally high standard that flow together as one, however all have an individual personality. Seaside 1 has a more relaxed classical feel to it.
Seaside 2 is a lot of fun with a bright and cheerful colour scheme to match the incredible view from the balconies and Seaside 3 is the most contemporary keeping with the architect's design. It was rewarding to think that all the refurbishing and supply of soft furnishings, artwork and upholstered furniture was from local suppliers. It gives me a good feeling to support my local economy and ultimately support Australian made. We also really enjoyed working with the owners of this resort, they are very considerate of their tenants needs and completely understand the process of putting such a large project together."
Managers, Vicki and David Mackenzie have been at Coolum Seaside for more than 14 months. The five-star complex features 44 self contained one, two, three and four-bedroom apartments and studios. These units feature large balconies, living rooms, air-conditioning, high-speed Internet access in all apartments, cable and digital free-to-air television, laundry and modern kitchen facilities with microwave and dishwasher. The resort facilities include a full sized tennis court, gym, heated swimming pools, lap pool and spas, Internet lounge, garden barbeque areas and underground security parking.
Want to show-off your refurbishments?
Email [email protected] or call (07) 5440 5322