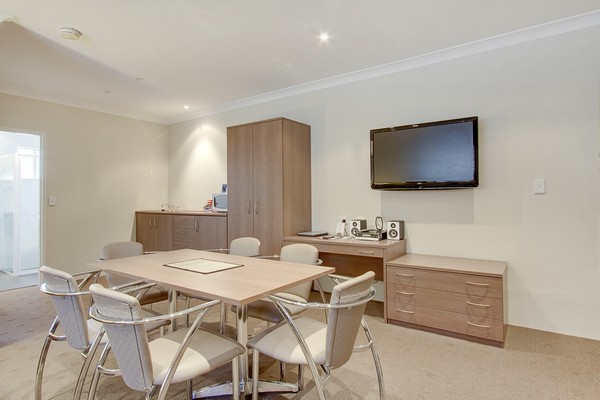 In true Aussie do-it-yourself style, Pauline and Ace Matthews undertook a major renovation of their Parkes International Comfort Inn and were rewarded by being named Australasian Comfort Inn Franchisee of the Year ahead of 178 other properties.
"We finished the refurbishment in November 2009 and received the award in August 2010," said Ace. "The condition of our rooms definitely helped and the guest feed back was also a factor."
The motel opened in August 1989 and its rooms were clean and tidy but dated. They thought about selling the property but because their customer base was so good, decided on a partial renovation.
"After three units we decided to fully gut and refurbish it," Ace said.
Pauline and Ace began planning in 2006, two years before commencing. They had several quotes from major refit companies that were outside their budget so they decided to use local tradespeople and oversee the project themselves. Pauline and the staff organised the motel while Ace worked in the rooms.
"We initially started a complete bathroom refit and then decided to do the whole rooms," Ace said. "Pauline and I were responsible for selecting all materials and layout of the refit. James Taylor, who was working for Expresso Services at that time, made several visits to offer assistance with meeting AAA tourism requirements and his experience gained from several major hotel refits.
"Our plumber, Jeff Davis, was also involved on a daily basis offering helpful advice on building and plumbing matters."
They found some of the original plumbing and drainage had not been installed correctly and needed replacing plus leaking pipe work that needed repairs. Bathroom false ceilings also needed to be lifted.
The units had to be rewired, power outlets and lights repositioned and the rendering done when the weather conditions were right – not too hot or to cold to affect the drying time.
All this while ensuring minimum disturbance to guests.
Two crews completed the cleanout: one from Jeff Davis Plumbing and the other was Ace, his son Kurt (on a gap year after completing year 12) and kitchen staffer Chris.
Jeff organised the bathroom refit by relaying floors, retiling, fitting new ceilings, shower screens, vanities and toilets while Kurt, Chris and Ace rendered the brick walls, repaired ceilings and once ready, along with local painter Mark Heraghty, repainted the units. Lou Henry Electrical completed the electrical work and Terry Brothers Parkes laid the carpet.
Furniture was then placed in the units along with new LCD TVs and new air conditioning.
It took about 21 to 24 days to complete each set of three units. With breaks for pre-booked full house accommodation and fitting in essential motel duties, the 26 units were renovated in 11 months for a total cost of about $500,000.
Pauline and Ace visited Expresso's showroom and factory in Armidale to get a feel for its product. "We looked at several styles and wanted something away from the light wood grain look, which is very popular," said Pauline.
"We also wanted custom furniture to fit the size of our rooms. Everything with the exception of the family unit kitchenettes is free standing so we can remove it with ease if needed.
"We chose to not take the cheapest styles. We wanted to portray an elevated level of comfort, something a lot of our guests would only expect in a metropolitan property. For example we have fully padded bed heads, large office desk and chair, iPod and DVD audio units, wall mounted LCD TV's, quality German-made draw runners, heavy block-out curtains with pelmets and leather lounges and tub chairs."
The new electronic coded door locking system means they no longer have to chase keys or rekey locks and can offer guests the convenience of multiple keys.
Ace and Pauline found all their suppliers helpful. Expresso delivered the furniture in three loads and the furniture was put into storage for use as the units were completed. The furniture was mostly assembled so they only had to fit bench and tabletops. Expresso also supplied the chairs and bedside lights.
"The rooms have finished sensationally," Pauline said of the finished result.
She said guest comments have been high with a positive feedback and the motel has maintained its status as the top accommodation provider in Parkes and sits just under a 4½ star rating.
"We are in a town that is busy and have a lot of returning guests requesting to only stay here when being booked by agents," Pauline said. "Many guests comment that our rooms are the best they have stayed in."
Ace and Pauline say the best part of operating the Parkes International Comfort Inn is the great friendships they form with their guests, be they a returning guest or first time visitors to Parkes.
"Our restaurant and bar are very large for the size of property and this helps to offer a relaxing and friendly atmosphere," he said. "We saw a steady increase in occupancy over 2010 and our bar rate has also risen leading to an improved bottom line."
They say Choice Hotels, owner of the Comfort Inn franchise, is very proactive in the market place and they also enjoy the interaction with other franchisees. The growing Choice rewards program also drives repeat trade.
With three children Ace and Pauline are very family orientated and any time away from the property is usually spent in family activities, waterskiing, snow skiing and numerous sporting events.
"Though I do enjoy numerous fishing trips into Queensland and the Northern Territory," Ace said.
They sponsor many local sporting and community organisations and Ace plays in the local touch football competition.
The Parkes International Comfort Inn has two full time and 12 casual employees. Located on the Newell Highway just minutes from the centre of Parkes, it is within an hour's drive of several regional cities and tourist attractions including the famous Parkes Radio Telescope The Dish and Western Plains Zoo.
The motel has 26 fully refurbished rooms including executive spa suites, king suites, family rooms, twin share queen and single rooms and specially designed rooms for guests with a disability.
These rooms all feature new and contemporary ensuites, lounge or tub chairs, remote control LCD television units, audio systems, tea and coffee making facilities, iron and ironing board, wireless broadband Internet, independent air conditioning units and free guest laundry.
The cocktail bar serves the old favourites along with all the latest flavours allowing guests to enjoy a creamy Piña Colada or an ice-cold beer. They can also sit back in comfort and watch the huge screen showing the latest news and entertainment.
Other facilities include wireless broadband, conference centre, business centre and secretarial services, free daily paper, salt-water pool, safety deposit and free Austar. And for the kids there is a children's playground nearby.
Do you have some refurbishments you would like to show off?
Email [email protected] or call (07) 5440 5322