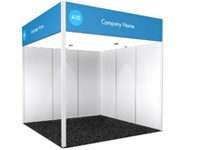 Exhibitions and events specialist Moreton Hire will create a stir in the industry
with the launch of their brand new high impact shell scheme, titled the Evolve.
The Evolve made its public debut at Grand Designs Live Australia 21-23 October 2011, Sydney Convention and Exhibition Centre amongst some of the best and innovative home design products on offer in Australia.
Evolve is an innovative flush wall system that delivers clean lines and an ultra-modern look while being incredibly practical. It took 12 months to develop and the results will deliver enormous benefits for exhibition companies and exhibitors alike.
COO Roger Motteram believes Evolve sets a new standard for the exhibitions industry.
The Evolve enhances and maximises exhibitor booth presence through a 600mm high fascia; leaving the branding uninhibited from aluminium framing. PVC covers enclose the white powder coated upright posts and can be changed to suit the customer's colour scheme.